Smok NexMesh Pod Kit is the product of brand SMOK, it's one of the best vapor products with the option of Silver:1pcs, etc.
Smok NexMesh Pod Kit Instructions
Overview
The new Smok and ORFR NexMesh kit is a revolutionary pod system specially designed to give its users the aromatic vape and perfect flavor. Smok NexMesh Kit is the result of a perfect collaboration between the most well-known labels in vaping; Smok and OFRF that bring us the amazing all in one pod kit with its stylish and simple design, also available in a wide color range. This Kit is crafted from an aluminum alloy that is strong yet light-weight. With its resilient yet sleek design, Smok NexMesh Kit pod system also consists of a 69-inch OLED display screen on the side of the pod with two control buttons underneath it. The screen displays the wattage range, important vaping information and battery status.
The SMOK NexMESH Pod kit is powered by an integrated 1200mah built-in battery that helps the vape to last for a good amount of time and can provide power up to 30-watts, which users can also alter between 5 to 30 watts in order to achieve their desired vape frequency. Also, you can adjust the airflow with the toggle switch at the bottom of the pod system to get the ideal effect. Smok NexMesh holds two types of Mesh coil i.e. SS316 nexMESH Coil 04.ohm and nexMESH DC Coil 0.4ohm depends on your selection.
The conical nexMesh core heating substance is specially designed to give its users the best ultimate flavor with the high-intensity taste that takes your vaping experience to a whole new level. Moreover, the SMOK nexMesh Pod consists of cartridge bottom that is waterproof and prevents moisture from entering the pod from the bottom.
In order to refill the pod, you just simply have to detach the side fill silicon stopper and fill the coil with your desired e-liquid and plug it back in. Yes! It is that easy.
Smok NexMesh Kit also provides various safety features, such as 10-second time out, protection from short circuit, low voltage protection and overcharge and discharge protection; also, there is no harm in using the NexMesh kit device while it is charging.
A perfect combination of features with a unique look, Smok NexMesh Kit's core goal is to provide its users with the best and rich taste of their favorite flavor and a safe vaping experience.
Features
Made of aluminum alloy
0.69″ OLED Display Screen
Features two replacement coils, a coil tool, a drip tip and a USB charger
Power Button
Silicon stopper to prevent leaks
Waterproof Cartridge bottom prevents moisture from entering to pod
Over Current Protection
Over Temperature Protection
Short Circuit Protection
Over-Discharge Protection
Over Charge Protection
Adjustable airflow
SS316 nexMESH Coil 04.ohm and nexMESH DC Coil 0.4ohm
Specifications
Output range:5 to 30- wattage
Resistance range: 0.4ohm - 3.0ohm
Capacity: 2ml e-liquid
Color: Silver, Blue, Green, Gunmetal Green, Red, Black, Gold
Package includes
1 x nexMesh integrated battery powered 1200 mAh
1 x nexMesh cartridge 2ml e-liquid refill system
1 x nexMESH DC Coil 0.4ohm
1 x nexMESH SS316 Coil 0.4ohm
1 x USB charging cable
1 x User guide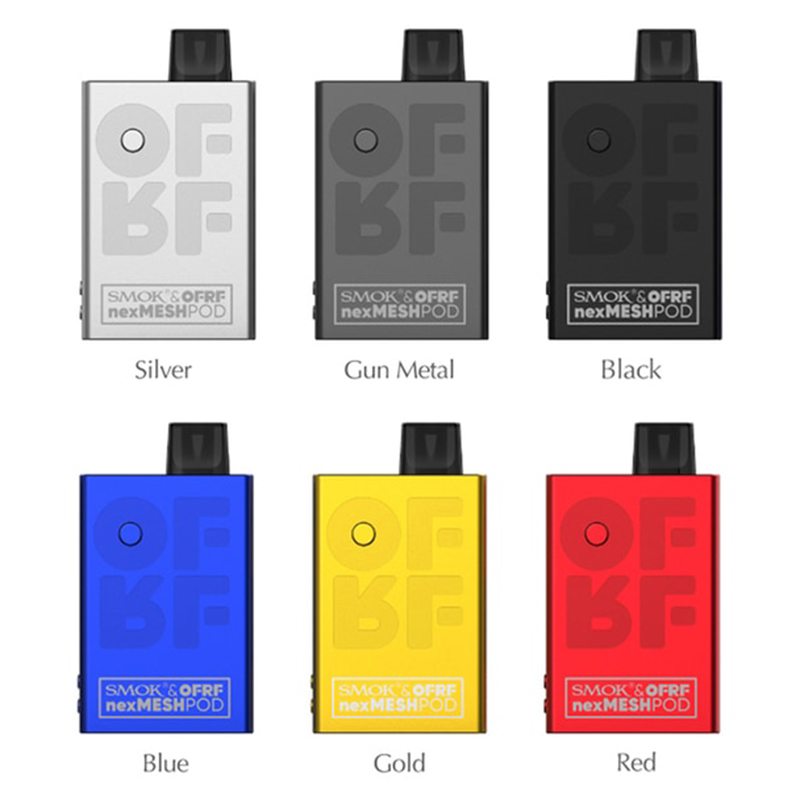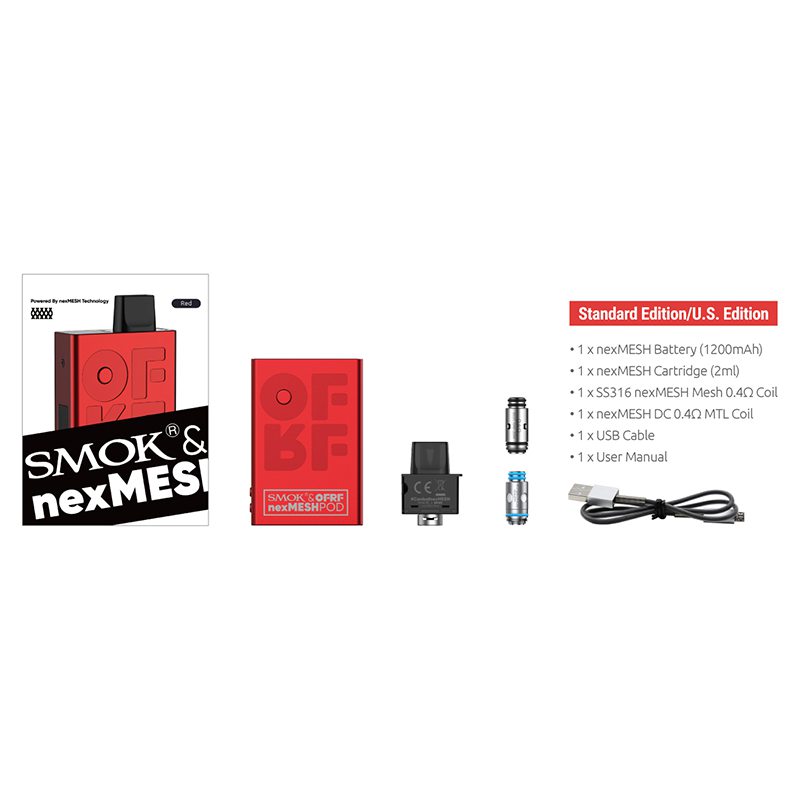 Customers who bought this product also bought:
Product added to wishlist
Product added to compare.

By entering Vape4Ever, you affirm that you are of legal smoking age 21+ and you agree to be Age Verified.