Sea King - Bora Eliquids is the product of brand Shijin Vapor, it's one of the best vapor products with the option of 0mg:100ml, etc.
Sea King - Bora Eliquids Instructions
Sea King - Bora Eliquids Instructions
Overview
Sea King - Bora Eliquids is a white gummy flavor from Shijin Vapor. Recollect when you would buy a enormous bag of gummy bears and pick out just the white ones and shove them into your mouth all at once? Perhaps you assumed that you could no longer do that as long as you were willing to make peace with all of those possible cavities. Fortunately, the good news is that Sea King E-Liquid by Bora has offered us with an simple way to gratify those desires simply and rule the vaping waters. By inhaling that first magical puff, you will experience a nice thump of tasty, sharp pineapple that has the ideal hints of delicious candy. Then, the juiciness jumps in to tease you, refreshing you by soaked along your taste buds. When you breath out, those sugary hints turn into dominant, making you to salivate past your stormiest dreams. Sea King also takes some unbelievable cloud chasing making. This is one yearning e juice that runs the sweetened deep blue vape sea.
Specifications
VG/PG Ratio: 70/30
Nicotine Level: 0mg / 3mg / 6mg
Nicotine Type: Regular Nicotine
Bottle Sizes: 100ml
Bottle Type: Plastic Dripper
Brand: Shijin Vapor
Package Includes
1 X 100ml Bora E-liquid - Sea King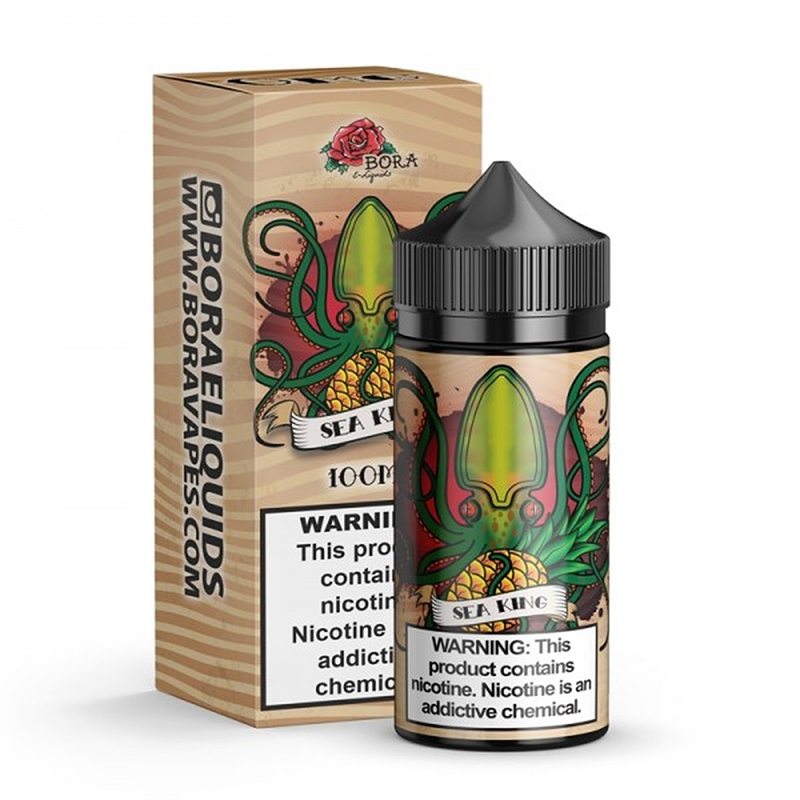 Customers who bought this product also bought:
Product added to wishlist
Product added to compare.

By entering Vape4Ever, you affirm that you are of legal smoking age 21+ and you agree to be Age Verified.