Airistech Gethi G6 Dry Herb Vaporizer
Airistech Gethi G6 Dry Herb Vaporizer is the product of brand Airistech, it's one of the best vapor products with the option of Black Kit:1pcs, etc.
Airistech Gethi G6 Dry Herb Vaporizer Instructions
Overview
Airistech Gethi G6 Dry Herb Vaporizer is an outstanding portable vaporizer suitable for beginners. For a reasonable price, you will be able to buy one of the greatest products on the vaping market, which vaporizes the dry herbs evenly and produces smooth and high-quality vapor.
The Gethi G6 Vaporizer is a portable vaporizer that looks like a tiny box. This device comes with a glass tube mouthpiece that can be slid in and pushed out via the slider on the device's side. If needed, it can be replaced (two additional glass mouthpieces included in the package).
At the base of the device, there is a heating chamber made of ceramic. This type of chamber is used in most of the Airistech vaporizers. The chamber can be accessed by sliding the quick-release spring-loaded door. You can notice 6 tiny holes on the door of the chamber. They play a role in the air inlet, as well as the isolated air pathway.
This Dry Herb Vaporizer comes with an incorporated isolated air path. Your lungs will never be exposed to extra heated vapor ever again. The isolated air pathway cools down the vapor before it is inhaled, and it preserves the fresh and rich taste of your favorite herbs.
This Gethi G6 device has an incorporated battery with a capacity rating of 1800 mAh and supports micro USB cable charging, which you can see on the device's side. This powerful battery can heat the chamber up in around 40 seconds. Moreover, the battery life is exceptional. With a single charge, you could get approximately ten vaping sessions, which is around half an hour of vaping time (one session usually lasts around 3 minutes).
You can select three different temperature settings on the Airistech Gethi G6 Dry Herb Vaporizer. There is a LED light indicator that shows you which setting you have selected. The green light indicates 405°F or 207°C, the blue light indicates 420°F or 215°C, and the white light indicates 435°F or 224°C. You can choose any of the three temperature settings by pressing the power button.
The device has a silent mode, as well. Once the heating chamber has reached the temperature you have selected, the device will vibrate gently to indicate that you can begin to use it.
Features
LED indicator light for the temperature
Isolated air pathway
Silent mode – Vibration
Ceramic heating chamber
Chassis made of zinc-alloy
Spring-loaded quick-release door
Slide out glass mouthpiece
Specifications
Micro USB port
Built-in 1800mAh rechargeable battery
3 different temperature settings (405°F (207°C), 420°F (215°C), and 435°F (224°C))
Available in five colors (Black, Blue, Red, Silver and Rainbow)
Package includes
1 x Gethi G6 Vaporizer
2 x Additional Glass Mouthpiece
1 x Dab Tool
1 x Cleaning Brush
1 x Micro USB Cable for Charging
1 x Instruction Manual
How to use Airistech Gethi G6 Dry Herb Vaporizer?
The Airistech Gethi G6 Dry Herb Vaporizer is very simple to use since it has only one button. First of all, it is recommended to fully charge the vaporizer. When you first received the device, you can charge it for several hours before using, thus increasing the battery life.
Then you can fill the chamber with your preferred ground herbs. To open the chamber, just push the slider according to the arrow on the spring-loaded door.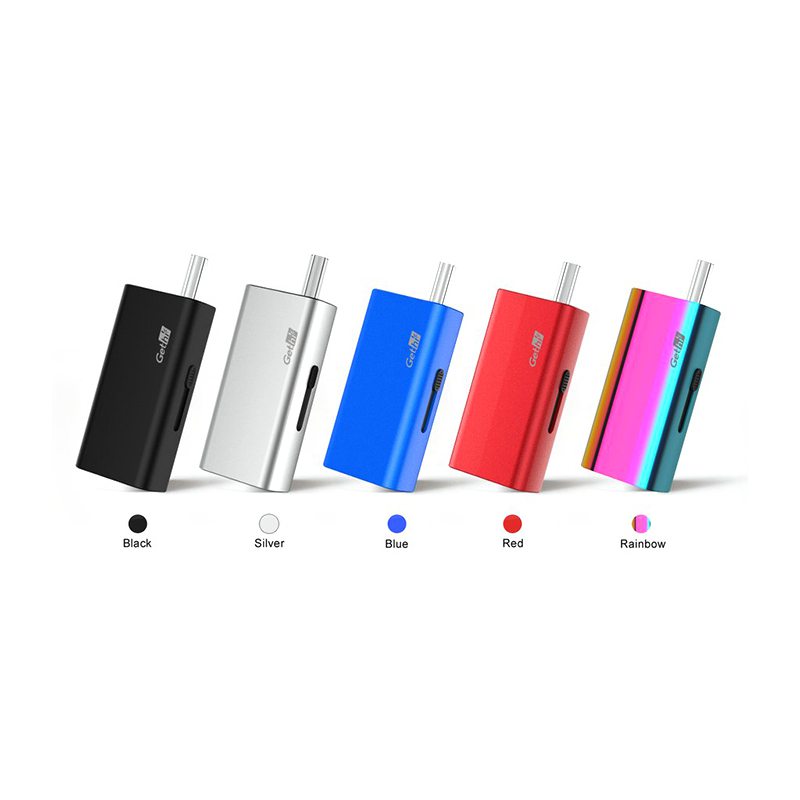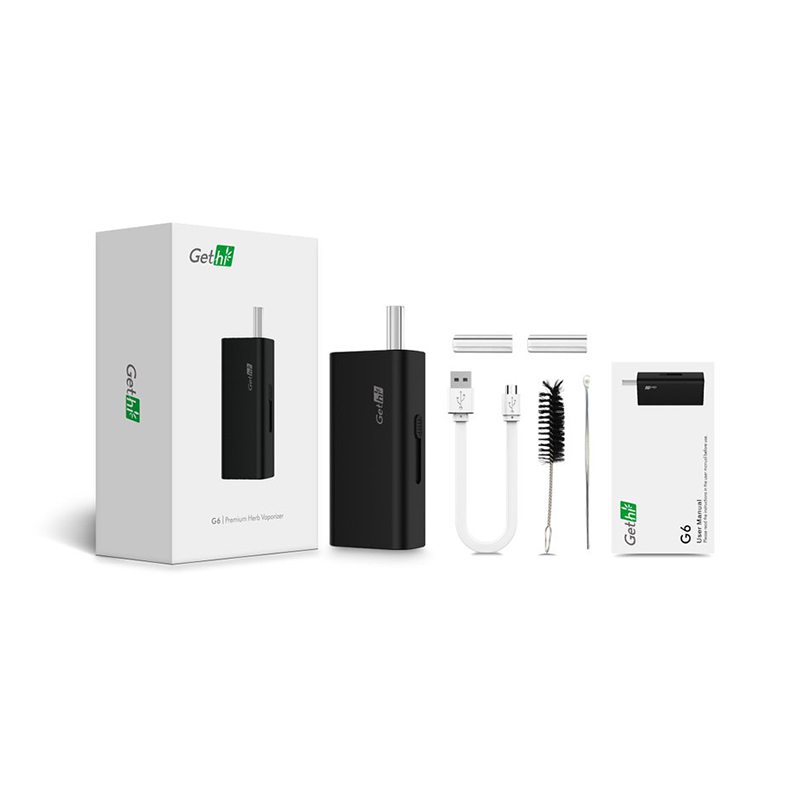 Customers who bought this product also bought:
Vape Brands & Companies
V4-10730-
Vision Spinner 2 Battery 1600mAh fits all eGo and 510 clearomizers, featuring an ergonomically designed spin dial at the bottom for precise voltage adjustment.
Yocan UNI Box Mod 650mAh with multiple adjustments on height and diameter of the cartridge holder, voltage setting, tailors your vape device and experience.
Product added to wishlist
Product added to compare.

By entering Vape4Ever, you affirm that you are of legal smoking age 21+ and you agree to be Age Verified.