FreeMax Fireluke Mesh Sub-Ohm Tank
There are not enough products in stock
FreeMax Fireluke Mesh Sub-Ohm Tank is the product of brand Freemax, it's one of the best vapor products with the option of Carbon Fiber Black Tank:1pcs, etc.
FreeMax Fireluke Mesh Sub-Ohm Tank Instructions
FreeMax Fireluke Mesh Sub Ohm tank Instructions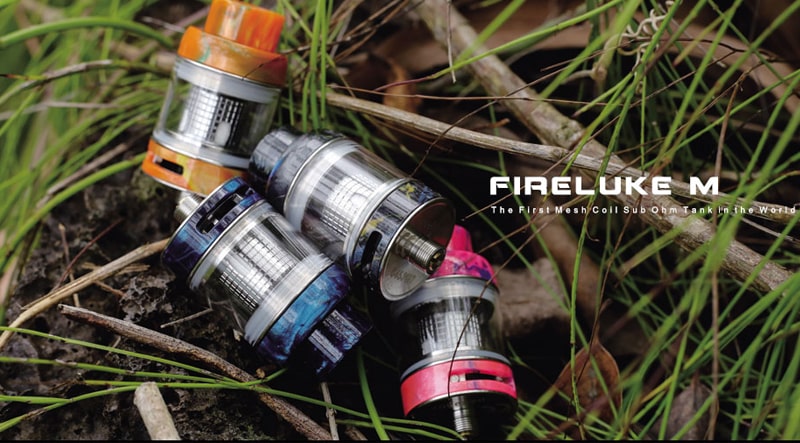 Overview
FreeMax has pioneered an entirely new mesh coil that is making an impact on sub ohm vaping. The revolutionary new FreeMax Fireluke Mesh Sub Ohm tank is a stylish improvement to this line of vaporizers. The Sub-ohm tank is built in 42mm in height with 24mm in diameter. It comes with a highly unique design that's never been completed before and it's made almost entirely out of a Pyrex glass and stainless steel construction. The device has a mesh finish on the tank and a new grip surface for fast disassembling. The device is extremely low profile with a 13mm 810 wide bore drip tip. The top fill system is quickly removed and there are two simple filling ports along the surface tank they create a mess free experience. The Pyrex glass reservoir provides quick filling of up to 3ml of E-liquid. The FreeMax mesh coil technology some of the best on the market and this tank contains two 0.15ohm coil heads which are produced using 100% Japanese organic cotton. The 4 wicking points are built on top of a strip of Kanthal Mesh which can be heated up quite quickly. The device is rated between 40 to 90W and the mesh is designed to deliver a maximum surface area heat distribution.
As this is one of the first sub ohm tank to start using this type of meshed with serial other than an RDA vape, this is a whole new level of flavor that you can experience. The bottom of the tank has fully adjustable airflow slots that have quick stopping points for controlling your flavor. The Free Max Fireluke Mesh Sub Ohm tank is compatible with a series of mods as well as unique adjustable gold plated connections with a 510 connections surface.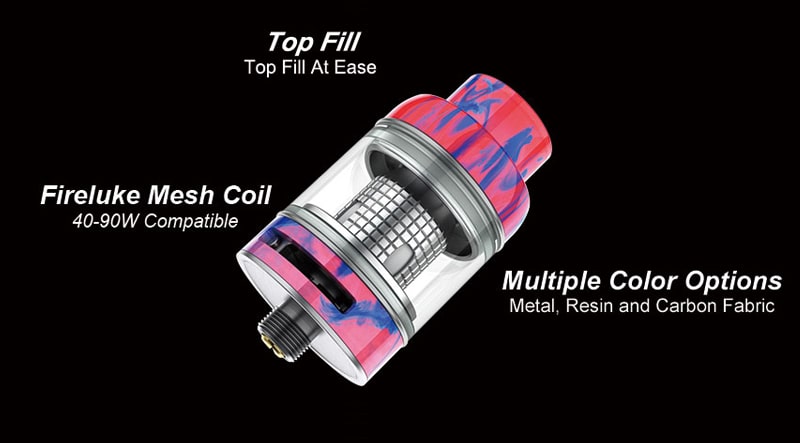 FreeMax Fireluke Mesh Sub Ohm tank Features
24x60 mm full size
Built of resin/pyrex and stainless steel
3ml tank
Top fill thread design
Output Wattage 40-90w
Bottom adjustable airflow design
13mm wide bore drip tip
Gold plating 510 contact pin
FreeMax Fireluke Mesh Sub Ohm tank Specifications
Size 24mm depth and 46.5 mm Length
Weight: Full weight of 55g
Built from carbon fiber, stainless steel, resin
Rated between 40-90W
510 adjustable threads
810 wide bore drip tip
FreeMax Fireluke Mesh Sub Ohm tank Package includes
1 X Fireluke M tank 3ml with .15 ohm coil installed
1 X Additional Kanthal Mesh Coil .15 ohm for swap out (40-90w rating)
1 set Replacement O ring
1 X Replacement 3ml Glass tank
1 X User manual
What's more on FreeMax FireLuke Mesh Sub Ohm Tank
Unique design on the FreeMax Fireluke Mesh tank
The tank quality with this device provides a new level of quality is available in three different styles. The tank can come in carbon fiber, resin or stainless steel designs. This stainless steel design probably provides the most uniform and futuristic design. The resin design also delivers more of an artistic look, whereas the carbon fiber looks extremely strong and clean.
The mesh coil head
The mesh coil heads in the Fireluke Mesh and built in sub-ohm tank are real standout here. The improved surface area on the mesh means that you can enjoy a superior quality of flavor. The mesh can also be used with a quality modification underneath and the clean wattage on the device really improves the flavors you can get out of your favorite e juice. With added modifications you can see some even larger clouds from your device!
FAQ for FreeMax Fireluke Mesh Sub Ohm Tank Problems
How to fill the FreeMax Fireluke Mesh Sub Ohm Tank?
Hold onto the tank with one hand and then twist off the top cap of the tank.Pour your favorite e-liquid into the 2 bean shaped openings for the liquid. The chamber needs to be filled 3/4 of the way up.
Once the device is filled, attach the top cap. To do this, insert the cap into the grooves and twist the device clockwise until it is fastened in a secure format. Let the e juice soak into the coil for 5 min and by that time your Fireluke tank will be ready to use.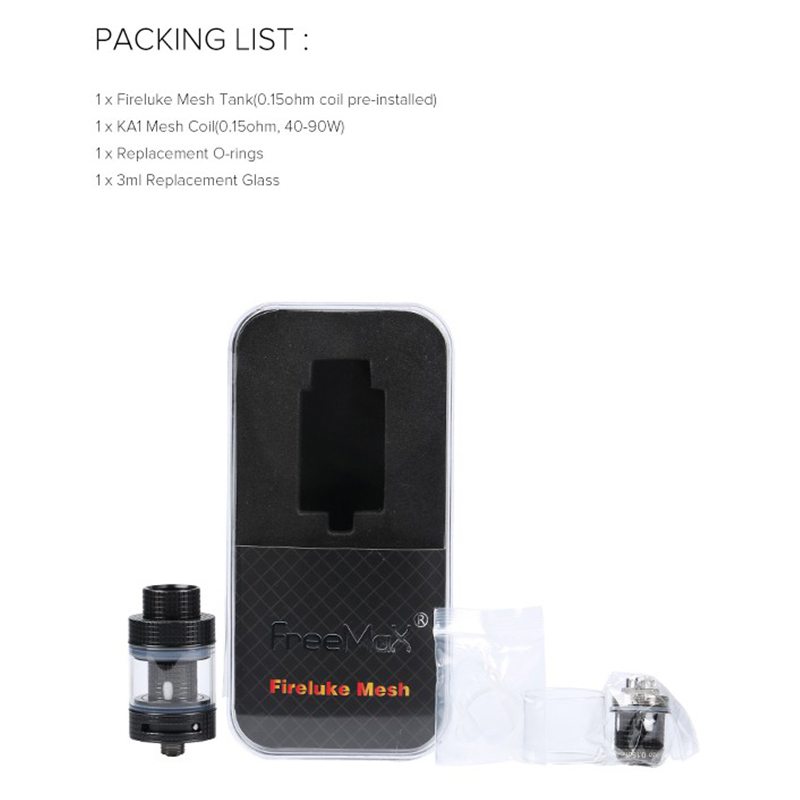 Customers who bought this product also bought:
Freemax
Freemax
V4-10469-FM04C0
FreeMax replaces the wide surface of the mesh coil to fully burn the liquid, giving you the best taste. A pack of 5 packs.
Product added to wishlist
Product added to compare.

By entering Vape4Ever, you affirm that you are of legal smoking age 21+ and you agree to be Age Verified.