Freemax Twister 2 80W Kit
There are not enough products in stock
Freemax Twister 2 80W Kit features variable voltages from 15W to 80W and is powered by a large 3000mAh built-in battery.
Freemax Twister 2 80W Kit Instructions
Overview
FreeMax Twister 2 80w Kit is the improved version of the Twister vape pen kit. It is made of sturdy zinc alloy and equipped with a 3000mAh rechargeable battery for extended vaping. The device also has a bottom wattage adjustment dial that can be adjusted up to 80W of power. When used with the new Fireluke 4 Tank and X Mesh Coils, this mod produces a dense cloud of vapor with great taste from your preferred e-juices.
It comprises a Twister 2 Mod with a 3D embossed effect and a Fireluke 4 Tank outfitted with FM COILTECH5.0 and Double-D Mesh. A 5mL glass tube, a 510 base, and an exchangeable 810 drip tip are all included in the Fireluke 4 Tank. The ISO 8317 Child Resistant Certified top fill design of the tank makes filling and cleaning incredibly simple and straightforward. Additionally, the Twister 2 80W Mod is a variable wattage mod that is recharged via a 5V/1.5A USB Type-C connection and is powered by a large 3000mAh built-in battery.
Twister 2 is very easy to use and has a special power wheel function that makes it easy to change the power. it is activated by a single button. Quickly press the button five times to turn on the gadget. To vape, continue pressing the button while holding it down. There is a little wheel at the bottom of the kit that may be used to change the power settings. You can raise or decrease the wattage by increments of 10W by turning the wheel.
Twister 2 from FreeMax, which has a 3000mAh integrated battery and an LED to track the charge level, enables all-day vaping without the need for recharging. Continuous vaping is not an issue because the USB Type-C charging connector at the bottom has a 15A capacity and can quickly recharge the battery. Green signifies that there is more than 80% of the battery's original voltage left, blue shows that there is more than 50% charge left, and red indicates that a recharge is necessary.
The device has an FM Chip 2.0 inside that allows for up to 80 watts of power and has various safety features, including protection against open circuits, overheating, low voltage, short circuits, overtime, overcharging, and over-discharging. Additionally, the gadget has a bottom wheel that can be simply rotated to lock or unlock it, avoiding inadvertent fire. Although this new kit's design is essentially identical to that of its predecessor, the final colors, 3D orange, 3D red, black, silver, and blue, appear to be completely original. Freemax will very certainly release more color palettes as time goes on.
Features of FreeMax Twister 2 80w Kit
Built-in 3000mAh battery
15-to-80-watt variable wattage control at the bottom
Fireluke 4 Tank with up to 17 different coil choices
Double-D Mesh coil technique using FM Coiltech5.0
Device lock and kid-proof
3D embossed pattern
Specifications
Size: 28 x 143mm
Battery Specification: 3000mAh in-built battery
Charger Specification: 5V/1.5A
Output Power: 15-80W
Output Voltage: 0.7-7V
Input Voltage: 3.2-4.2V
E-liquid Capacity: 5mL
810 Drip Tip
Cartridge Resistance: 0.1-3ohm
Package Includes
1 x Twister 2 Mod from Freemax
1 x Tank (Pre-installed 0.15ohm double-D Mesh Coil) from Freemax
1 x Spare 0.2ohm 904L X2 Mesh Coil
1 x Glass Tube
1 x Silicone Ring (Spare)
1 x USB Type-C Charger
1 x Desiccant
1 x User Instruction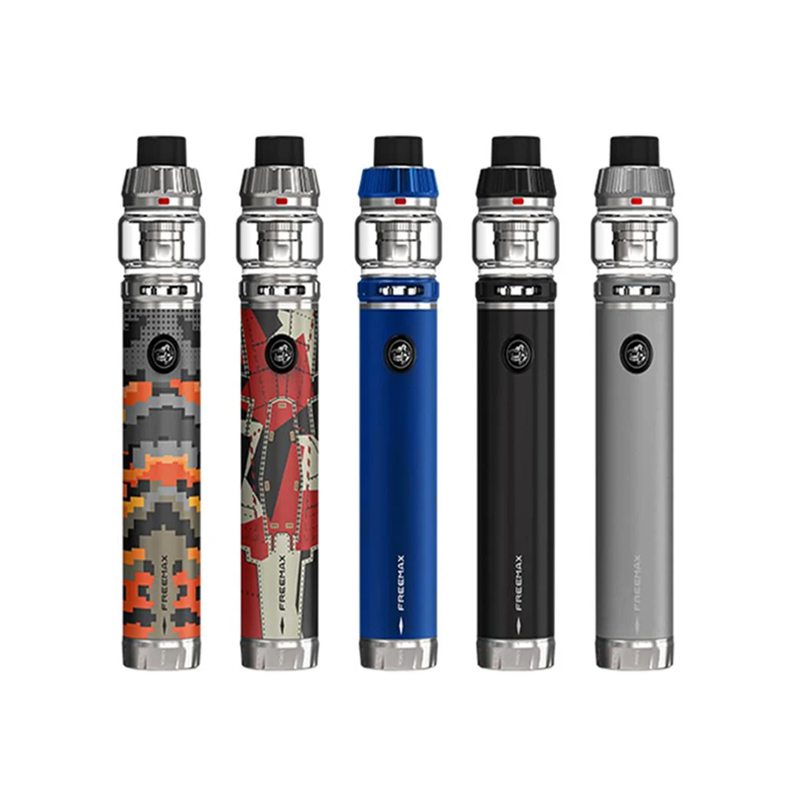 Product added to wishlist
Product added to compare.

By entering Vape4Ever, you affirm that you are of legal smoking age 21+ and you agree to be Age Verified.