Freemax Mesh Pro Sub-Ohm Tank
There are not enough products in stock
Freemax Mesh Pro Sub-Ohm Tank is the product of brand Freemax, it's one of the best vapor products with the option of Metal Silver Tank:1pcs, etc.
Freemax Mesh Pro Sub-Ohm Tank Instructions
Freemax Mesh Pro Sub-Ohm Tank Instructions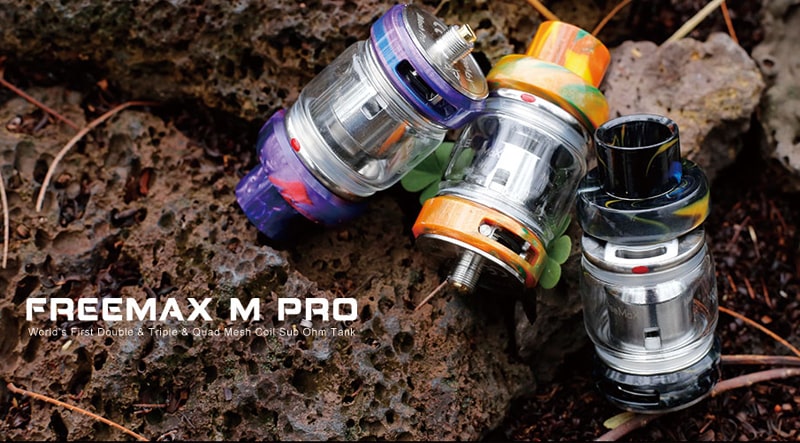 Overview
The newest sub ohm tank is a serious upgrade over the FreeMax Fireluke tank. It also comes with a 25mm push top open top filling system. By utilizing mesh coil heads and a top-quality design for the resin constructions, carbon fiber and stainless steel tanks, there are plenty of style options too.
The M pro is a Freemax Mesh Pro Sub-Ohm Tank that fits 5ml of E-liquid. The tank can also fit 6 ml of E-liquid including a larger bubble glass tank selection. Adding in these new features leads to a simpler fill design with a safety mechanism that prevents accidental overflow. This simple filling on the tank involves pushing up the top of the tank exposing the fill port. The patented slide to fill design also ensures that the filling process can be done quite quickly. The managed filling process also prevents leakage and accidental overflow.
M Pro uses a Freemax M pro coil with a 0.2ohm double mesh coil design. The device also comes prepackaged with a spare coil in a 0.15ohm Kanthal Single Mesh replacement design. The secondary coil is rated between 40 to 70 W. The design is also bolstered with a wood pulp cotton wicking material that am proves the flavor and promotes an improved level of wicking. Compared to a standard coil you will notice a definite temperature difference. The 9mm wide bore also ensures that there can be a larger amount of vapor that travels up through the airflow which improves the saturation of flavor even further.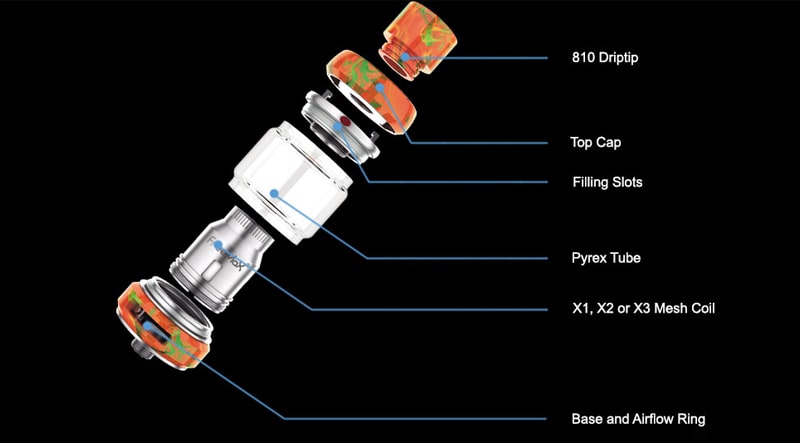 Freemax Mesh Pro Sub-Ohm Tank Features
6ml capacity in the bubble glass tank
5ml capacity in the preinstalled tank
Construction with carbon fiber, resin or stainless steel
M pro coil systems
Push Slide Top fill design
Adjustable airflow controls in dual bottom controls
9mm 810 drip tip design
510 connection in Gold plated design
Freemax Mesh Pro Sub-Ohm Tank Specifications
25mm depth and 59.8 mm Length
60g weight
6ml max capacity
5ml or 4ml juice fill options
Built with carbon fiber, stainless steel or resin
40-110w rating
Adjustable 510 connection
810 Drip tip
Freemax Mesh Pro Sub-Ohm Tank Package Includes
1 X Pro tank 5ml in Kanthal Double mesh .2 ohm coil 60-90 w
1 X Extra Kanthal Single Mesh .15ohm coil
1 X User manual
1 set of o rings for replacement
1 X Pyrex glass replacement 6ml
What's more on Freemax Mesh Pro Tank
Patented Slide to Fill Design
Freemax M pro has a slide top filling mechanism that is revolutionary. This slide top Ensures easy filling and event called design can also accelerate the process of filling up the device. The prevention of leaking with e liquids is a big improvement too.
The 810 Drip Tip
With a user-friendly drip tip design the Freemax M Pro is heavily upgraded with new airflow designs. The pass through and the U shape anti spit back design reduces the chance for leaking and maximizes flavor. The silicon O ring in the top cap also ensures new compatibility with other 810 drip tips like Goon brands.
Adjustable Positive Pins
The Freemax M pro also comes with an adjustable positive pin system which allows the user to switch the screw on a goldplated positive pin and find a match with new battery devices. This improves connections and compatibility.
Multiple Mesh Coil Tech
Freemax not only created the first sub ohm coil with a mesh design in 2017, but they released a series of other sub ohm tanks that have a focus on flavor. With lower wattage and restrictive vapor tanks, there are much larger clouds that also deliver great flavor. The Freemax M pro has a mesh coil technology that has been rigorously tested for instant vaporizing with improved durability.
Wood Pulp Cotton
The wood pulp cotton comes with a formula that contains 90% flax cotton and 10% cotton fibers. The freemax also has multiple mesh coils that have a lifespan improvement of 2-3 weeks.
Modified E-liquid Hoes
The mesh material on board the Freemax vaporizes e-liquid at a faster rate. The contacted surface of the mesh coil with the 360° design speeds the process of vaporizing significantly.
To Complete the Easy Fill
Find the fill mark
Slide open the top cap
Fill with e-liquid to the line
Close the device and wait 5 minutes for the wick to saturate.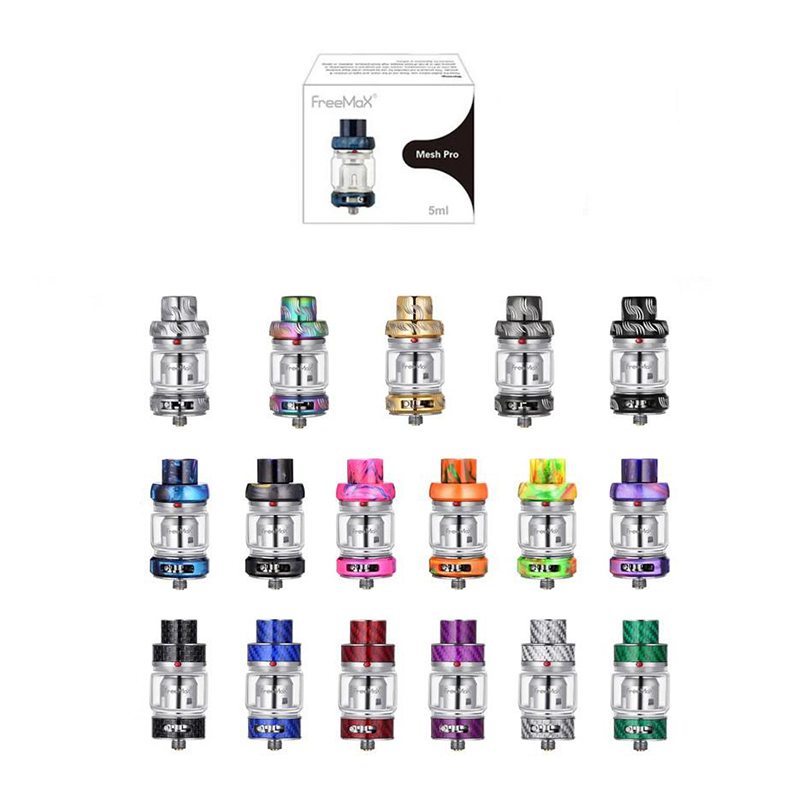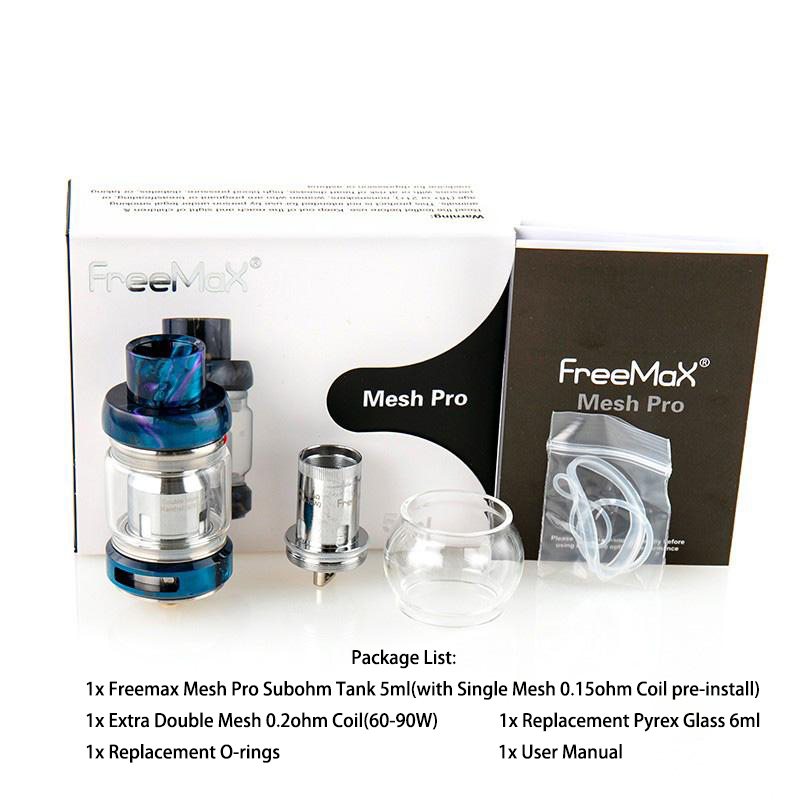 Product added to wishlist
Product added to compare.

By entering Vape4Ever, you affirm that you are of legal smoking age 21+ and you agree to be Age Verified.