Freemax Fireluke 2 Sub-Ohm Tank
There are not enough products in stock
Freemax Fireluke 2 Sub-Ohm Tank is the product of brand Freemax, it's one of the best vapor products with the option of Graffiti Orange Tank:1pcs, etc.
Freemax Fireluke 2 Sub-Ohm Tank Instructions
FreeMax Fireluke 2 Sub-Ohm Tank Instructions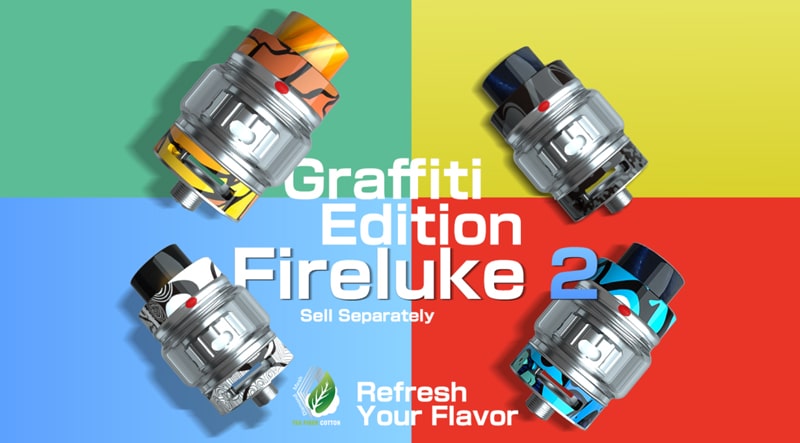 Overview
The newest FreeMax Fireluke 2 Sub-Ohm Tank is an improved and edited version of the FreeMax Fireluke M Sub Ohm Tank that has become a popular choice amongst aficionados.
The upgraded Fireluke 2 is produced with a quality of stainless steel which is superior to the previous versions of the device. There is also a strengthened Pyrex glass which is incorporated for the tank. As well as an upgraded mouthpiece there is a slide to open talks still design that ensures the entire device is very simple to fill up with a top cap push fill method. When you press the button you will notice a huge filling reservoir port with 5ml of bubble glass available in the tank for your favorite e liquid. Just across the bottom of the Fireluke 2 is an adjustable airflow slot in a dual bottom support style that helps you to control the total vapor intake with the device.
The Fireluke 2 Metal version and Fireluke 2 graffiti version include new designs for the exterior of the device and the coil is completely different in these additions as well. The Freemax TX coil series comes preinstalled within the tank and includes a 0.2ohm TX2 Kanthal Dual coil made out of mesh. This is designed for a rating between 40 to 80W and there's also a spare 0.15ohm TX single mesh coil that's included in the tank has a use rating from 40 to 90W. The TX coil includes a wicking system that's made with completely organic ingredients. Cotton from tea tree fiber makes up 90% of the construction of this wicking material with 10% organic cotton built into the design as well. Although the extra coils are not included in this kit, Fireluke M coils are also completely compatible with this device in different coil and wattage configurations.
As a device was completely unique construction and a slide open design in top filling, you can use a variety of coils made of mesh with this vape. The Freemax Fireluke 2 Sub-ohm tank is really a massive improvement on the first version of this vaporizer. With new innovations for heating, lifespan and ease of use, this is a vape that can really provide the perfect daily use.
FreeMax Fireluke 2 Sub-Ohm Tank Features
Bubble glass tank with 5ml capacity
Stainless steel construction for durability
The Freemax TX coils
Top filling tank with retractable mouthpiece
Compatible with Fireluke Mesh coils
A vent hole design for improved filling
Adjustable airflow control valve
9mm 810 Drip tip
Gold-Plated 510 connections
FreeMax Fireluke 2 Sub-Ohm Tank Specifications
Pyrex and stainless steel design
Capacity: 5ml
Size: 28mmx 47.8mm
Threading: 510 threading for quick use
TX1 Mesh coils

Kanthal Single coil design
0.15 ohm resistance
40-90 w power rating

TX2 Mesh coil

Kanthal Double coil design
0.2ohm design
40-80W power rating
FreeMax Fireluke 2 Sub-Ohm Tank Package includes
1x Freemax Fireluke 2 Tank
1x 0.2 ohm TX2 Mesh Coil
1x 0.15 ohm TX1 Mesh Coil
1x 5ml Spare Glass Replacement
1x O-Ring Replacement
1x User Manual
What's more on Freemax Fireluke 2 Sub Ohm Tank:
The Patented Slide-to-Open Top Fill Design
The Freemax Fireluke 2 comes with a slide-to-open top fill solution for filling. There Is also a top cap construction that means the tank can fill up easily. The vent hole design also ensures that you can accelerate the process of filling and prevent the chance for leaking over time.
The Organic Tea Fiber Cotton and Organic Wicking Material
The coils in TX1-TX4 designs all come with a completely organic coil with design that includes 90% Tea Fiber cotton and 10% organic cotton formulas. This cotton is derived from natural tea tree essence and it delivers a superior flavor. The coil also has a diamond pattern which improves airflow and breath draw. You can really see a massive improvement with amplified flavor here.
New Mesh Material Structures
With new types of mesh material in the structure you can enjoy a better quality of heating. The structure includes a precise construction in honeycomb patterns. The honeycomb fits to the wood pulp for even heating and wicking. The mesh coil is more durable, smoother and flatter in design to improve the speed of heating and even heating of the material as well.
360 Degree E-liquid Wicking
The guiding paths to the wick are improved with the new structure design through the Freemax Fireluke 2. This ensures that the E-liquid is properly targeted towards the coils and for contact with their surface. The 360° holes will speed up the process of vaporizing.
Filling the Freemax Fireluke 2 Tank
Find the red fill mark on the tank
Slide open the top cap and observe the fill point
Fill to the top line
Close the cap and you are done!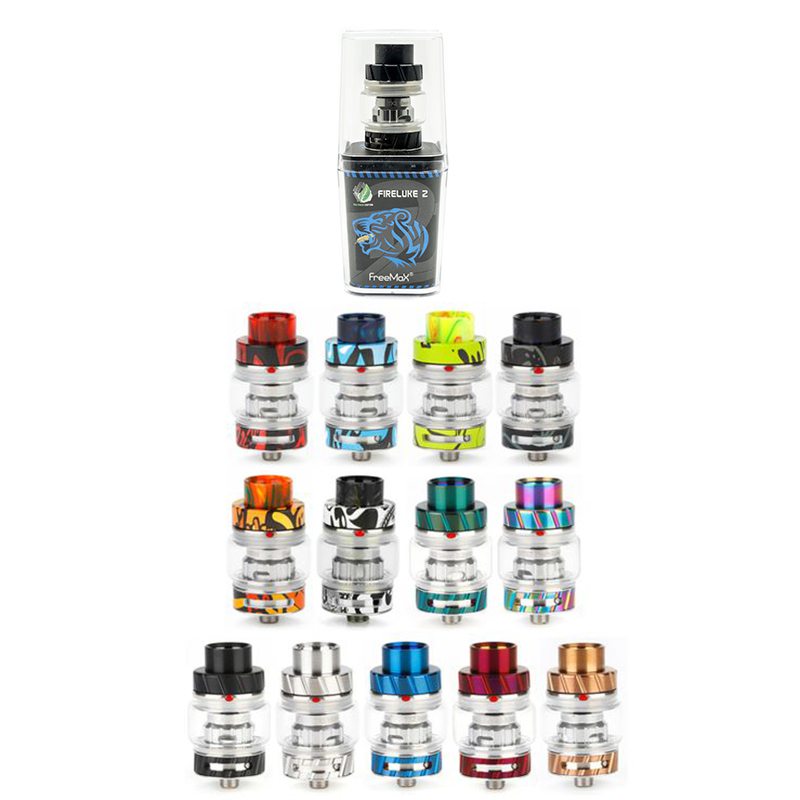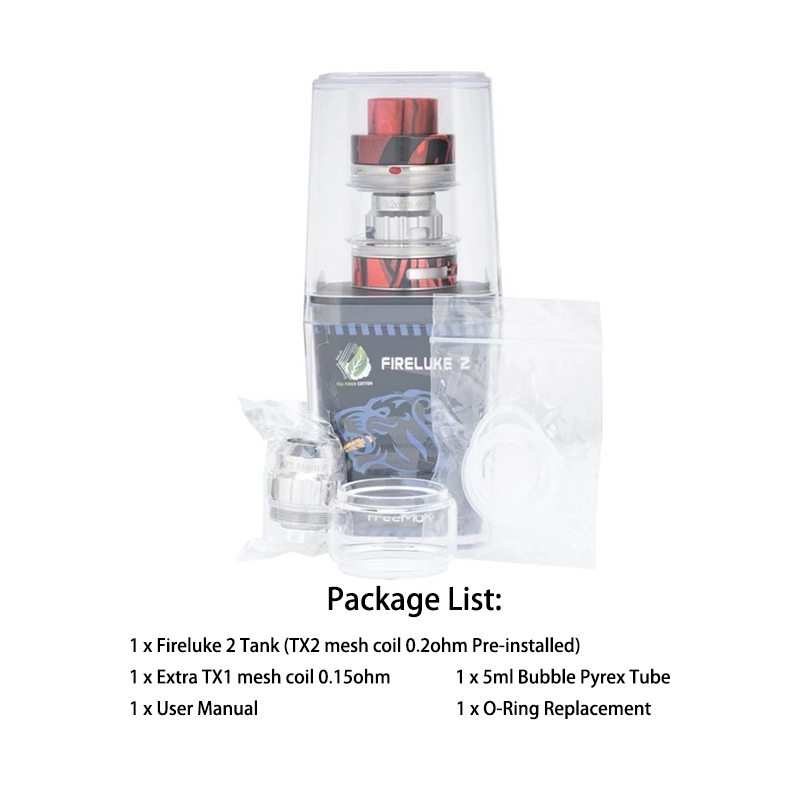 Customers who bought this product also bought:
Product added to wishlist
Product added to compare.

By entering Vape4Ever, you affirm that you are of legal smoking age 21+ and you agree to be Age Verified.