Juice Head Salts E-Liquid 30ml Collection
Juice Head Salts E-Liquid 30ml Collection is the product of brand Juice Head, it's one of the best vapor products with the option of Pineapple Grapefruit 25mg:1pcs, etc.
Juice Head Salts E-Liquid 30ml Collection Instructions
Overview
If the unique flavors of Juice Head fascinated you and you adore the taste and smooth flavor of nicotine salt e-juices, then the Salts line packed in 30ml bottles will fascinate you, too. Besides choosing different fruit combinations to indulge into a delightful experience, you can make your choice between 25mg or 50mg content of nicotine. The vaping experience with the Salt nicotine is pleasing and delicious, especially when combined with the luscious, tart, and fresh flavors of Juice Head e-liquids, such as Blueberry Lemon, Watermelon Lime and Peach Pear.
Juice Head Salts - Blueberry Lemon 30ml
This vape juice will help you remain concentrated during the day. It is for sure that this salt nicotine Blueberry Lemon juice will instantly become your favorite. The mixture of blueberry flavor and lemon taste is mouthwatering and extremely delicious and your desire for this vape juice will grow stronger with each puff. Every time you breathe in the Blueberry Lemon salt nicotine juice from Juice Head, your taste buds will hug the sweetness of blueberries and you will find yourself in a cloud of deliciousness. It goes without saying that you will become addicted to this vape juice. The genuine flavor of blueberries incorporated within the juice will give you pleasant feelings. With every breath out you will feel the combination of blueberries with the sour taste of lemons. Your mouth will be filled with a one-of-a-kind taste that will last forever.
Juice Head Salts - Peach Pear 30ml
Under the hot summer sun, a lot of fruits become ripe and offer sweetness and refreshment. The one-of-a-kind taste of Peach Pear Salt by Juice Head will let you enjoy among the clouds. You will feel like you are under a peach tree in a large orchard in Georgia filled with the pleasing smell of this sweet fruit. Every bite of this fruit fills your mouth with warm and sweet peach juice while leaving your lips sticky. This flavor typical for the summer is combined with the flavor of Anjou pears which are warm and soft enough to provide you with delightful, powerful, and highly enjoyable pleasure. If you love the pear-flavored fizzy soft drink, Peardrax, and if you like the touch of the relatively rough texture of the pear skin, this nicotine salt offers you a genuine taste identical to the one you are used to when eating pears. Sit and start puffing the freshness and sweetness of summer hidden in the rejuvenating and pleasing mixture of peaches and pears. You will find yourself in the middle of a magical place filled with sweet air that smells like luscious enjoyment. The Peach Pear e-juice by Juice Head Salts wants to coat your taste buds with rich flavors of freshly picked pears and peaches filled with warm juice and wants to bring you closer to the warmth and sweetness of fruit orchards.
Juice Head Salts - Pineapple Grapefruit 30ml
The Pineapple Grapefruit e-juice from Juice Head Salts combines the flavor of juicy grapefruit and the aromatic taste of pineapple. The flavor of this e-juice will energize you unlike any other e-juice. With every breath in, your taste buds will start dancing with the genuine flavor of pineapple interwoven in the Pineapple Grapefruit e-juice from Juice Head Salts and you will immediately feel the excitement. Once you taste this flavor, you will want for more and more. With every breath out, the taste of grapefruit will balance the zest of the pineapple. This combination of delicious flavors will refresh and invigorate your taste buds and you will instantly become addicted to it.
Juice Head Salts - Strawberry Kiwi 30ml
The unique flavor of the Strawberry Kiwi e-juice by Juice Head Salts will grab your hand and walk you around vast strawberry fields where you can enjoy the sweet smell of this fruit swirling around you and dancing with the warm breeze. Bright red juicy strawberries are inviting you to indulge into their sweetness. Besides this luscious flavor of strawberries grown under the warmth of the summer sun, there is one more flavor contained in this e-juice – the appetizing and sweet flavor of aromatic and refreshing exotic kiwis. The combination of strawberries and kiwis has already been proved as a successful one, because the flavors of both fruits are very pleasing. With every puff you will have the feeling as eating freshly picked, bright red, juicy and wild strawberries and refreshing, exotic kiwis filled with summer sweetness. You will breathe air filled with warmth, summer freshness, and luscious fruit aroma. Your taste buds will be enchanted by the taste of summer fruit grown under the hot sun thanks to the flavor of freshly picked kiwis and juicy strawberries. The Strawberry Kiwi e-juice by Juice Head Salts enables you to enjoy the most desirable combination of two delicious fruits.
Juice Head Salts - Watermelon Lime 30ml
Bitter and sweet are not that different and they can be perfectly combined. If you still have not tried a piece of watermelon with a lime juice freshly squeezed on it, the Watermelon Lime e-juice from Juice Head Salts is here to provide you with that tasty experience. Your taste buds will be very grateful for this combination of bitter lime juice and sweet watermelon. When you start puffing this e-juice you will have the exact feeling of indulging into a big piece of bright red watermelon and you will feel the taste of its juice filling your mouth. When you breathe out, you will feel the one-of-a-kind sour taste of the lime. The lime will refresh your taste buds and it will fill you with new energy and freshness. This bitter-sweet combination of tasty fruits is easy to adore and to get addicted to.
Specifications
VG/PG Ratio: 50 / 50

Nicotine Level: 25mg / 50mg

Nicotine Type: Nic Salts

Bottle Sizes: 30ml

Bottle Type: Plastic Dripper

Brand: Juice Head
Package Includes
1 x 30ml Juice Head Salts E-liquid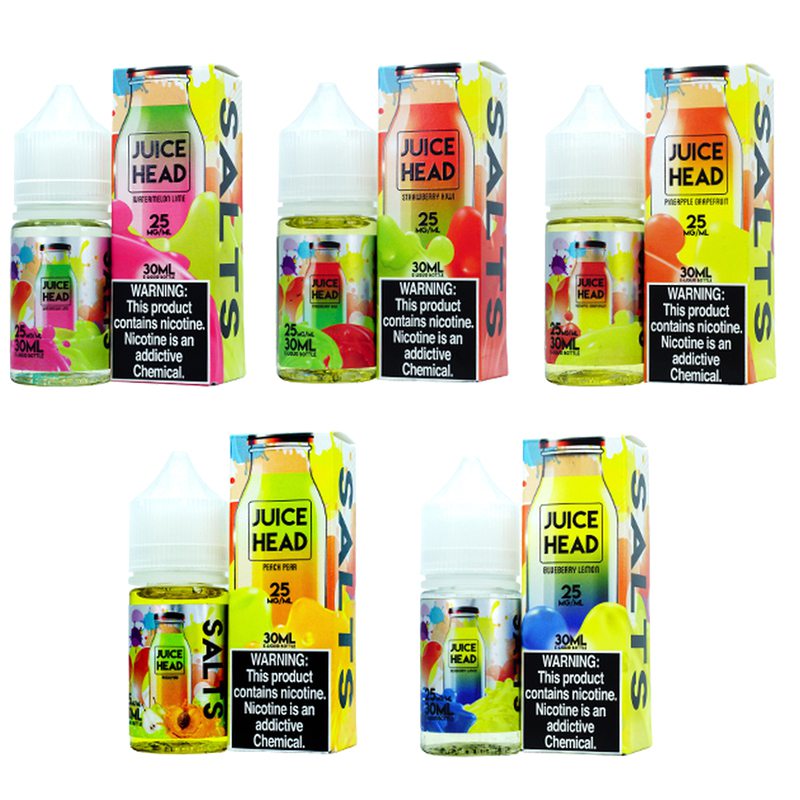 Customers who bought this product also bought:
Product added to wishlist
Product added to compare.

By entering Vape4Ever, you affirm that you are of legal smoking age 21+ and you agree to be Age Verified.