Juice Head 5K Disposable Vape Pen 5000 Puffs
Juice Head 5K is a rechargeable disposable vape pen, featuring 10mL prefilled e-juice with 5%nicotine. It offers around 5000 puffs in 9 flavor options.
Juice Head 5K Disposable Vape Pen 5000 Puffs Instructions
Overview
Juice Head 5K is a new arrival for longer vaping. It is designed in a small flagon shape and painted with a premium finish. In this way, this disposable vape device offers you an aesthetic visual and comfortable grip. The 5k of Juice Head is ideal for vapers who like big puffs and long-lasting disposable vapes. You can choose your favorite vape flavor from its 9 options.
Specifications of Juice Head 5K
Nicotine: 5%, 50mg
Prefilled E-Liquid: 10mL
Puff Counts: Approximately 5000 Puffs
Battery Capacity: 650mAh
Battery Type: Rechargeable
Flavors: Raspberry Lemonade, Grapefruit, Watermelon Strawberry, Watermelon Lime, Fresh Mint, Lychee Mango, Pineapple Strawberry Peach, Peach Pear, and Pineapple Lemon Lime.
Package Includes
1 × Juice Head 5K Disposable Vape Pen 5000 Puffs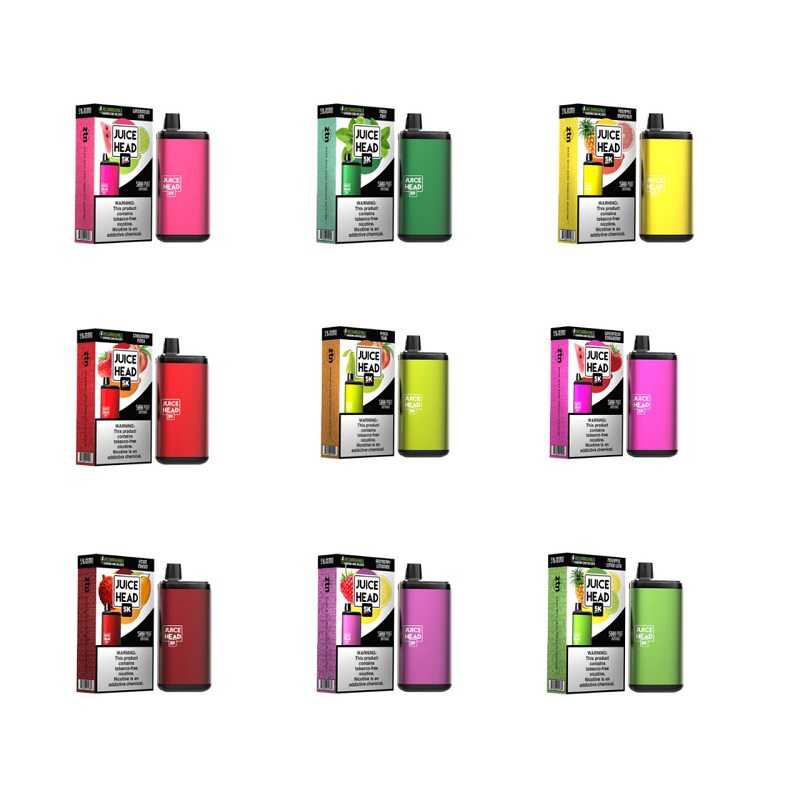 Customers who bought this product also bought:
Product added to wishlist
Product added to compare.

By entering Vape4Ever, you affirm that you are of legal smoking age 21+ and you agree to be Age Verified.