Cloud Nurdz Disposable Vape 4500 Puffs
Cloud Nurdz Disposable Vape offers 4500 puffs with 5% nicotine salt in 12ml vape juice. It is also rechargeable via the USB Type-C port.
Cloud Nurdz Disposable Vape 4500 Puffs Instructions
Overview
Cloud Nurdz disposable vape is a handy, discreet, effortless-to-use device. Have you ever tried disposables that taste completely like candies? This box style device is available in twenty-one sweet and luscious flavors. It is crafted from hard plastic with rubbery silicone textures to make it extra grip-friendly. Its mesh coil, 5% nic level, and 12mL e-liquid capacity will provide you with the most impressive 4500 puffs.
The short and comfortable mouthpiece with a slight curve sits perfectly on your lips. Its tight and restricted draw will provide the perfect MTL vape, and the 800mAh battery is rechargeable via a USB Type-C charger. Cloud Nurdz Disposable Vape will not disappoint you as always.
Features
Stealthy, box-style design
Draw-activation on inhaling
Offers smooth vaping sessions
LED light indicator
A perfect MTL vaping-only device
Includes mesh coils for great flavor and vapor production
Rechargeable via a Type-C cable
Specifications
Approximate Puffs: 4500
E-Juice Capacity: 12mL
Nicotine: 5% Salt Nicotine (TFN)
Battery: 800mAh
Heating Element: Mesh Coil
Firing Mechanism: Draw-Activated
Charging: Type-C Port
Flavor: ICED Apple Grape, Mint Nurdz, ICED Strawberry Grape, ICED Strawberry Lemon, ICED Apple Watermelon, ICED Blue Raspberry Lemon, ICED Strawberry Mango, Strawberry Lemon, Strawberry Grape, Blue Raspberry Peach, Watermelon Berry, Sour Watermelon Strawberry, Apple Grape, Melon Kiwi, Blue Raspberry Lemon, Apple Watermelon, Strawberry Mango, ICED Melon Kiwi, ICED Sour Watermelon Strawberry, ICED Blue Raspberry Peach, ICED Watermelon Berry
Package Includes
1 x Cloud Nurdz Disposable Vape 4500 Puffs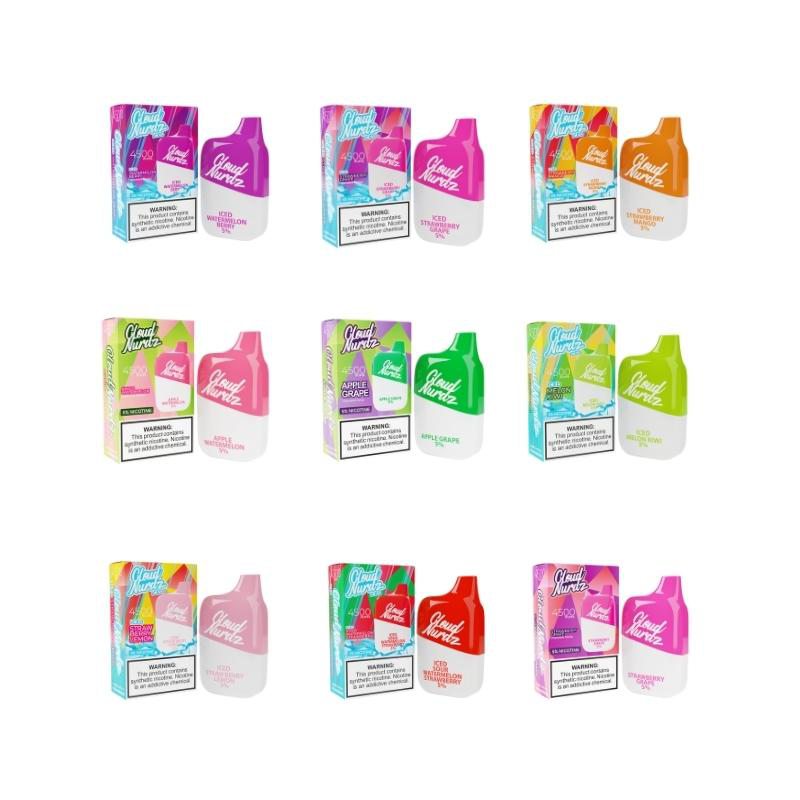 Customers who bought this product also bought:
Product added to wishlist
Product added to compare.

By entering Vape4Ever, you affirm that you are of legal smoking age 21+ and you agree to be Age Verified.