Vandy Vape Jackaroo Kit
There are not enough products in stock
Vandy Vape Jackaroo Kit is the product of brand VandyVape, it's one of the best vapor products with the option of Green Jade Kit:1pcs, etc.
Vandy Vape Jackaroo Kit Instructions
Vandy Vape Jackaroo Kit Instructions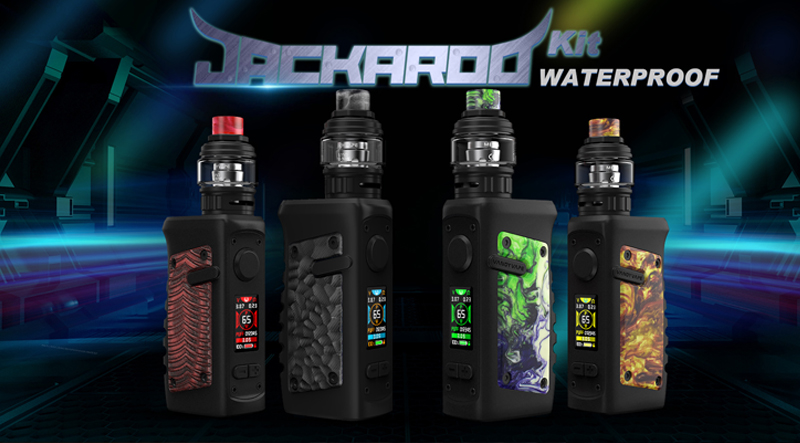 Overview
Vandy Vape Jackaroo Kit is the latest vape kit with waterproof technology. The device is built using a zinc alloy and resin finish. It features a shock resistance function and an IP 67 waterproofing. The silica gel outer layer of the vape kit keeps this an extremely durable product that can offer some of the finest in shock resistance as well as deliver the best in high quality performance. The 0.91 inch OLED screen also features the exact same shock resistance. Designed with an ergonomic feel this is a device that comes with a comfortable grip and an easy to remove resin panel for maintenance. Unscrewing just for quick hexagonal screws is all you'll need to quickly replace the battery or attach modifications. This device can fire up to 100 W at its maximum output and it comes equipped with the JACKAROO tank which is known for its smooth draws. The mesh coil on board fires at 0.15 ohm and 0.3 ohm. The device also features a very quick access to refilling systems and this means an extremely convenient experience with vaping. The support modes also include a DIY, TC and VW mode for maximum customization.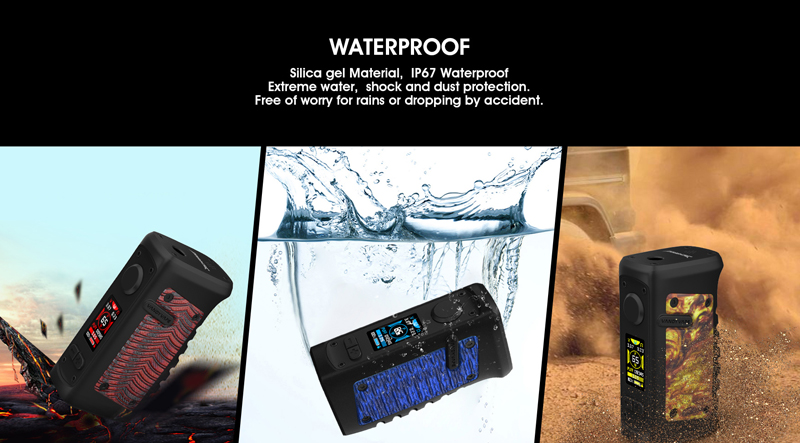 Vandy Vape Jackaroo Kit Features
Vandy Vape JACKAROO 100W Box Mod
Material chassis construction that's shockproof
Complete IP67 Waterproofing
0.91 Inch OLED screen in TFT configuration.
Intuitive Firing
Two levels of adjustment through the buttons on board.
A threaded battery cap design that loads through the bottom.
Protection for the atomizer
Protection for Overtime use
Low Power warnings
Warnings for short circuits
Overheating protection
510 thread connections for compatibility
Vandy Vape JACKAROO Sub-Ohm Tank:
Reinforced with Pyrex Glass
Stainless steel construction
Top fill threading
JACKAROO coil system
Bottom Airflow control dual slot
Retractable mechanism for top filling
510 stainless steel connection
Vandy Vape Jackaroo Kit Specifications
Vandy vape JACKAROO 100W box mod
Dimensions: 90mm, 49.8mm, 33.2mm
High amp battery at 21700 upgrade or standard 20700 battery
Single 18650 battery adapter sleeve attachment
5-100w range
Voltage outputs to 0.5-8V
40A max output
Resistance Range of 0.5-3ohm
Temperature Control 200-600℉
Vandy Vape JACKAROO Sub-Ohm tank
Diameter: 23mm
Capacity: 3ml standard Juice
0.15 ohm mesh coil - 50-90W
0.3 ohm mesh coil - 40-60 W
Vandy Vape Jackaroo Kit Package Includes
1 X Jackaroo mod at 100w
1 X Jackaroo tank sub ohm
1 X 0.15 ohm mesh coil
1 X 0.3 ohm mesh coil
1 X 18650 battery
1 X spare glass bulb tube
1 X accessory bag
1 X instruction manual
What's more on Vandy Vape JACKAROO kit
Dustproof, Waterproof, Shockproof:
This vape is one of the most rugged on the market it has an extremely well-built design and also maintains an IP 67 dust proofing and waterproofing. The device can be held underwater for up to 30 min. for astounding levels of waterproofing.
Vandy Chip functions:
The Jackaroo has a Vandy Chip that fires at 100W. there are a number of modes including a bypass mode, voltage mode, power mode, wattage curve mode, temp control and more.
Concise Screen
You can easily find the information and mode which you are using on the screen :
V: Voltage mode
TC: Temperature control mode
BP: BYPASS mode
C: UI color switch, Multi-color, Red, Green, Blue, Yellow, Orange, Coffee,Pink
ARR: Auto Resistor Renew
FIR: Fire button model
RST: Restore original factory settings ( press+/- to choose YES/NO, press fire button to confirm)
Vandy Vape Jackaroo Button Combinations
Clicking the power button five times will turn the device on and off.
Switching the modes means clicking the fire button three times and then using the adjustment button. When you reach the mode you'd like you just click the fire button once more.
The + and - buttons will allow you to do fine settings on the menu and adjust brightness, curves and hardware options.
Device lock occurs when you hold the plus adjustment on the power button and toggle FIR to lock and unlock the device.
Change TC mode wattage by clicking the fire button 4 times.
JACKAROO Sub Ohm Tank
The Jackaroo Sub Ohm Tank is a 26mm tank that comes with a 3.5ml glass tube. There is also a 5 ML bubble glass solution. The straight style glass comes with a recess to prevent damage.
The bottom airflow can be adjusted for a super wide opening or a fully adjustable airflow option. You can open the draw or restricted for a tighter and cleaner hit.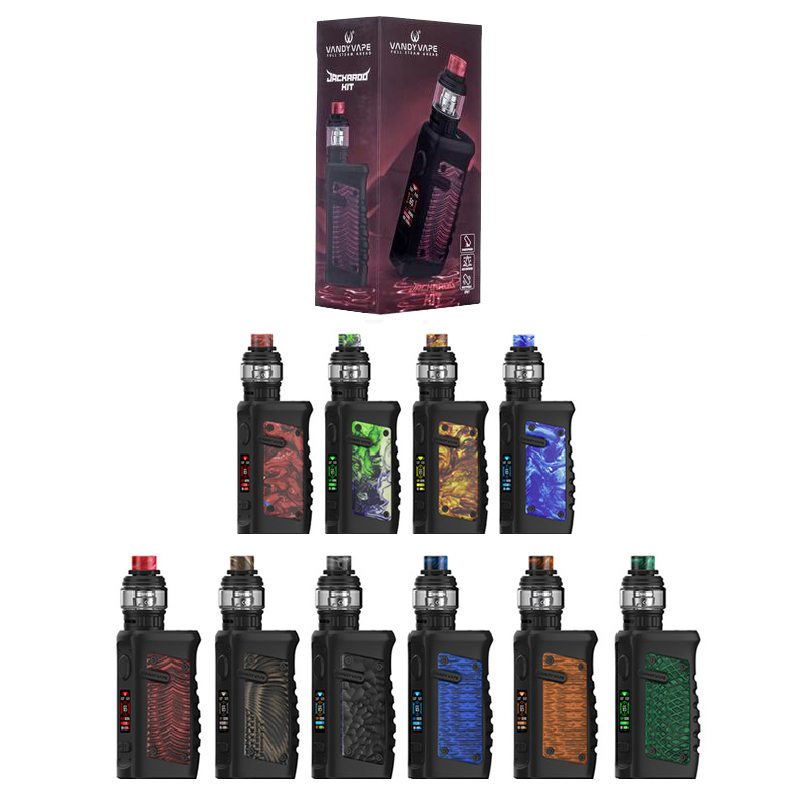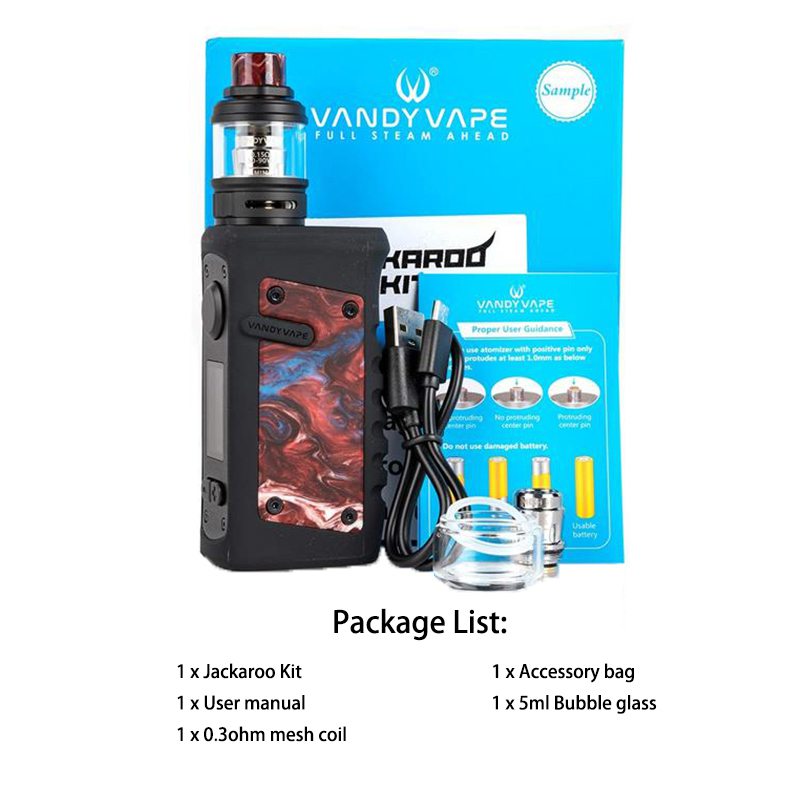 Customers who bought this product also bought:
Geekvape
Geekvape
V4-10467-GV06C0
GeekVape is a great coil with great flavor and last a long time. The Shield coil heads will give you a great vaping experience. 3pcs/pack.
It's Pixy E-Liquid 100ml Collection is the product of brand Shijin Vapor, it's one of the best vapor products with the option of Mango Lime:0mg, etc.
Vandy Vape Mesh Replacement Coils is the product of brand VandyVape, it's one of the best vapor products with the option of 0.15ohm Mesh Coil:4pcs, etc.
Product added to wishlist
Product added to compare.

By entering Vape4Ever, you affirm that you are of legal smoking age 21+ and you agree to be Age Verified.