Lost Vape Orion Plus Pod/Coils
There are not enough products in stock
Lost Vape Orion Plus Pod/Coils is the product of brand Lost Vape, it's one of the best vapor products with the option of Orion Plus Pod:1pcs, etc.
Lost Vape Orion Plus Pod/Coils Instructions
Lost Vape Orion Plus DNA Pod Overview
Lost Vape has specially designed an Orion Plus Pod Cartridge for the DNA Pod kit of Lost Vape Plus. With the capacity of holding 2ml of e-juice, this Orion Plus Pod Cartridge is equipped with two interchangeable coils (0.25 Ohm Mesh Coil and 0.5 Ohm Regular Coil). These interchangeable coils are easily compatible in both modes. You can either use them with e-juice or with nicotine according to your desires. So, just get another spare part for your Lost Vape Orion Plus DNA Pod Kit.
Features
Replaceable Cartridge - Refillable Pod
Two Interchangeable coils (Mesh Coil 0.25 Ohm, Regular Coil 0.5 Ohm)
Threaded Top Fill System
Compatible with the Orion plus DNA Go Pods of 0.25ohm or 0.5ohm
Lost Vape Orion Plus OCC Coil Series
Specifications
Best for Lost Vape Orion Plus DNA Pod Kit
2ml Pod Capacity
Coil Types: Regular Coil and Mesh Coil
Packages Include
1 x 0.5ohm Regular OCC Coil
1 x 0.25ohm Mesh OCC Coil
1 x Lost Vape Orion Plus Pod
What's more about Lost Vape Orion Plus DNA Pod?
Lost Vape Orion Plus DNA GO Pods features a stainless steel coils. The regular 0.5 Ohm Pod comes up with a single loop while the 0.25 Ohm coil is built-up with double parallel mesh coil. The mesh coil tank helps you to make larger and thicker clouds that come out of your mouthpiece. With the high-quality gold-plated contacts, the Pods of Lost Vape Orion is made up of food-grade plastic.
The exterior of the pod contains a drip-trip of 510 threads with the combination of stainless steel lid for the e-liquid tank. The airflow rings are precisely located under the mouthpiece. You can access the wide mouth fill port by unscrewing the lid and filling the vape juice in containers. You can easily see the leftover e-juice inside the port with the help of the semi-transparent window.
Lost Vape Orion Plus Replacement Coil Overview
The Lost Vape Orion Plus Coils from the Orion Plus Pod system kit are available in the pack of 5. Featuring organic cotton wicking, this pod has sport a mishmash pop-in. For preventing the leakage and easy balancing of the coils, this part of the Lost Vape Orion Plus is installed with a thread design. The mesh coil enables the system to heat evenly and instantly. Featuring the explicit honeycombed mesh design, the 0.25ohm Mesh coil is best and easily use with standard e-liquid.
With a single standard coil construction, the 0.5ohm regular coil is best for vaping with nicotine. Except for nicotine salt, you can also use it with your favorite e-liquid.
Features
Threaded Design of Coil Installation
OCC Replaceable Coil Section
Specification
13W-22W Wattage
0.25ohm resistance
Best to use with Standard e-liquid
Recommend to use for DLT vaping
0.5ohm total resistance
10W-18W Wattage
Best to use with Nicotine Salt and standard e-liquids
Recommended to use with MTL Vaping
Use it with Lost Vape Orion Plus DNA Pod Kit
Packages Include
1 x 5Pcs Regular OCC Coil
1 x 5Pcs Mesh OCC Coil
The FAQ on Lost Vape Orion Plus Replacement Coil
How to change the replaceable coils and which coils are compatible with Lost Vape Orion Plus?
Step1: carefully unscrew the mouthpiece

Step2: gently press the coil and remove the cartridge from inside

Step3: replace or adjust the new coil and tightly screw the mouthpiece

(TIPS: when you need to replace the coil, carefully put the pod in lying position.)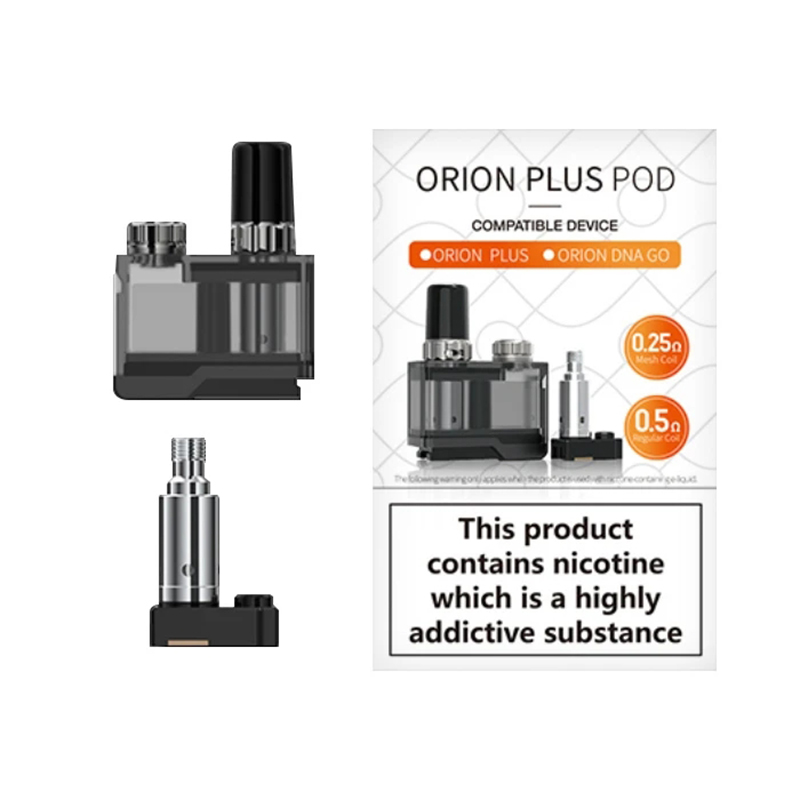 Customers who bought this product also bought:
Product added to wishlist
Product added to compare.

By entering Vape4Ever, you affirm that you are of legal smoking age 21+ and you agree to be Age Verified.