Lost Vape Lyra Kit
There are not enough products in stock
Lost Vape Lyra Pod System Starter Kit 1000mAh 2ml is the product of brand Lost Vape, it's one of the best vapor products with the option of Blue/Ripple Kit:1pcs, etc.
Lost Vape Lyra Pod System Starter Kit 1000mAh 2ml Instructions
Lost Vape Lyra Pod System Kit Instructions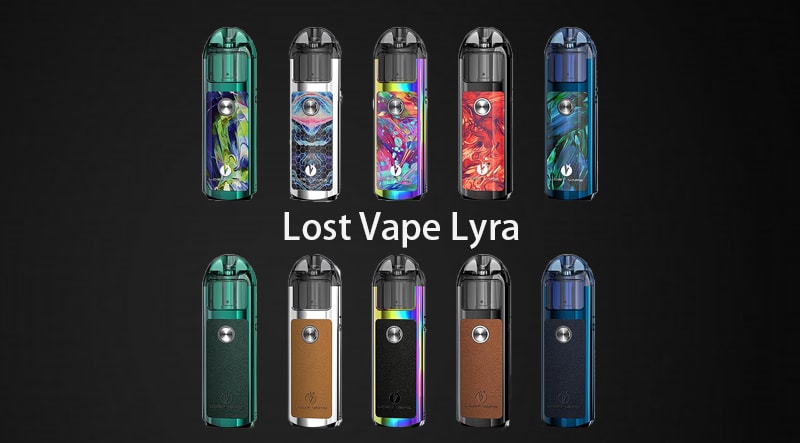 Overview
The Lost Vape Lyra Pod System Kit comes with a 1000mAh battery that can be recharged. It also has the capacity of 2ml to hold your e-juice content for great vaping experiences. The threaded connection can accommodate three different power settings, which is built with ideal materials such as zinc and aluminium. The chassis has a unique layout with a firing button. Moreover, the exterior also has a battery indicator with a colored LED light. The lost vape lyra pod system kit has a 0.6ohm mesh coil and the kanthal coil is 1.4ohm for DTL and MTL.
Lost Vape Lyra Pods Features
1000mAh built-in battery with a maximum power of 20W
E-juice filling capacity of 2ml
Single-button for smooth operation for fire
Lyra mesh coils with advanced features
Colored LED battery indicator
Multiple protections for safe vaping
Available in more than one colour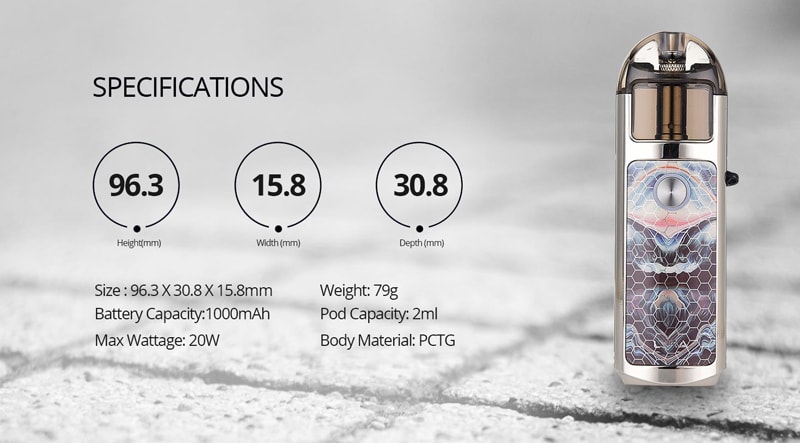 Lost Vape Lyra Pod Kit Specifications
Size: 96.3×30.8×15.8mm
Weight: 79g
Size: 96.3×30.8×15.8mm
Max Wattage: 20W
Pod Capacity: 2ml
Body Material: PCTG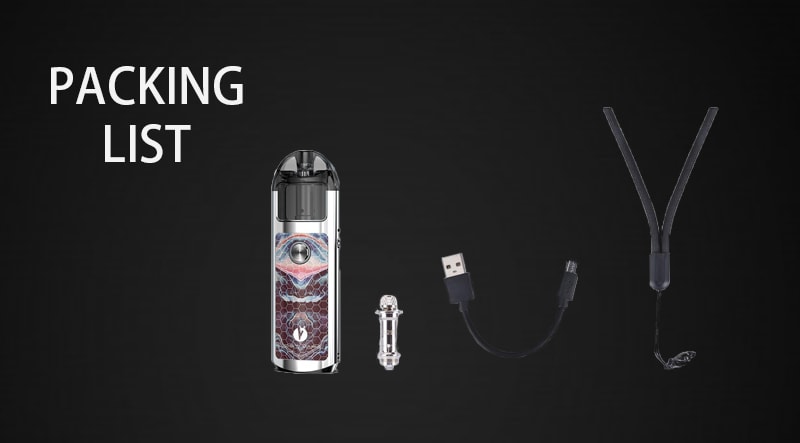 Lost Vape Lyra Pod System Kit Package Includes
1 X Lyra Lanyard
1 X Warranty card
1 X 1.2ohm regular coil for MTL vaping
1 X Lyra device
1 X 0.6ohm mesh coil for DL vaping
1 X User Manual
1 X USB cable
What's more on Lost Vape Lyra
Unique Technology
Lyra is a gadget that is made concerning the latest technology. It has modern features that the users will enjoy. There are pinch sides available on the sides of the pod for users to clap on.
Indication for Battery
There is a battery indicator feature with light that users can view after pressing the fire button.
3 Modes for Power
You can power up your game by pressing the button thrice. This must be completed within two seconds. Enjoy extra sharp and crisp cloud hits with extra nicotine content.
Ideal compact size
The Lost Vape pod system is excellent for its size and the features it is providing. The button available on the sides can be easily accessed. Moreover, the size is small and its battery capacity is 1000mAh. You can carry it around with you in your hand or your backpack easily. This little device has decent energy to serve you for long hours without any obstacle in your vaping experience.
Facility for slots
You are required to pour your e-juice into one side of the hole and let it channel to the other side to prevent extra mess.
Good battery life
It's all depend on the type of coil you use and the wattage setting. But 1000mAh is enough to provide you a whole day vaping experience.
How to change coils
Lay down the pod first and install a new coil for your e-juice.
After adding the e-juice secure the loop firmly.
The FAQ for Lost Vape Lyra Problems
How to Operate The Lost Vape Lyra?
The LED button will flash five times after you press the fire button exact five times. The type of wattage you select will be indicated through the LED light colours. If you want to change the power wattage, press the power button thrice.
Green = 20w
Blue = 18w
Red = 16w
With the 1.2Ω Regular coil
Green = 11w
Blue = 10w
Red = 9w
How To Fill The Lost Vape Lyra Pod?
Filling your pod system is secure and quick
Detach pod from the system
Remove the seed by pinching on the mouthpiece
Open both the silicon port covers to fill e-juice into the first one and allow air ventilation into the other
Pour e-juice
Attach the silicone covers
Attach the pod into the device
If using a new coil, let it soak for good 10 minutes
Does The Lost Pod Lyra suit a new vaper?
This starter kit has all the qualities of a good refillable vape device that can facilitate new coils. If you are a smoker who wants to quit smoking, this new vape can help.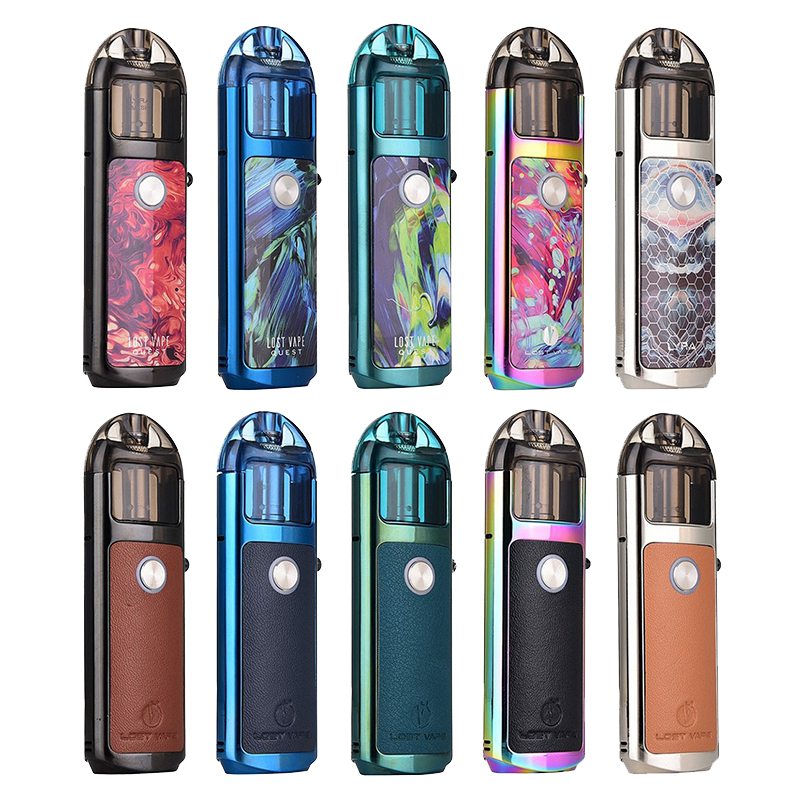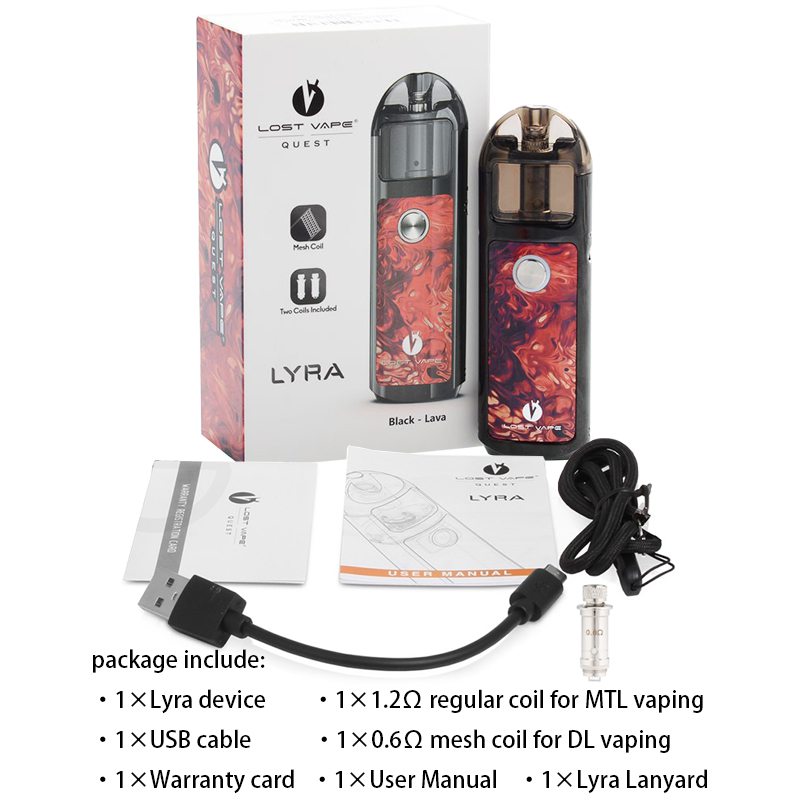 Product added to wishlist
Product added to compare.

By entering Vape4Ever, you affirm that you are of legal smoking age 21+ and you agree to be Age Verified.