Lost Vape Orion Plus DNA Pod Kit
There are not enough products in stock
Lost Vape Orion Plus DNA Pod Kit is the product of brand Lost Vape, it's one of the best vapor products with the option of Gold Stabwood kit:1pcs, etc.
Lost Vape Orion Plus DNA Pod Kit Instructions
Lost Vape Orion Plus DNA Pod Kit Instructions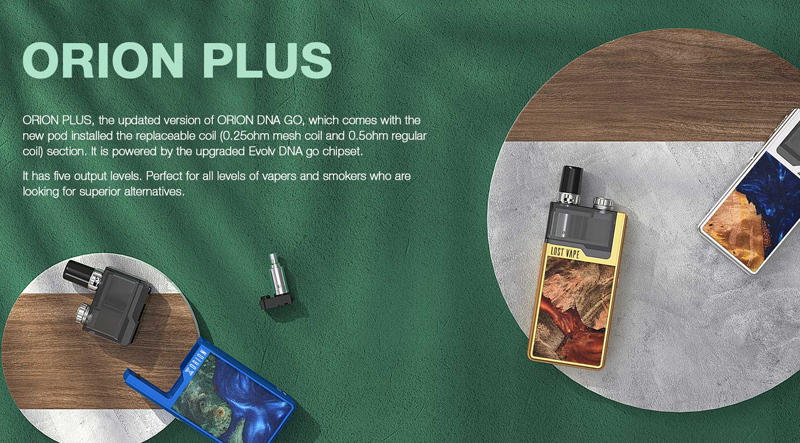 Overview
Lost Vape Orion Plus is an upgraded version of Lost Cape Orion DNA. With the installation of new pod system, this upgraded version of Lost Vape Orion DNA comes up with a replaceable coil. This new edition in the series of Orion Vape comes up with a moderately sized internal battery which is capable of 950mAh power. This Orion Plus version is powered and monitored by an upgraded Evolve DNA goes with the chipset. This advance Orion plus has five different output levels such as Replay Flavor Save/Lock Puff Function, Replay Functionality and Patent Pretending Temperature limiting technology. This upgraded version also has the REPLAY & BOOST function. This functionality allows this Orion Plus DNA kit to capture the flavor give you a satisfied a perfect puff. This Lost Vape Orion is also compatible with 0.5ohm and 0.025ohm pod cartridge. The advanced airflow design of this DNA kit and it can perfectly meet the vaping needs of MTL & DLT. With the new addition of Stab wood panels, this device is constructed with high-quality metal. With superb carbon fiber design and iconic design, this Lost Vape Orion DNA is considered as the best embodying high-end vaping device. This DNA kit is not only best for experience smokers and vapers but also for the beginners. This DNA kit comes up in three popular series named as Stab wood & Resins Series, Carbon Fiber Series and Abalone Series.
Are you still using the old version of Lost Vape Orion DN GO? The older versions in these series come up without the DNA chip, so we recommend you to upgrade your vaping device with a nice mesh coil.
Features
Advance top adjustable airflow design
Powered by DNA GO Chip
5 easy adjustable power levels
2ml refillable pod cartridge
Patent-pending advance temperature adjusting technology
950mAh powerful built-in battery
Top refilling airflow design
Replay & Boost functionality for perfect and satisfying puff flavors
Specifications
Dimension: 93mm x 37mm x 13.5mm
2ml Pod Capacity
10W-20W maximum output wattage
22Wattage maximum
Li-Po Battery with 950mAh built-in capacity
2 coils: 0.5 Ohm regular coil, 0.025 mesh coil
Package includes
1 x User Manual
1 x Micro USB Cable
1 x Warranty Cable
1 x Orion Plus Lanyard
1 x Orion Plus 0.5ohm regular coil
1 x Orion PLUS Kit (0.25 Ohm pre-install coil)
What's more on Lost Vape Orion Plus Kit?
DNA Go Chip
This is DNA GO Chip is upgraded with advanced technology and comes up with
Allow vapers to automatically regulate the power
Patent-pending temperature limiting technology
easy adjustable power levels
5 Power Levels
The 5 power option in this DNA GO Chip allows you to enjoy the best experience and clouds of nicotine. For selecting or changing the power option, press or hit the power button only ones.
This upgraded version comes up with three new functions
Auto detecting pod helps you to detect the resistance of pod oil. This system helps you to select the correct settings and made it easy for you to switch between different coils.
Lock & Safe Flavor Technology
Replay flavor lock & safe button allow you to enjoy the perfect puff. This system provides the same level of perfection and flavor consistency in every single puff. This system also prevents the vapers from getting dry hits and burnt taste.
The boosting power of this upgraded version increase the initial power output of the initial puff. This boost allows the coils to reach their maximum point and make quicker and thicker vapors.
Compatibility - Lost Vape Orion DNA GO Device
This upgraded series of Orion Plus is compatible with Orion DNA Go. With the 0.025 Ohm and 0.5 Ohm coils, the recommended power level for this vaping system is level 1 and level 2.
Furthermore, Orion Plus comes up with two automatic interchangeable coils. These coils are compatible with both nicotine salt and any type of free-base liquid.
With two adjustable airflow designs, you can adjust the airflow of the device according to your needs. You can also adjust the MTL (Mouth to Lung), and DTL (Direct to Lung) switches easily. This system allows you to enjoy this vaping device whenever and wherever you want.
Combination Panels - Stab wood & Resins
The innovative vaping device Orion plus uses the stab wood and resin material panels. No one can put down this vaping device due to the high point of the natural beauty of the wood. With special grain patterns and color combination, this Orion Plus is the name of perfection.
Are you looking to buy a cost-effective stab wood pod kit? If yes, then Orion plus DNA Go Chip is the best option for you.
Lost Vape Orion Plus VS Lost Vape Orion
The starter kit of DNA GO Chip Lost Vape Orion is the new touch in the world of vaping devices. With the advance integrating technology of Evolv's, this vaping device comes up in an exquisite chasing DNA Go Chip. It is a spectacular masterpiece that comes in a comfortable pod size structure. All the details of Orion Plus are mechanized with the advance method. The carbon-fiber details and highly durable alloy shell gives this Orion Plus starter kit a luxurious look. This vaping device is powered by the DNA Go Chipset from Evolv's that means you can easily maintain the sophisticated settings, power regulations, temperature management, and explicit output modes.
The upgrade version of Lost Vape Orion Pod has solved all problems regarding poor pod life and thin vapors. The Orion Plus version uses two coils. It uses original 0.0.25 Ohm coil with 0.5ohm regular coil. But you can replace these coils according to your needs. Moreover, there are again two options for you to choose the standard best coil for you.
FAQ for Lost Vape Orion Plus Problems
How to change or replace the coil and which type of coil is compatible with Lost Orion Vape Plus?
Lost Vape Orion Plus is compatible with all Orion Series products (including DNA Go Chipset).
Step1: For removing the coil from the cartridge, unscrew the mouthpiece carefully
Step2: Carefully places the coil and tightly screws the mouthpiece
How to use the replay option in Orion Plus?
After achieving the satisfying pod, hit the adjustment button for three times and wait for the light to go green. This means the Replay Mod is activated.
For deactivating the replay mod, again hold the adjustment button for 3 seconds.
How to fill your favorite cartridge?
Unscrew the refill cap carefully and refill the cartridge. After completely filling it, tightly screw the cap back down.
How to look after the battery of this Orion Plus?
There are different precautions that you must keep in mind. Don't expose in high temperature. Don't change the battery of this device without the recommendation of Lost Vape. Contact any authorized center for replacing the battery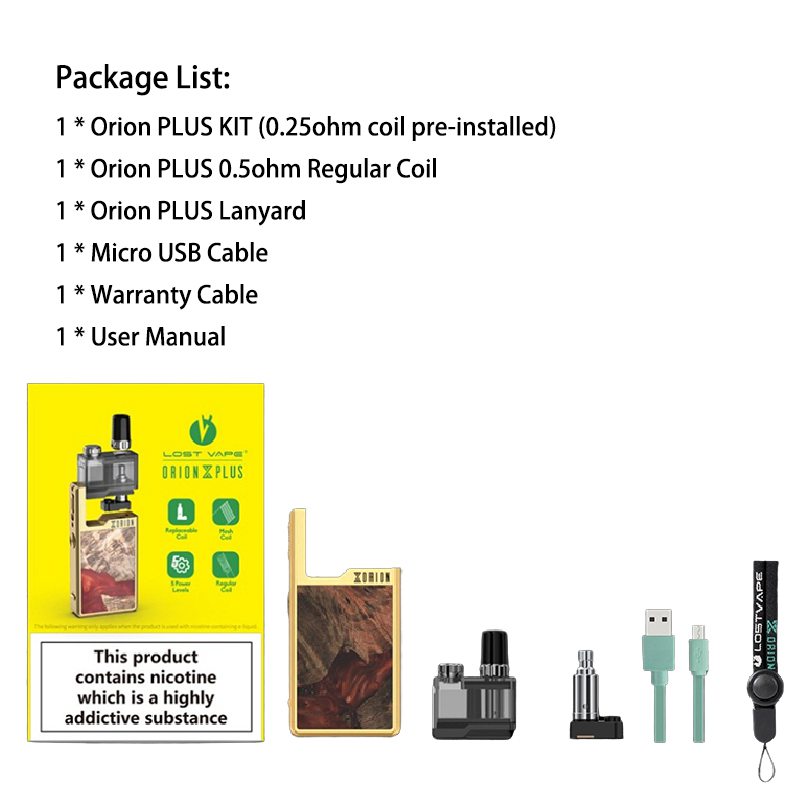 Suorin
Suorin
V4-10059-SR01P01
Suorin Air Replacement Cartridge which comes with 2.0ml liquid capacity, is designed for Suorin Air Kit. 1 pc in one pack. Best price for vape user, get it as a spare part.
BLK Rotary Dry Herb Vaporizer 1800mAh has a cooling system and folding extension glass mouthpiece with isolate airflow and precise temp control 1°F per level.
Cheech Glass
Cheech Glass
V4-11253-
Cheech Killer Frost Glycerin Freeze Bong 8 Inches with showerhead perc for purifying features greenish and blue glycerin for rendering the hits cool and gentle.
Customers who bought this product also bought:
Product added to wishlist
Product added to compare.

By entering Vape4Ever, you affirm that you are of legal smoking age 21+ and you agree to be Age Verified.