Dr. Dabber Aaron Kai X Aurora Vape Pen For Wax
There are not enough products in stock
Dr. Dabber Aaron Kai X Aurora Vape Pen For Wax is the product of brand Dr. Dabber, it's one of the best vapor products with the option of Blue:1pcs, etc.
Dr. Dabber Aaron Kai X Aurora Vape Pen For Wax Instructions
Overview
Technology has made many advancements since the beginning of time. This vape pen is one of the few examples of how far it has come. This special edition pen has been made in collaboration with Aaron Kai.
Aaron Kai X Aurora Vape Pen has two distinct variants; orange and blue version. The pen has a gorgeous piece of Kai on the surface. The wax pen comes with the signature Aurora vaporizer and three atomizers, such as Ceramic Halo, Dual Quartz, and Dual Ceramic Rods. The kit also includes a pain can opener disguised as a dab piece, a smart charger, and a gorgeous carrying case.
Dr. Dabber Aurora comes with a variable voltage technology, through which new atomizers can be connected. Another feature is the snapTech magnetic technology.
Features
SnapTech Magnetic Technology
Matte Satin Finish
Sleek & Discreet
Ceramic Mouthpiece
Variable Voltage Battery
Multiple Advanced Atomizers
5 Sec Heat uptime
Specifications
Use For: Wax
Thread Connection: 510 Thread
Battery Charge Type: Micro-USB
Color: Blue, Orange
Coil Material: Dual Ceramic Rod, Dual Quartz Rod
Package includes
1 x Dr. Dabber Aurora 510 Battery
1 x Dual Ceramic Rod Atomizer
1 x Dual Quartz Rod Atomizer
1 x Ceramic Mouthpiece
1 x Dab Tool
1 x Keychain
1 x Storage Ball
1 x Magnetic USB Charger
What's more on Aaron Kai X Aurora Vape Pen?
SnapTech Magnetic Technology
With the Aaron Kai vape pen, you don't need to worry about screwing around atomizers anymore. The new snapTech will allow you to have the freedom that no other vape pen ever did. This feature enables you to separate the atomizer and the mouthpiece form the battery.
The next level of magnetic technology will hold the parts firmly but softly so that you can remove the pieces with your hands with ease. Now, you no longer need to take out your toolbox each time you have to screw on or screw off the parts.
Dr. Drabber Aurora has three different atomizers included in the pack. Now with the help of magnetic technology, you can switch between the atomizers without any issue. This is included there is a high demand for different wax, sometimes people prefer thick density and sometimes they like a variable. Dr. Drabber is an all-inclusive advance atomizer, it gives you a variety rather than assuming that you would be satisfied with one. This feature makes Dr. Drabber a favorite among the masses. The convenience it provides has won the hearts of many.
The third incredible redeeming factor is the variable voltage battery, which allows vapers to change and control their dabbing voltage. The temperatures on the lower spectrum allow you to have a more casual experience and the higher temperatures enable you to have a more intense session. There are LED lights on the vape pen, which will demonstrate the different heating settings. You can use the power button to switch between the settings and find the one that suits you the most!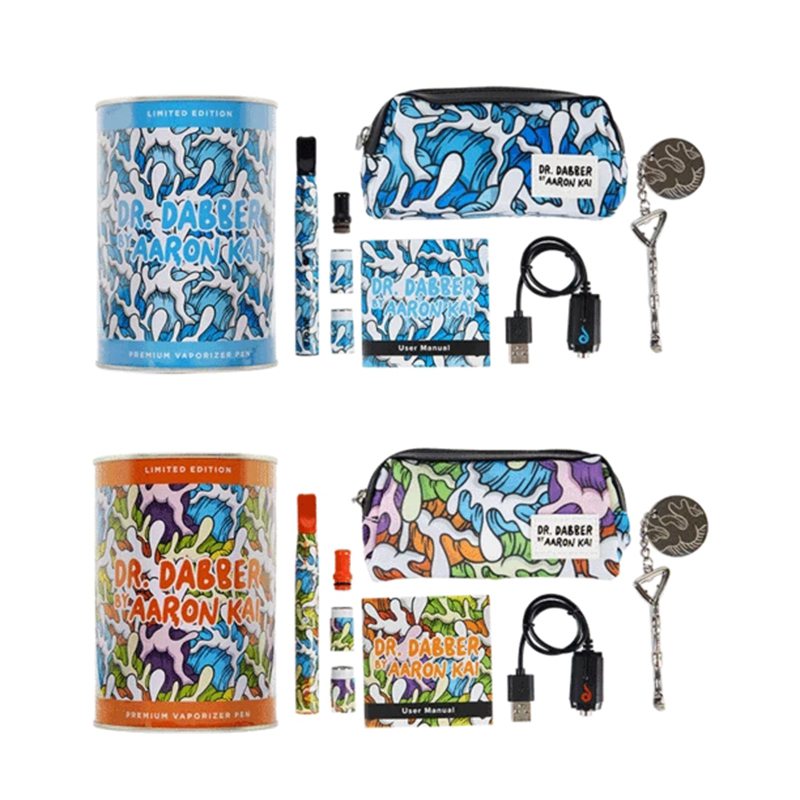 Product added to wishlist
Product added to compare.

By entering Vape4Ever, you affirm that you are of legal smoking age 21+ and you agree to be Age Verified.