Dr.Dabber Boost EVO Vaporizer Instructions
Overview
A leading brand in high-end, top quality vape products, Dr. Dabber has an excellent range including this item: the Dr. Dabber Boost Evo Vaporizer. This is a next-generation e-rig – a desktop vaporizer rather that can also act as a portable model – that has been designed from the ground up using the latest technology and materials to provide the ultimate dab. Consistency and quality of the dab are the key elements achieved with this innovative and neatly designed vaporizer.
The Boost Evo Vaporiser includes a unique temperature control system. Where many similar devices heat to a pre-set temperature and provide variances that affect the quality of the dab, the Dr. Dabber Boost Evo has six calibrated temperature options offering a perfect hit every time. The settings have been carefully chosen by researching the preferences of many Boost users.
A quartz atomizer offers excellent results and a long life, the powerful battery gives up to 60 hits on just one charge and interchangeable glass compartments are a welcome feature. The Boost Evo also features a choice of ambient light settings, fast heating time and is designed to be easy to use. Let's list some of the features of this neat and desirable device.
Features of the Dr. Dabber Boost Evo Vaporizer
Quartz atomizer for precision vaping
Six temperature settings between 500 to 700°F
Built-in temperature sensing system
60 hits per charge
Dual hold time of either 20 or 40 seconds
11 seconds to heat up
15-minute auto shut-off
USB-C charging
Quartz to glass vapor channel
Carry case included
Interchangeable glass
1 year warranty
Specifications
USE For: Wax, Concentrates
Heating Method: Conduction
Mouthpiece Material: Glass
Chamber Material: Quartz
Temperature Levels: 500℉(260°C), 550℉(288°C), 600℉(316°C), 650℉(343°C), 700℉(371°C), 750℉(399°C)
Color: Eclipse Black, Moon White
Package Includes
1x Dr. Dabber Boost EVO
1x Glass Attachment
1x Quartz Atomizer
1x Loading Tool
1x Quick Connect Adapter
1x USB Type C Charger
How to Use the Boost Evo Vaporizer?
The Boost Evo is a fully featured, carefully designed and developed dab rig of the highest order. Despite the many interesting and original features, the Dr. Dabber Boost Evo presents it is surprisingly simple to use. The one-touch selection for the six temperature settings is as easy as it gets. Where some devices with adjustable temperatures make it tricky to select the right one, the Boost Evo gets you there straight away and the choices should cover most users' taste.
Heating the device to temperature is also simple by way of a soft touch button, and takes just 11 seconds to reach the optimum. The choice of hold times is selected before the user takes a draw. As one would expect from a quality brand, charging is done in the standard fashion using a USB-C connection.
Portable yet also suitable as a stand-alone desktop device, the Dr. Dabber Boost Evo may not be the cheapest e-rig on the market, but we believe it is among the best in terms of design and quality. The interchangeable glass makes it simple to fill and keep clean, while the powerful battery, direct vapor pathway and innovative quartz atomizer and temperature sensor make it as efficient a dab rig as you will find anywhere.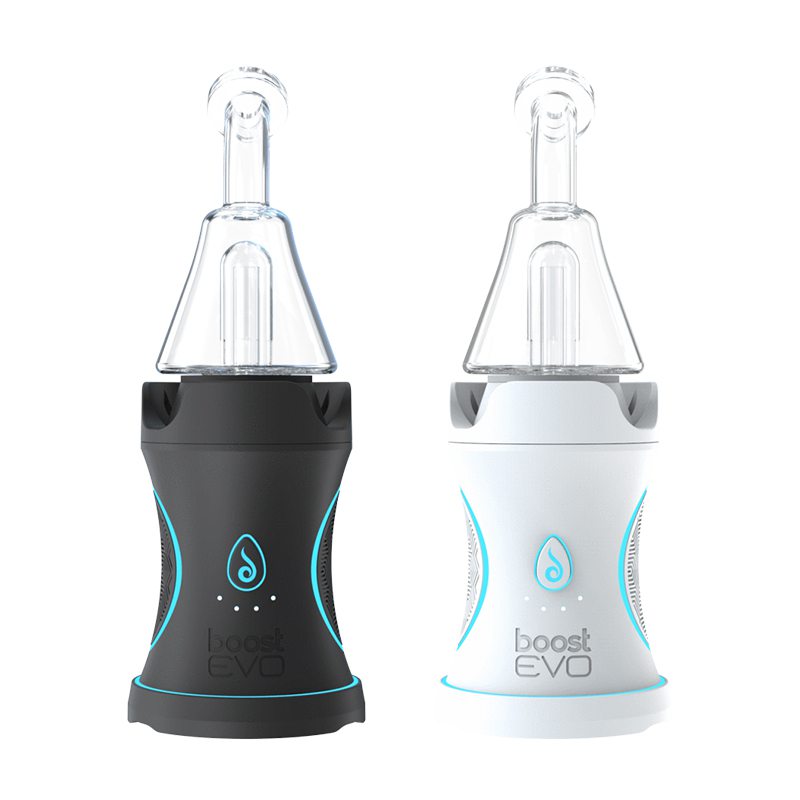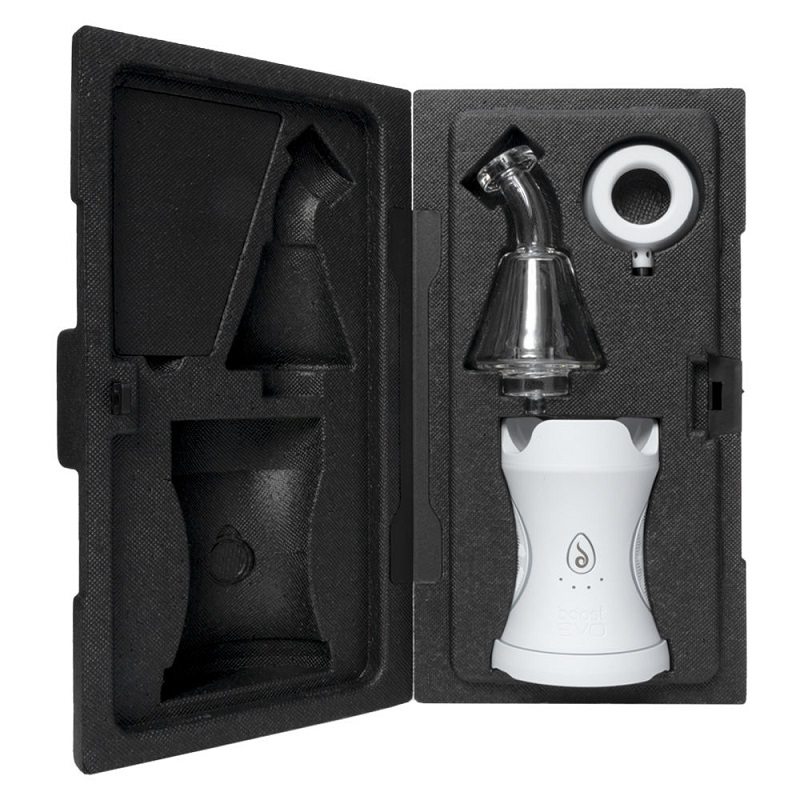 Product added to wishlist
Product added to compare.

By entering Vape4Ever, you affirm that you are of legal smoking age 21+ and you agree to be Age Verified.