Candy King Air Disposable Vape Pen 6000 Puffs
There are not enough products in stock
Candy King Air is a super-thin and portable disposable vape that presents approximately 6000 Puffs. It is rechargeable via the USB-C port at the bottom.
Candy King Air Disposable Vape Pen 6000 Puffs Instructions
Overview
Candy King Air is a rechargeable disposable vape offering approximately 6000 puffs. It is prefilled with e-liquid that contains 5% nicotine. Compared with traditional smoking, the Candy King features tobacco-free nicotine that will not make you feel dry. Moreover, it is cost-effective, and you can get it at an awesome price. Therefore, this vape device is perfect for smokers who want to try a durable disposable vaping device.
You will definitely love it when you get this delicate and super-thin Candy King Air disposable vape. You can put this discreet device in your pocket whenever you want. Plus, it is draw-activated and designed with a silicone mouthpiece, presenting smooth vapor and enhancing your vaping experience. You can also try 7 fantastic flavors of the Candy King Air.
As the Candy King Air is rechargeable via a USB-C port, you can recharge it at the bottom easily since it is a common port with high compatibility.
Specifications of Candy King Air Disposable Vape Pen
Prefilled E-Juice
Mouthpiece: Silicone
Puff Counts: Approximately 6000 Puffs
Rechargeable Battery
Charging: USB-Type C
Nicotine Level: 50mg (5%)
Nicotine Type: TFN (Tobacco-Free Nicotine)
Flavors: Strawberry Watermelon Bubblegum, Blue Razz Straws, Peachy Rings, Pink Squares, Gush Fruits, Mint Fresh, Rolls
Package Includes
1 x Candy King Air Disposable Vape Pen 6000 Puffs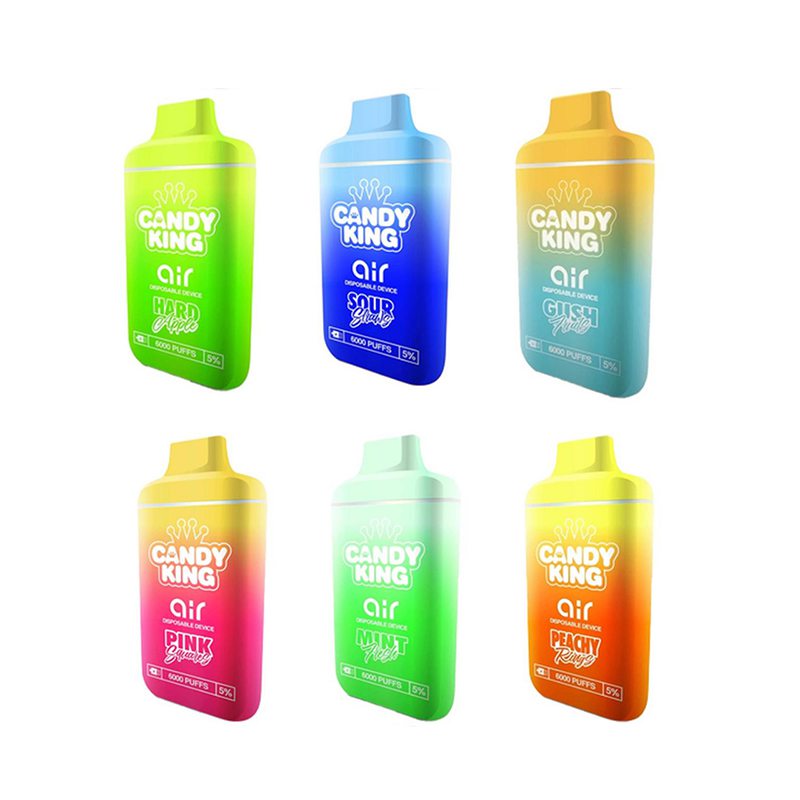 Customers who bought this product also bought:
Product added to wishlist
Product added to compare.

By entering Vape4Ever, you affirm that you are of legal smoking age 21+ and you agree to be Age Verified.