Yocan Stix Plus Oil Vaporizer
Yocan Stix Plus Oil Vaporizer is an upgrade vaping device with full dual core ceramic heating elements to present the superb purity of your favorite oils.
Yocan Stix Plus Oil Vaporizer Instructions
Yocan Stix Plus Oil Vaporizer
Overview
Yocan Stix Plus Oil Vaporizer is a slim, lightweight, and discreet model. It is an upgrade of its predecessors, Yocan Stix Oil Vape Pen. As a new version Yocan vape pen, it presents more advanced features. This oil vaporizer is engineered to provide pure vapors and does not cause sore throat or provide harsh throat hits. Its smooth and flavorful vapors provide an enjoyable vaping experience to medicating or recreational users.
What's so good about Yocan Stix Plus is that it comes with an avant-garde dual-core ceramic technology. The dual-core ceramic cartridge slowly burns the oil to release the active ingredient without giving that burnt taste. In addition, since its ceramic heating element possesses two cores, it provides massive cloud production while delivering superior flavors.
The top-notch refillable Stix Plus oil vaporizer is crafted from glass and ceramic. Its ceramic mouthpiece and glass tube make it exceptional. It preserves the vape oil's quality and keeps it fresh for an extended period. The glass tube also functions as an oil viewing window to keep tabs on your oil level. Stix Plus of Yocan has 1ml of oil capacity that you can refill or reload with various oils effortlessly, thus, eliminating the chances of burning its heating element, which can cause irreversible damage. In addition, this 510 thread based vaporizer is relatively straightforward to use and activates and operates via a single button. You only have to press the button five times to fire up or turn off the device.
Yocan Stix Plus Oil Vaporizer features a ten-second preheat option at 1.8 volts and a voltage adjustment setting to enjoy tasty flavors. Moreover, it offers three voltage settings, i.e., 3.0 volts, 3.5 volts, and 4.2 volts, indicated by white, blue, and green light, to customize your vaping experience. Its lowest voltage setting is ideal for enjoying tasty vapors, while the device's medium setting, 3.5 volts, delivers mellowing and soothing effects of the oils and relaxes your body. This temperature is perfect if you had a tough, tiring day. However, its highest voltage setting may let users experience the oils' psychoactive effects. To change the voltage settings, you have to press the button thrice or press twice if you want to activate its preheat setting.
Yocan Stix Plus vape pen is 85mm long and 14mm in diameter, which is ultra-portable and compact that you can easily carry in your bag or a pocket. It can also easily fit in your palm. Furthermore, its stainless steel body makes the vaporizer extremely lightweight while effectively protecting its internal components.
Stix Plus device is rechargeable and comes with a high-quality rechargeable 650mAh battery and a USB-C port for instant charging. Plus, its Type-C charging port offers flexible charging as you can charge via a wall charger, computer, or laptop. This rechargeable feature adds convenience, making it extraordinarily travel-friendly and a perfect candidate for always traveling consumers. Whenever the battery level drops, connect to the charger to juice up its battery, thus, allowing you to vape whenever or anywhere you want. Plus, Yocan Stix Plus is available in six eye-catching and solid colors, including Blue, Yellow, Champagne Gold, Red, Silver, and Black.
Features of Yocan Stix Plus Oil Vaporizer
Refillable and rechargeable
Discreet, portable, and lightweight design
A ceramic heating element with dual cores
Refillable oil tank
Single-button operation
Powerful 650mAh battery
10 seconds instant preheating
Includes a Universal 510 thread
Three voltage adjustment options
Reliable and durable ceramic mouthpiece
Convenient Type-C charging port
Offers massive vapor clouds
Glass tube for keeping oil fresh
Available in several color options
Specifications of Yocan Stix Plus Oil Vaporizer
Use For: Oils
Size: 14 x 85mm
Weight: 0.5-0.7 lbs
Cartridge Capacity: 1mL
Material: Stainless Steel
Charging: Type-C
Battery Capacity: 650mAh
Preheat Time: 10 Second
Voltage Settings: 3.0V (White), 3.5V (Blue), 4.2V (Green)
Connection: 510 Thread
Activation: Button Control
Color Options: Champagne Gold, Silver, Yellow, Black, Red, Blue
Package Includes
1 × Yocan Stix Plus Oil Vaporizer
1 × Type-C Charging Cable
1 × User Manual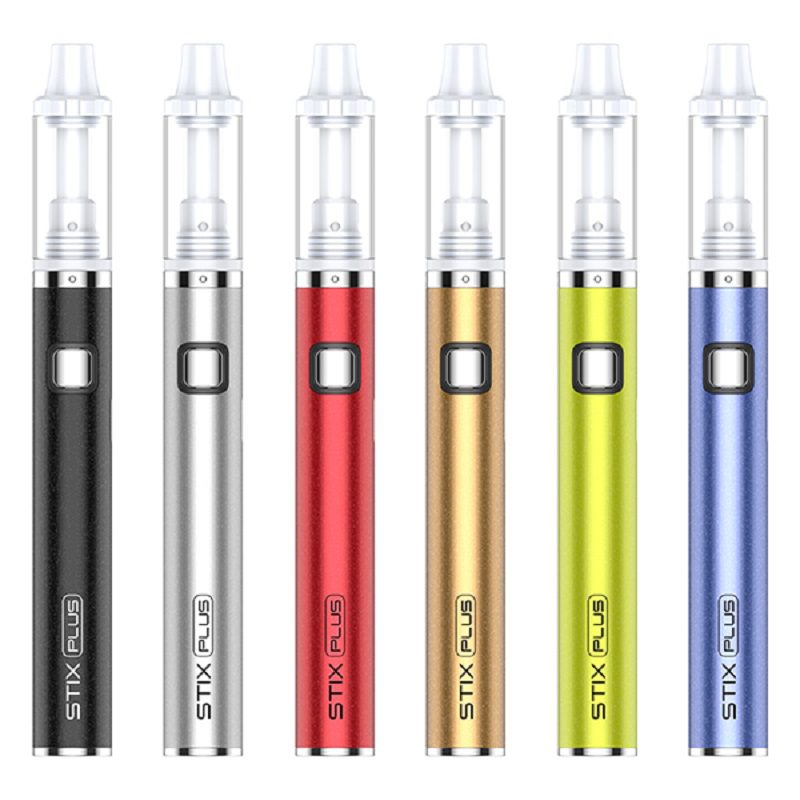 Customers who bought this product also bought:
Product added to wishlist
Product added to compare.

By entering Vape4Ever, you affirm that you are of legal smoking age 21+ and you agree to be Age Verified.