Lookah Ice Cream Dry Herb Vaporizer
In Stock
Stock Notice: This product is shipped from China warehouse with 10-15 days delivery time.
Lookah Ice Cream Dry Herb Vaporizer 350mAh with an adjustable nano-ceramic chamber features 4 temperature settings and a magnetically connected mouthpiece.
Lookah Ice Cream Dry Herb Vaporizer Instructions
Overview
The Lookah Ice Cream dry herb vaporizer is a small, discreet dry herb vaporizer that is lightweight and compact. The Nano-ceramic heating mechanism on the Ice Cream Vaporizer helps the user to enjoy a more pure and flavorful vaping experience. Lookah Ice Cream dry herb vaporizer that surprises any customer. It's very thin, discrete, and lightweight. Lookah Ice Cream dry herb vaporizers rapidly gaining popularity among vapers. They sell high-quality dry herb vaporizers of various kinds. You will find one that suits your needs.
This vaporizer has four preset temperatures. It ranges with specific sets from 392°F (200°C) to 446°F (230°C). The temperature levels are indicated by an LED light. By double-clicking the power button, you can adjust the settings. The power button is easy to click.
The Lookah Ice Cream dry herb vaporizer is a perfect portable vape due to its compact scale and almost weightlessness. It has a massive 950mAh battery that can be used for a long time once charged.
Features of Lookah Ice Cream Dry Herb Vaporizer
Adjustable herbal oven size
Heating chamber made of nano-ceramic
Temperatures that can be adjusted in various range
75-gram weight that is so light
Micro USB charging port and portable cleaning instrument
8 Different colors are available
Magnetic connection of mouthpiece
Designed in a lovely and eye-catching ice cream shape
Specifications
Dimensions: 115mm x 35mm x 38.2mm
Weight: 75g
Resistance Range: 0.50 to 2.0 ohms
Battery Capacity: 950mAh
Temperature Levels: 392°F(Green), 410°F(Blue), 428°F(Purple), 446°F(White)
Available in 8 Colors: Black, Grey, Blue, Green, Purple, Red, Orange, Yellow
Package Includes
1 x Lookah Ice Cream Dry Herb Vaporizer
1 x Packing Tool/Dabber
1 x USB Charging Cable
1 x User Guide
How to Use Lookah Ice Cream Dry Herb Vaporizer?
Remove the mouthpiece and fill the chamber with dried cannabis flowers that have been crushed. The chamber is very large, holding approximately 0.5 to 0.7 grams of ground weed. Place the magnetic mouthpiece back into place until the chamber is complete.
To switch the device on, repeatedly push the power button five times. Switch between the four preset temperatures by pressing the power button. At every press, you move on one stage, indicated by the color LED lights. The vaporizer turns off after four minutes as the LED flashes three times. If your vaping session is to be continued, just press the button five times to reactivate it.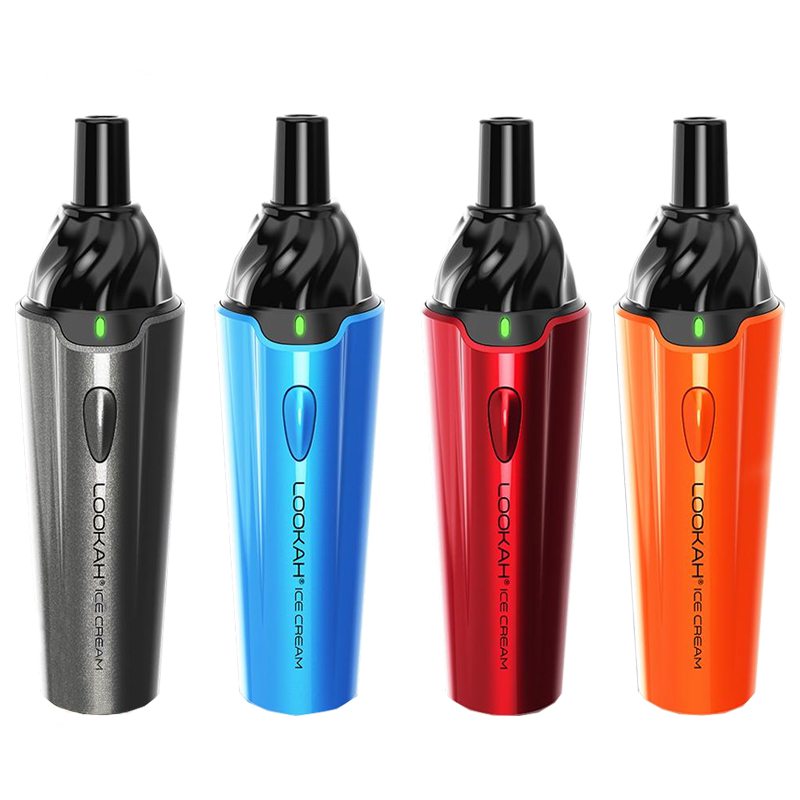 Customers who bought this product also bought:
KangerTech
V4-10147-EV02B0
Evod Twist 2 Battery Personalized button design,flash colorful variable voltage button. Bottom scale indicates the position of voltage level. 3.2v to 4.8v smooth turning voltage adjustment dial by evod twist bottom and button.
BLK Oval Dry Herb Vaporizer 1600mAh with a 360° swiveling head, large chamber size and ceramic heating elements, features variable temp and one-touch operation.
BLK Rotary Dry Herb Vaporizer 1800mAh has a cooling system and folding extension glass mouthpiece with isolate airflow and precise temp control 1°F per level.
Product added to wishlist
Product added to compare.

By entering Vape4Ever, you affirm that you are of legal smoking age 21+ and you agree to be Age Verified.