Lookah Seahorse Max Nectar Collector Dab Pen
In Stock
Stock Notice: This product is shipped from China warehouse with 10-15 days delivery time.
Lookah Seahorse Max Nectar Collector Dab Pen Instructions
Overview
Lookah seahorse max nectar collector dab pen is perfect for large dabs without the usual sprinkling heat and toughness of common nectar collectors. The 510 thread means that the premium Lookah replacement quartz or ceramic tips or coils can be used for the seahorse max nectar collector dab pen. Also, the device is compatible with all other 510 thread cartridges so that you can customize your dabbing.
With a battery of 950mAh, it guarantees that you can experience multiple sessions before you need to recharge. Like other vapes and dab pens, the seahorse max nectar collector dab pen is unlocked by pressing the power button five (5) times quickly; And start three modes of temperature by pressing a control button by cycling two (2) clicks. The temperatures control levels are: 3.2 volts (blue), medium 3.6 volts (purple) and 4.1 volts (white) high.
There are two modes available on the seahorse max nectar collector dab pen. Manual mode and auto mode: set your selected temperature for manual mode, click, and hold down the dab power button for up to 20 seconds. As for the auto mode, it begins by clicking three (3) times on the power button in 1.5 second.
Features of Lookah Seahorse Max Nectar Collector Dab Pen
The dab is driven by 3.6V
Preheating modes of 15 seconds 3.2V/3.6 V /4.1 V
510 cartridges are supported
Simple to clean, mobile and bong-friendly.
1 multifunctional equipment
950mah offers long term experience
Heat up quickly
The cleaning process is so much easy
It is environment friendly
Percolator for water filter
Specifications
Battery Capacity: 950mAh
Voltage Levels: 3.2V (Blue) / 3.6V (Purple) / 4.1V (White)
Dimensions: 50 x 50 x 247mm
Connection: 510 Thread
Available in 5 Colors: Grey, Blue, Red, Orange and Yellow
Package Includes
1 x Seahorse Max Nectar Collector Dab Pen
1 x Seahorse Max Removable Glass Percolator
1 x Mouthpiece Tip Stopper
2 x Quartz Coils/Tips
1 x Coil Cover
1 x Cleaning Brush
1 x Standing Tool
1 x USB Charging Cable
1 x User Guide
How to Use Lookah Seahorse Max Nectar Collector Dab Pen?
Users can choose from three temperatures when dabbling with the Lookah Seahorse max nectar collector dab pen. Users should use one of three heat choices and focus on the tip with a small amount of wax. Avoid pressing the tip on rough surfaces because the quartz tip can be damaged. The heated tip evaporates the concentrates or wax that you inhale from your mouthpiece.
The manual and the auto mode features are presented in the seahorse max nectar collector dab pen. When you have reached the target temperature, click the button and dab for the manual mode. As regarded the auto mode, the heated tip can be enabled by choosing any heating option. The preheat mode is 15 seconds and is signaled by a blinking light. After being heated, the temperature chosen would last approximately 30 seconds, time enough for any session.
The ceramic and quartz tips promise the rich vapor and great taste as you needed. And the 510 thread offers you more choices to choose from, for example, different tips and various 510 cartridges.
The Seahorse Max can also be applied to a glass water pipe, which will bring you cooler vaping experiences.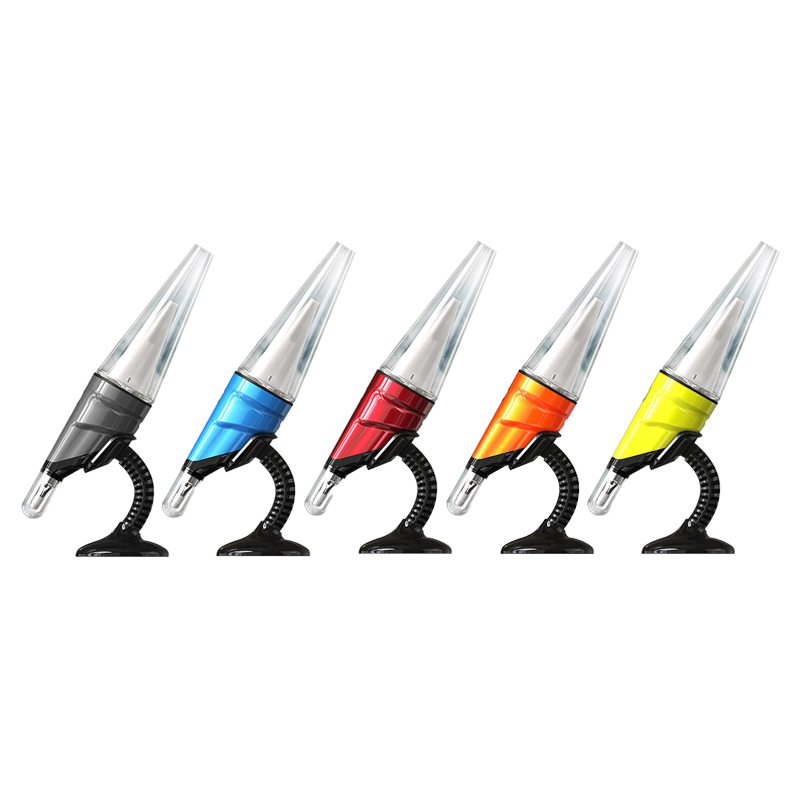 Product added to wishlist
Product added to compare.

By entering Vape4Ever, you affirm that you are of legal smoking age 21+ and you agree to be Age Verified.