The Kind Pen Variable Voltage 510 Battery
The Kind Pen Variable Voltage 510 Thread Battery is slim, starring 180mAh battery capacity with fast and fantastic heat-up time.
The Kind Pen Variable Voltage 510 Battery Instructions
Overview
The slim, cylindrical The Kind Pen Variable Voltage 510 Battery fits in hand comfortably and is pocket and travel-friendly. Its innovative design is reliable for being easy-to-use and durable. Moreover, this vape battery includes all the mandatory features for impeccable vaping sessions.
The device is not challenging to use. With its single-button operation, you can utilize its various features. By snicking the fire button five times, you can switch the device on and off, and clicking it twice will activate its preheat option to heat thick oils.
The great thing about Variable Voltage 510 Battery is that you can heat any vape liquid or oil with its three temperature settings. You can heat at the lowest setting (2.4V), in-between one (2.8V), and the maximum setting (3.2V). You do not have to be concerned about its battery life because you do not have to charge it frequently. Its powerful 180mAh battery lasts a very long time, and if the device is running out of power, you can instantly recharge it with the Universal USB charger. An LED light indicator surrounds the firing button. Since this pen battery is a 510 thread battery, you can screw most 510 cartridges and tanks.
Features of The Kind Pen Variable Voltage 510 Battery
Beginner-friendly
Effortless to use
Zero maintenance required
Eliminates frustration with its durability and reliability
Great battery life
Instant recharging
Three voltage settings
Stealthy, portable, pocket-friendly design
Universal 510 thread compatibility
Comes in various colors
Compatible with thick and less viscous vape liquid and oils
One button operation
Includes a preheat setting
Comes with an LED light indicator
Specifications of The Kind Pen Variable Voltage 510 Battery
Dimensions: 5 × 2 × 3 inch
Battery Capacity: 180mAh
Variable Voltage Setting: 2.4V, 2.8V, 3.2V
Charging: USB Rechargeable
Compatibility: Most 510 Carts and Tanks
Color: Silver, Black Gold, Gray, Iridescent, Rose Gold, Green Gold, Orange, Purple, Gold, White Gold, Gun Metal Black, Red, and Teal.
Package Includes
1 x The Kind Pen Variable Voltage 510 Battery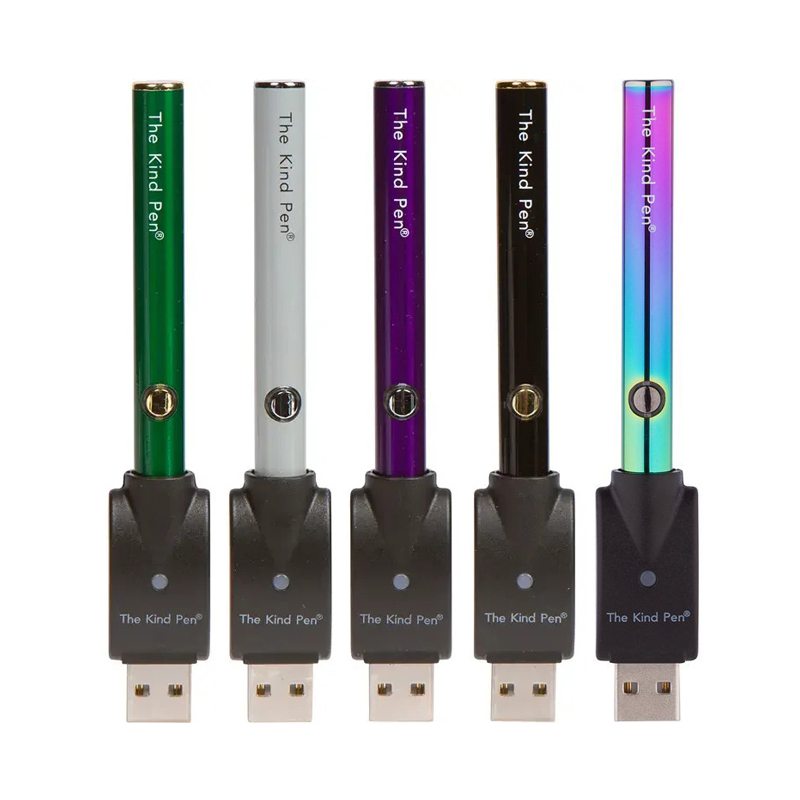 Customers who bought this product also bought:
Product added to wishlist
Product added to compare.

By entering Vape4Ever, you affirm that you are of legal smoking age 21+ and you agree to be Age Verified.