The Kind Pen Breezy 510 Thread Battery Instructions
Overview
The Kind Pen Breezy 510 Thread Battery is a dual-action e-liquid and oil vaporizer that uses a preheating chamber technology. Thanks to this technology, you will be able to enjoy smooth, even, and extremely delicious hits. This is a high-quality and durable device since it has an indestructible metal construction. If you are looking for a delightful vaping experience, this device is perfect for you.
The Kind Pen Breezy 510 Thread Battery is available in nine different colors: black, gold, orange, purple, silver, green, red, blue, and iridescent.
The Kind Pen Breezy 510 Thread Battery has a unique and appealing design that you will adore. It is entirely made of indestructible metal which makes it one of the most durable devices on the market. It is a small, compact, and highly portable device that will make your days better and more enjoyable.
The Kind Pen Breezy 510 Thread Battery is the first dual-action e-liquid and oil vaporizer in the world. The diameter of the chamber is 11mm which is large enough to be used with almost all 510-threaded cartridges that can be found on the vaping market, except FTP and CBN cartridges. Just pop the cartridge and enjoy delicious and smooth hits.
With The Kind Pen Breezy 510 Thread Battery, you will never have any issues with high-vicious oils and liquids thanks to its unique preheating chamber. The preheat setting of the chamber warms up the entire chamber, compared to other devices that simply preheat the chamber from the coil connection placed at the bottom. You can rest assured that you will get the most of your favorite products even if the weather conditions are extreme.
The Breezy Battery has an adjustable voltage setting. You can choose between 2.8v, 3.2v, 3.6v, and 4.0v, and customize the vaping experience in accordance with your needs and desires. There is a LED indicator at the top of the vaporizer that indicates your selected voltage setting.
The device comes with two adaptors of different sizes – one of them is for a 0.5g cartridge, and the other is for a 1g cartridge.
The Kind Pen Breezy 510 Thread Battery has a 500mAh battery that can be easily recharged via the micro USB charging port.
Just like all other products from The Kind Pen, The Kind Pen Breezy 510 Thread Battery has a lifetime warranty. The quality of the product is unrivaled, and you can rest assured that this device will provide you with enjoyable vaping experiences for a long time.
Features
Highly portable
Indestructible metal construction from bottom to top
The first dual-action vaporizer with preheating chamber technology in the world
Magnetic Connection
Compatible with 510 threaded cartridges
Diameter of the chamber: 11mm
LED voltage indicator
Specifications
Dimensions: 5 × 7 × 3 inch
500mAh battery
Weight: 6oz
Adjustable voltage: 2.8v, 3.2v, 3.6v, and 4.0v
Two adapters with different sizes
Micro USB charging port
Available in nine different colors: Black, Gold, Orange, Purple, Silver, Green, Red, Blue, and Iridescent
Lifetime Warranty
Package includes
1 x Breezy Device
2 x Adapters
1 x USB Charging Cable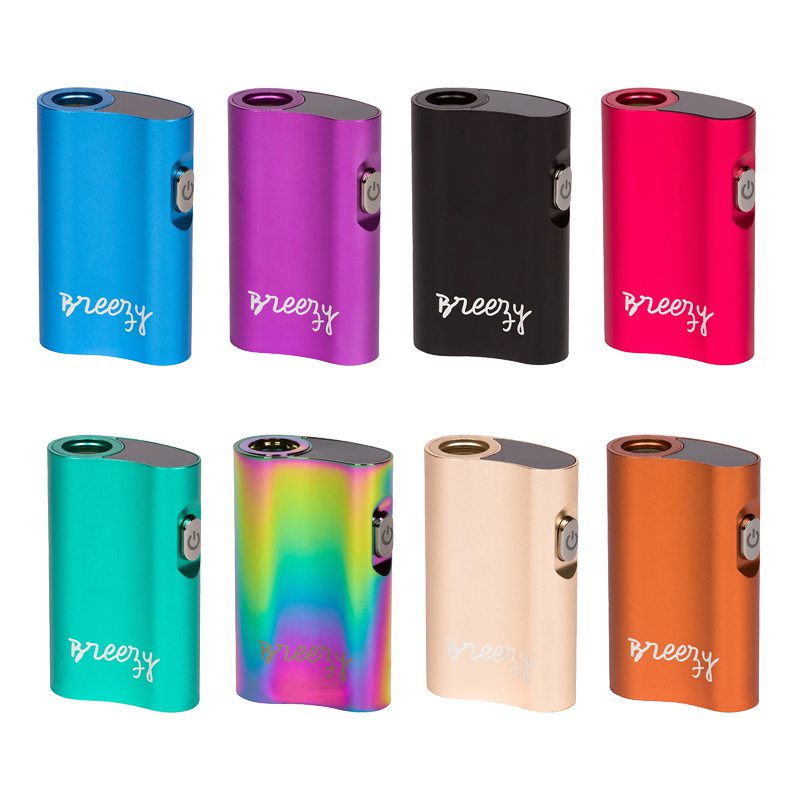 Customers who bought this product also bought:
Product added to wishlist
Product added to compare.

By entering Vape4Ever, you affirm that you are of legal smoking age 21+ and you agree to be Age Verified.