Uwell Caliburn G2 Kit
There are not enough products in stock
Uwell Caliburn G2 Kit comes in 6 fantastic colors with a 2ml pod capacity for pod system enthusiasts to enjoy with flavorsome e-liquid via adjustable airflow.
Uwell Caliburn G2 Kit Instructions
Overview
If you want to get your hands on the king of pod systems, you might want to check out the Uwell Caliburn G2 kit. It comes in a nice and beautiful box that slides open. The kit includes one pod with a coil attached, another coil, and a Type C charger. The user manual, warning, documentation, and warranty are present at the bottom of the box. The G2 measures 110.5 mm tall by 22.5 mm by 13 mm thick. Its aluminum alloy construction makes it pretty lightweight, pocket-friendly, and travel-friendly.
The Uwell Caliburn G2 Pod is available in six different colors, i.e., gradient, pyrrole scarlet, cobalt green, carbon black, shading grey, and ultramarine blue.
If we talk about its features, it possesses a slim, tapered mouthpiece that feels good on the lips. The perfect-sized mouthpiece makes the entire vaping experience comfortable and extremely enjoyable.
Moreover, the Caliburn G2 Pod has a top-fill pod system. When you crack open the top, you will find three holes. The first hole is the silicone seal that prevents over-filling. The second is an air release valve, and the center hole is the coil.
Once you fill it up, pop the cap back on. What's more, it is a pod with a removable coil head. The Uwell Caliburn G2 Kit includes two UN2 meshed coils, i.e., 0.8ohms and 1.2ohms.
Furthermore, the most remarkable feature is the adjustable airflow control present directly on the pod itself. It works accurately, and you can shut off entirely or adjust it to mouth-to-lung or restricted direct-lung.
What else? The Caliburn G2 pod holds two ml of e-juice and has viewing windows on both sides to keep track of the liquid inside. Moreover, it offers two options for drawing - manual and automatic.
The device does not have adjustable wattage settings, but it has an output of 18 watts.
Plus, an LED light at the bottom indicates battery life. It has three colors - green, blue, and red. When your device shows red light, it's time to grab your Type C charger to charge your 750mAh battery.
In addition, when you drop this Uwell pod or charge the device, it vibrates, thus, making sure that it has made a secure connection.
In short, Uwell Caliburn G2 is the refreshed and slightly updated version of the Original G that has an insanely impeccable airflow system and delivers outstanding flavors. In addition, it has exceptional battery life. The combination of features in this pod system will not disappoint you at all!
Features of Uwell Caliburn G2 Kit
Constructed from aluminum alloy
Lightweight and compact
Available in multiple colors
Perfectly-sized mouthpiece for exceptional vaping
Possess a top-fill pod system
Includes three holes (a silicone seal, an air release valve, and coil)
2 ml e-liquid capacity
It consists of a detachable coil head
It comes with two UN2 meshed coils (0.8ohm and 1.2ohm)
It offers an adjustable airflow control
Includes two viewing windows
It comes with an LED light indicator
It consists of a 750mAh battery capacity
Type C USB charger for ultra-fast charging
18 wattage output
Two inhaling options (manual and automatic)
Device vibration signifies connectivity
Specifications of Uwell Caliburn G2 Kit
E-liquid Capacity: 2ml
Weight: 36g
Dimensions: 110.5 × 22.5 × 13mm
Materials:PA, Aluminium Alloy
Battery Capacity: 750mAh
Output Wattage:18 W
6 Color Options: Gradient, Pyrrole Scarlet, Carbon Black, Cobalt Green, Shading Gray, and Ultramarine Blue.
Package Includes
1 X Caliburn G2 Pod Device
1 X 0.8ohm Meshed-H Coil
1 X 1.2ohm Meshed-H Coil
1 X Type-C Charging Cable
1 X User Manual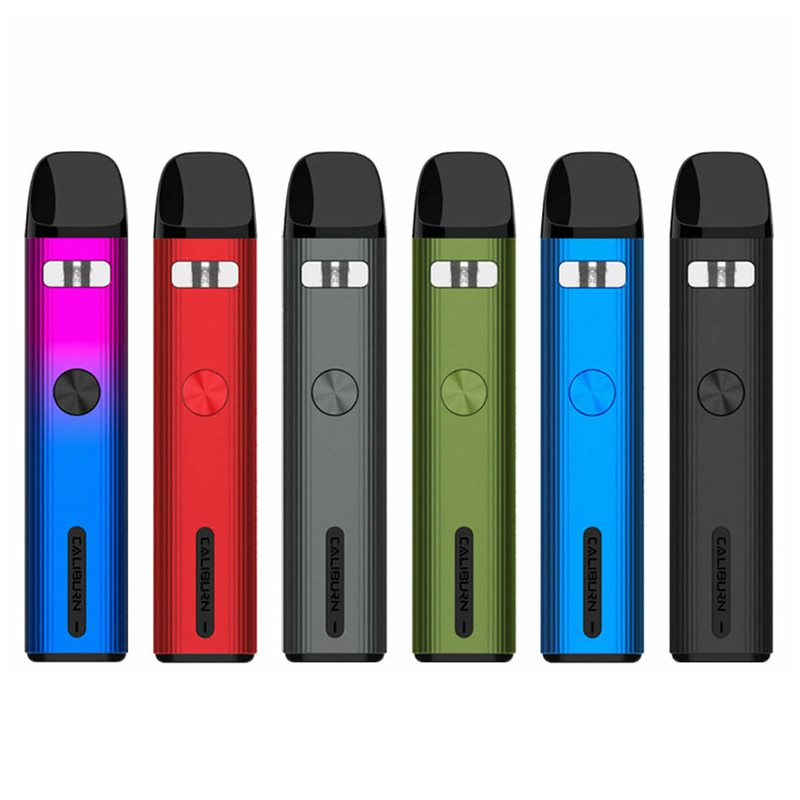 Customers who bought this product also bought:
Product added to wishlist
Product added to compare.

By entering Vape4Ever, you affirm that you are of legal smoking age 21+ and you agree to be Age Verified.