Caliburn A2S is a starter kit of the brand Uwell. You can easily refill the e-liquid by the side of the pod.
Uwell Caliburn A2S Kit Instructions
Overview
If you have a soft spot for Uwell, you have to try this new Caliburn A2S Kit! There are a few tweaks and upgrades to this unique-looking design though it is similar to its predecessor, A2. In addition, you will get a spare 1.2ohm pod, a warranty card, and a user manual for this pod.
The long cylindrical-shaped device is divided into two parts - a battery piece and a pod installed at the top that is easily detachable. The stellar separable mesh pod is 1.2ohm. The pod has a whistle-tip mouthpiece to provide the most comfortable vaping session. It has a 2mL e-liquid capacity that you can refill by peeling the mini rubber cap on the side. Plus, being a transparent pod, it acts as a viewing window to see the amount of e-liquid left to prevent coil burning. This way, you can monitor the juice level and see when it is time to refill it.
Assembling has been made easy because of the magnetic connectivity. This device from Uwell produces a tiny click sound that ensures your pod is locked in place. The pod fits either way, and there is no right or wrong side and will show you the same viewing window. The elegant device with a smooth surface has a 520mAh internal battery that lasts a day. Don't worry if your battery runs out because you can charge it via a Type-C charger.
The most incredible part is that the engraved Caliburn A2S is also an LED light indicator to indicate your battery status. The green light will show 60% or more battery life, blue light if it's between 30 to 60%, and red if it's under 30%. The light on the logo will also scroll through or go up and down while you are vaping, making this device avant-garde. Its usage is straightforward as you only have to inhale to activate the device. There is no button, airflow adjustability option, or variable voltage feature, making it perfect for novice users. Its aluminum-alloy body with a super sharp, smooth satin finish makes it extremely lightweight and portable.
Since Caliburn A2S from Uwell is a mouth-to-lung vaping device, the airflow is slightly restrictive, putting less wear on your internal battery. Thus, your battery will last longer. In short, it performs beautifully, offers a fantastic restriction, and provides delectable vapes.
Features of Uwell Caliburn A2S Kit
Automatic activation on inhaling
Beginner-friendly as there are no adjustment options
Super silky-smooth airflow
Provides decent flavorful vapes
Offers an outstanding mouth-to-lung experience
Mesh coils hit the spot
Rechargeable via a Type-C cable
Provides consistent performance
New animated LED light matrix
Available in multi-colors
Lightweight and travel-friendly design
Includes a viewing window
Easy-to-handle side refilling system
User-friendly magnetic pod attachment
Secure leak-proof design
Fits in 0.9ohm Caliburn A2 refillable pod
Specifications of Uwell Caliburn A2S Kit
Dimensions: 110.1 × 21.3 × 11.7 mm
Output Power: Maximum 15 W
Battery: 520mAh
E-Juice Capacity: 2mL
Charging: Type-C port
Heating Element: 1.2ohm Mesh Coil
Firing Mechanism: Draw-Activated
Fill Type: Side Filling
Colors: Blue, Gray, Black, Gold, Gradient, Purple
Package Includes
1 x Caliburn A2S Unit
1 x Pre-Installed Caliburn A2 Side Refilling Pod (1.2ohm FeCrAl UN2 Meshed-H)
1 x Spare Caliburn A2 Side Refilling Pod (1.2ohm FeCrAl UN2 Meshed-H)
1 x User Manual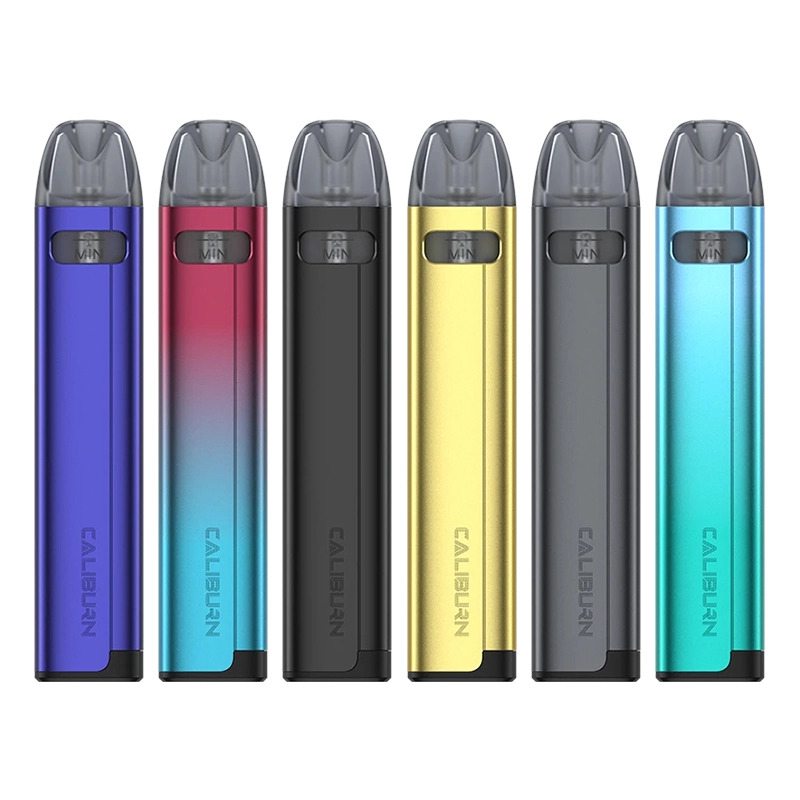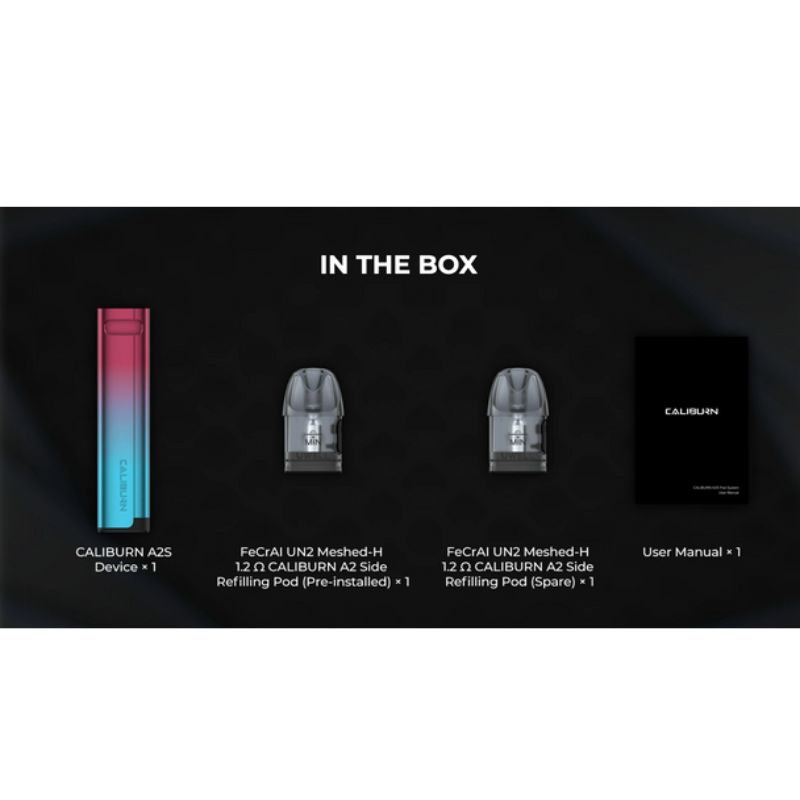 Customers who bought this product also bought:
Product added to wishlist
Product added to compare.

By entering Vape4Ever, you affirm that you are of legal smoking age 21+ and you agree to be Age Verified.