SMOK I-PRIV Kit With TFV12 Prince Tank
There are not enough products in stock
SMOK I-PRIV Kit With TFV12 Prince Tank is the product of brand SMOK, it's one of the best vapor products with the option of Prism Blue Kit:1pcs, etc.
SMOK I-PRIV Kit With TFV12 Prince Tank Instructions
SMOK I-PRIV Kit Instructions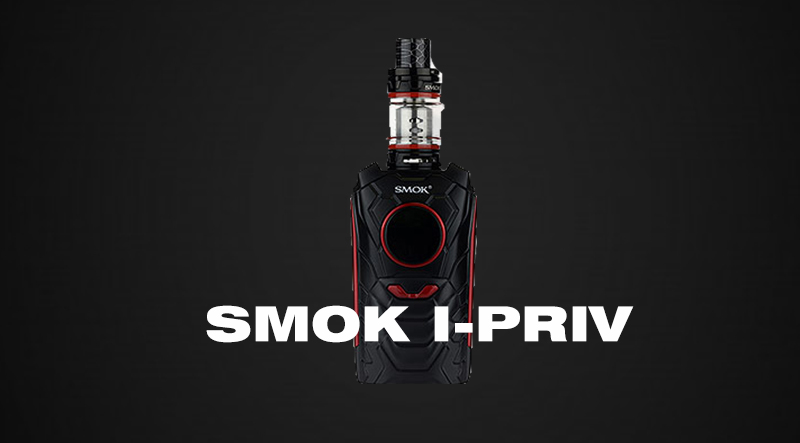 Overview
SMOK I-PRIV Kit is the most innovative device available in the industry right now. It is powered by an AI chipset that works on voice control and can be paired with 18650/20700/21700 batteries to be compatible with TFV12 Prince Tank. The SMOK I-PRIV 230W Box Mod can understand and implement commands with the voice control AI technology. It has also been designed with elements inspired with suoerheors to implent a futuristic view. The usage of dual 20700 and 21700 batteries (not included). It provides a better range as well as flexibility to create a longer lasting output technology. The batteries are expendable to 18650 batteries for more support. The I-PIV has an output of 230W and huge range of temperature control suite and memory mode for spot on accuracy. It prides itself of supporting a Sub-Ohm tank with a maximum capacity of 8 milliliters. It has top fill with button lock technology for max fill. Double airflow control from bottom. And the usage of the TFV12 Prince Coil System with the utilization of the Prince Mesh and Prince Strip Coils.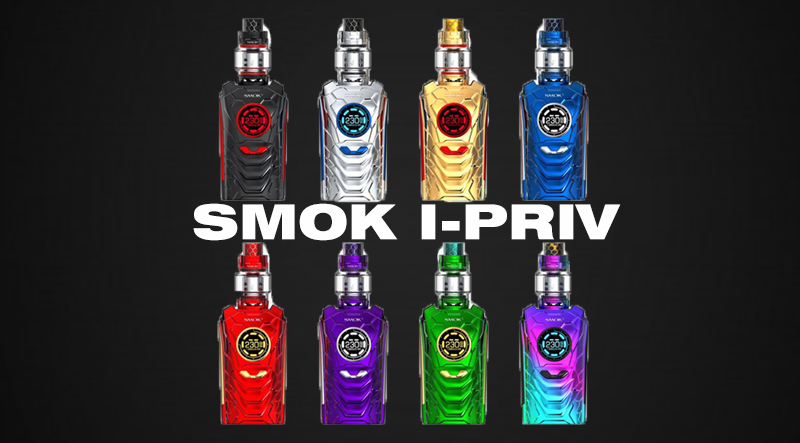 SMOK I-PRIV Kit Features
SMOK I-PRIV 230W TC Box Mod
Supply Ni200 Nickel, Titanium, and Stainless Steel Heating units
Memory Modes for add on accuracy
Voice Control
Constructed with premium quality Zinc Alloy
Eye catching visuals
Magnetized Battery Cover
Dual Battery Life Display
Puff Monitoring
Stealth Side Fire Key
Adjustment buttons at finger tips
Micro USB Port
SMOK TFV12 Prince Sub-Ohm Tank
Constructed with premium quality Stainless Steel
Food grade Pyrex and blub glass
Superior Glass Reinforcement
High-Temperature Protection (Anti Explosion)
Top-Fill Design
Huge double airflow control (Adjustable)
TFV12 Prince Coil System
SMOK I-PRIV Kit Specifications
SMOK I-PRIV 230W TC Box Mod
Dual High-Amp 20700/21700 Battery - Not Included
Wattage: 1-230W
Voltage: 0.5-9.5V
Resistance: 0.06ohm
Temperature Range: 200-600℉
SMOK TFV12 Prince Sub-Ohm Tank
24.5mm Base Diameter
28mm Diameter at Widest Point
8ml Juice Capacity
V12 Prince Strip Coil: Resistance:0.15ohm, ready for 40-100W
V12 Prince Mesh Coil: Resistance:0.15ohm, ready for 40-80W
810 Cobra Resin Ultra-Wide Drip Tip
510 Connection
SMOK I-PRIV Kit Package Includes
1 X I-PRIV 230W Box Mod
1 X TFV12 Prince Tank
1 X V12 Prince Strip Core
1 X V12 Prince Mesh Core
1 X 18650 Battery Adapter
1 X Ready Glass Tube
1 X USB Cable
1 X Spare Parts Carrier
1 X User Manual
What's more on SMOK I-PRIV
Appearance Design
Aesthetic appearance that resembles a Marvel superhero with a design that is futuristic and aggressive. The colorful chrome like finish adds a very niche appeal to the mod overall. The color scheme on the Smok I-Priv is the same of that on an Iron man's chest.
In terms of function, the I-Priv has been modified a lot from the previous versions of Smok devices. The new user interface s different a supports a round look with a new menu system upgrades. This interface is new in the market and experienced Smok vapers will have no issues adjusting to it. The operation logic is the same but the design is new.
The dual batteries 21700 gives it a power range range all the way from 1 watt to 230 watts. Even though it is obvious that anyone who would buy this device is mainly getting it for the huge raw power that Smok I-Priv is capable off but it is good to know that you are being provided with a huge range of temperatures.
It is a portable hand held device with a total height of 158.5 mm and weighting at a total of 250 grams. Its is not the most lightest I-Priv device or not exactly the smallest who are always on the go. But it is a great device for people who needs it for home and office use. The massive battery can last for a full day or even two at times guaranteed. Even if you are a heavy smoker.
FAQ for SMOK I-PRIV Problems
How to Operate the Menu System
Power through the menu with five on clicks
Scroll menu with three simple clicks
Lock and unlock with 5 clicks
Vice control button on and off can help change robot voice
Inclusive of VC command sheet
Scroll for LED light settings
Different screen themes options with screen settings
Fire to select, + and – to scroll
How to Replace The batteries
Open the battery panel on the back.
Ensure that your batteries are carefully inserted and be careful of wraps when you push in the fitted adapter, is using the 18650 adapter.
If not, then put in the cells according to the chamber symbols.
Carefully put the id back in.
How to Operate The Voice Control?
Switch on the microphone panel on the screen and start talking when it is in the listening mode.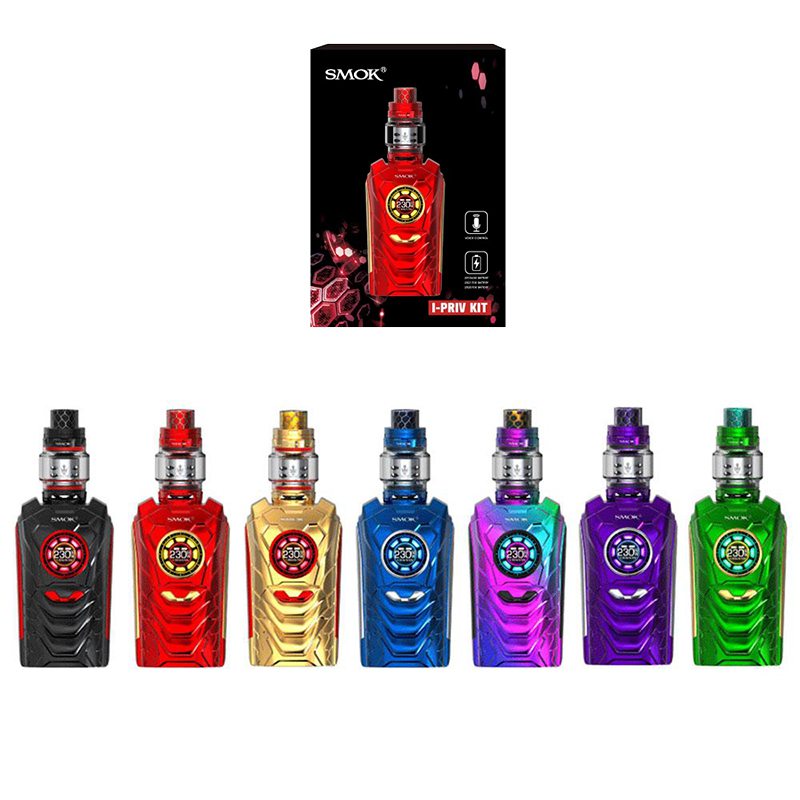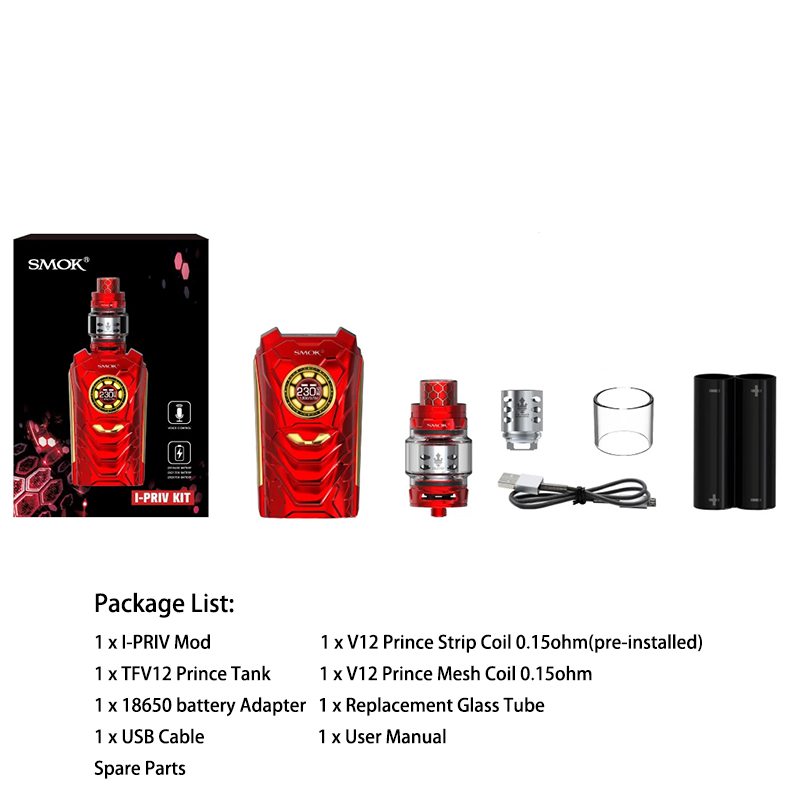 Customers who bought this product also bought:
Product added to wishlist
Product added to compare.

By entering Vape4Ever, you affirm that you are of legal smoking age 21+ and you agree to be Age Verified.