Santa Cruz Shredder 3 Piece Grinder
Santa Cruz Shredder 3 Piece Grinder is the product of brand Santa Cruz Shredder, it's one of the best vapor products with the option of Black 1 5/8":1pcs, etc.
Santa Cruz Shredder 3 Piece Grinder Instructions
Overview
The material used for the creation of the supreme Santa Cruz Shredder 3 Piece Grinder is aluminum. The process of anodization is used for a smooth finish and it makes the product long-lasting and scratch-resistant.
In order to avoid incorrect threading, this 3-piece grinder is designed with 7 threads. The technology used on the top is named "deep knurled grip pattern" and it makes grinding very easy. In case you want to put keif in your papers and bowls, there is a keif press included. Furthermore, if you don't want the pollen segregated from your mix, then this grinder is the most suitable for you. The Santa Cruz Shredder 3 Piece Grinder's storage is broad with spherical corners so that you can use every tiny piece of the material.
You will recognize the high quality of this product as soon as you have it in your hands. Only one piece of supreme CNC aluminum is used in the production process of Santa Cruz Shredder 3 Piece Grinder and that contributes towards the product's durability and ability to constantly provide consistent grind. The 3-piece grinder includes a chamber for the herbs and spices, sharp teeth, and powerful magnetic top. The teeth of the Santa Cruz Shredder 3 Piece Grinder are square in order to avoid aluminum flakes to mix with your blend. Materials with the highest quality are used in the production of these grinders in Santa Cruz. California. Choosing this grinder is the best thing you can do!
Features
Made in the USA
3-piece herb grinder
The one-of-a-kind tooth design creates perfect and fuller aromatic blends
A T304 microbic screen is included
Built from an ultrasonically cleansed anodized aluminum
Stainless steel screen that does not fray
Grinding is very easy thanks to the knurled grip
Matte and gloss finishes which are scratch resistant
Several sizes of the product are available
Package Includes
1 x 1-5/8" / 2-1/8" / 2-3/4" Diameter Santa Cruz Shredder 3 Piece Grinder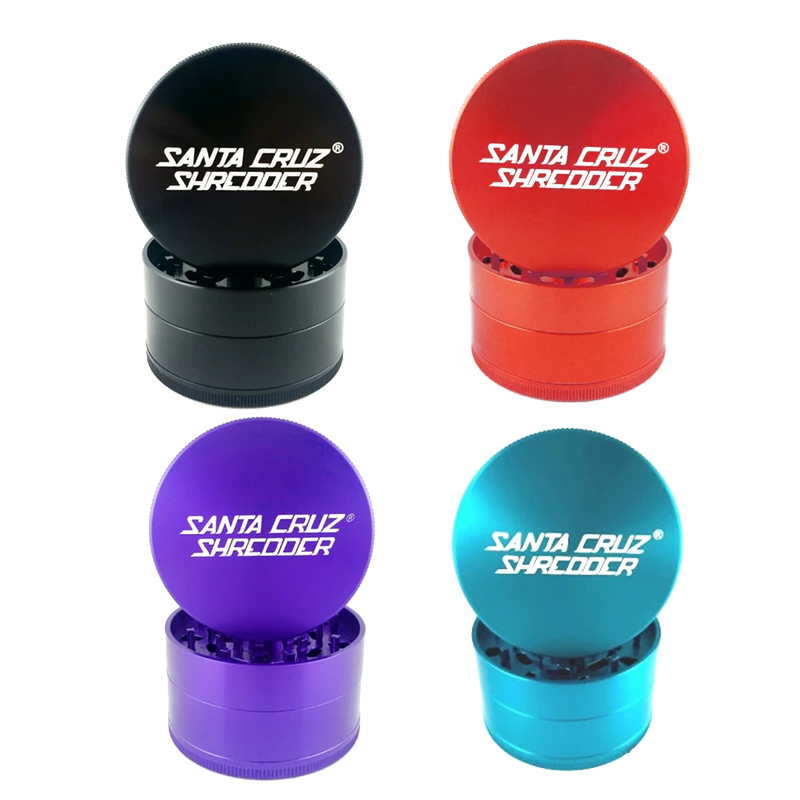 Product added to wishlist
Product added to compare.

By entering Vape4Ever, you affirm that you are of legal smoking age 21+ and you agree to be Age Verified.