Santa Cruz Shredder 2 Piece Grinder
Santa Cruz Shredder 2 Piece Grinder is the product of brand Santa Cruz Shredder, it's one of the best vapor products with the option of Black 2 1/8":1pcs, etc.
Santa Cruz Shredder 2 Piece Grinder Instructions
Overview
Santa Cruz Shredder 2 Piece Grinder can be described as the supreme when it comes to herb shredders that possess the latest technology. Each element of this shredder comes fully enhanced and analyzed; for instance, its innovative threading pattern and tooth design, and the usage of rare-earth magnets in its lid closing system. Moreover, due to its high-quality textured grip, this shredder is extremely popular among the patients who suffer due to wrist or hand pain.
Furthermore, when it comes to looking at all the differences between grinding and shredding, one should look at the teeth of the grinder. Majority of the two-piece grinders only smash and chop the bud; hence, one would think that this shredder does the same. However, this shredder works pretty much the same as the other grinders of the Santa Cruz Shredder brand. The patented teeth design used is similar and properly grinds the bud into a green fluff. These shredders cut in various directions at the same time, which results in a material that is evenly fluffed as compared to other grinders that produce dense chunks instead. Moreover, these grinders will never dull and are extremely durable. Their unique SCS teeth design is much thicker towards its base for prolonged longevity.
In addition, the upper and lower edges of this shredder have extremely knurled texture, which makes sure that a user can firmly grip and easily rotate the product without much risk of hand fatigue. The colors of the Santa Cruz Shredders come from aluminum anodizing of the product, which also results in hardening of the surface in order to be scratch-resistant. Also, it helps in protecting the threads from burring, any cross-threading, or binding together. Plus, the magnets used are of the highest-quality. They are coated three times with both Nickel plus Copper in order to provide resistance against any corrosion or damage. Neodymium Rare-Earth magnets of the highest quality tightly secure the grinder's top piece, which allows easy rotation and prevents your substance from spilling or drying out.
Features
Custom designed and manufactured in Santa Cruz, US
Medical-grade, ultrasonically cleansed, and consist of anodized aluminum
Consist of two pieces; the grinder and the sifter
Advanced patented teeth design that fluffs your fragrant blends
Easy grinding due to knurled grip
Matte and gloss finishes that are scratch-resistant
Available in a variety of colors and sizes
What's more on the Santa Cruz Shredder 2 Piece Grinder?
Two-Piece Grinders And Sifters In The Santa Cruz Shredder
The teeth of this grinder are exclusively designed to cut in every direction; hence, your blends will be perfectly fluffed after every use.
All of these shredders have a textured grip that is unique and makes it extremely easy to achieve the ideal grind, minus any additional effort.
These grinders use a lid closing technology that consists of rare-earth magnets of the highest quality. Hence, the user does not need to stress about loss of their ground material, loose lids, spills, and odor leaking issues.
The Santa Cruz Shredders consist of anodized aluminum that is medical-grade. Due to this, the grinders have a flawless finish that eliminates any possibilities of cross threading or scratching.
Package Includes
1 x 1-5/8" / 2-1/8" / 2-3/4" Diameter Santa Cruz Shredder 2 Piece Grinder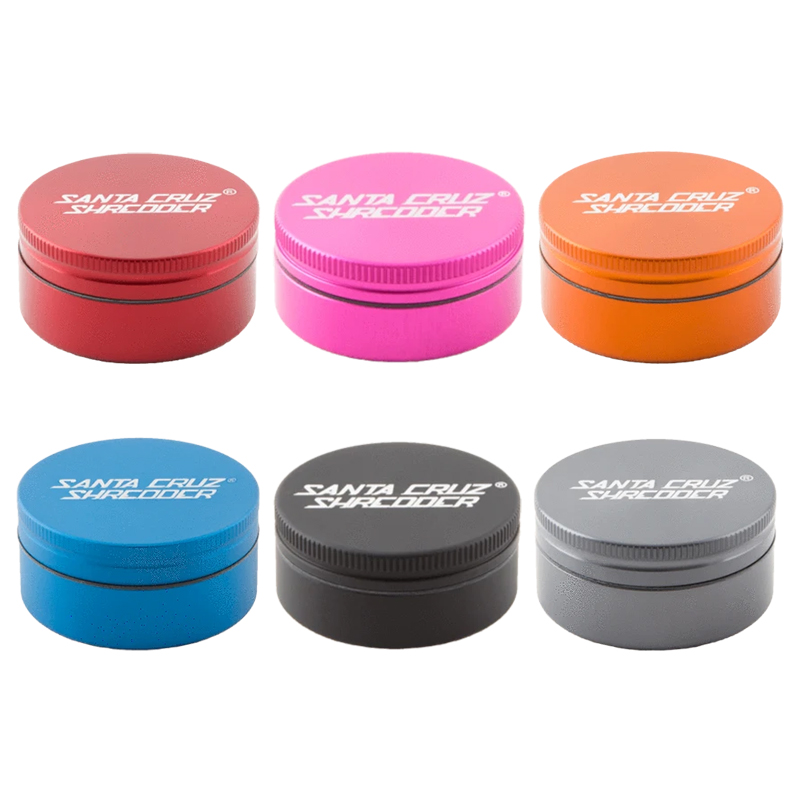 Product added to wishlist
Product added to compare.

By entering Vape4Ever, you affirm that you are of legal smoking age 21+ and you agree to be Age Verified.