Pacha Syn Salt E-Liquid 30mL
Pacha Syn Salt E-Liquid 30mL offers multiple flavors and high nicotine concentrations of 25mg and 50mg.
Pacha Syn Salt E-Liquid 30mL Instructions
Overview
Specifications
E-Liquid Capacity: 30mL
Nic Type: Synthetic Salt Nicotine
Strength: 25mg, 50mg
Flavors: Apple Tobacco, Strawberry Watermelon, Blue Razz Ice, Fuji Ice, Citrus Medley, Icy Mango, Frosted Cronut, Watermelon Ice, Honeydew Melon, Sorbet, Black Ice Menthol, Fuji Apple Strawberry Nectarine, Kiwi Berry Ice, Starfruit Grape, Starfruit Grape Ice, Golden Peach Pineapple, Blueberry Lemonade
Package Includes
1 x Pacha Syn Salt E-Liquid 30mL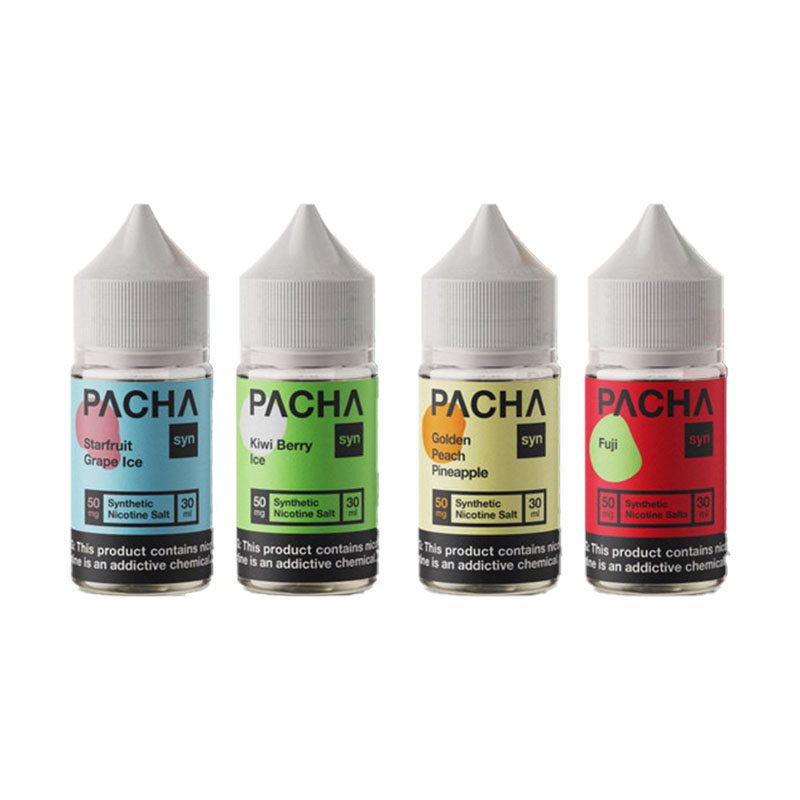 Customers who bought this product also bought:
ZoVoo DragBar F8000 Disposable Vape 8000 Puffs is the first 8000 puffs vape pen on the market, featuring a large capacity of 16mL e-juice.
Vaporesso XROS Replacement Pods is the product of brand Vaporesso, it's one of the best vapor products with the option of 0.8ohm Mesh Pod:2pcs, etc.
Glas Basix TFN Salt Nic E-Liquid 30ml Collections offered in 9 tasty flavors with tobacco-free nicotine bring an extraordinary vaping experience.
Product added to wishlist
Product added to compare.

By entering Vape4Ever, you affirm that you are of legal smoking age 21+ and you agree to be Age Verified.