Pacha Syn E-Liquid 60mL is a vape juice offers a variety of flavors and comes in three different nicotine strengths.
Pacha Syn E-Liquid 60mL Instructions
Overview
Specifications
E-Liquid Capacity: 60mL
Nicotine Type: Synthetic Nicotine
Strength: 0mg, 3mg, 6mg
Flavors: Fuji Apple Strawberry Nectarine, Blood Orange Banana Gooseberry, Mango Pitaya Pineapple, Strawberry Guava Jackfruit, Passionfruit Raspberry Yuzu, Huckleberry Pear Acai, The Mint, Peach Papaya Coconut Cream
Package Includes
1 x Pacha Syn E-Liquid 60mL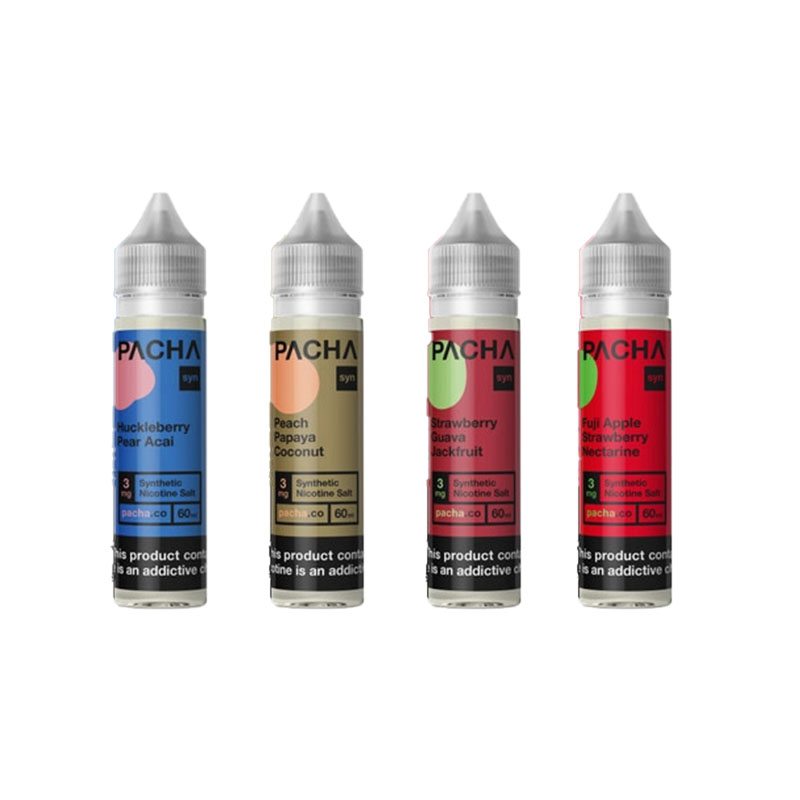 VAPE4EVER
VAPE4EVER
V4-11248-
Dual Perc Cylinder Base Bong 16 Inches with 18mm bowl, crafted in dual tone color, stemless designed, features honeycomb perc and matrix perc for smooth hits.
VAPE4EVER
VAPE4EVER
V4-11314-
The Cutter Hand Cranked Three Piece Grinder 50mm designed for the finest grinding is easy to use and clean, featuring superb materials for high durability.
Elf Bar
Elf Bar
V4-11469-
Elf Bar Airo Max Disposable Vape 5000 Puffs features 13mL e-liquid and a 600mAh battery that can be recharged by a Type-C cable.
Product added to wishlist
Product added to compare.

By entering Vape4Ever, you affirm that you are of legal smoking age 21+ and you agree to be Age Verified.