TWIST Disposable Vape 6000 Puffs
TWIST Disposable Vape 6000 Puffs has a palmable design and supports the USB-C port. It provides rich,fruity flavors and a pleasant vape feeling.
TWIST Disposable Vape 6000 Puffs Instructions
Overview
TWIST Disposable Vape 6000 Puffs is the ultimate vaping solution that delivers aromatic vapor clouds with its newest Corex coil and built-in mouthpiece. The Type-C port recharges the built-in 650mAh battery, maximizing vape performance. Though the 15mL e-juice isn't refillable, its large capacity ensures you have enough juice for the day. This is the best vaping device for your needs.
Specifications
Puff Counts: About 6000
Charging Port: Type-C Port
E-Juice Capacity: 15mL
Nic Salt Strength: 0%, 5%
Coil: Corex Mesh Coil
Battery Capacity: 650mAh
Flavors: Arctic Cool Mint, Tropical Punch, Honeydew Melon Chew, Berry Medley Lemonade, Pink Lemonade, Rainbow, Watermelon Madness
Package Includes
1 x TWIST Disposable Vape 6000 Puffs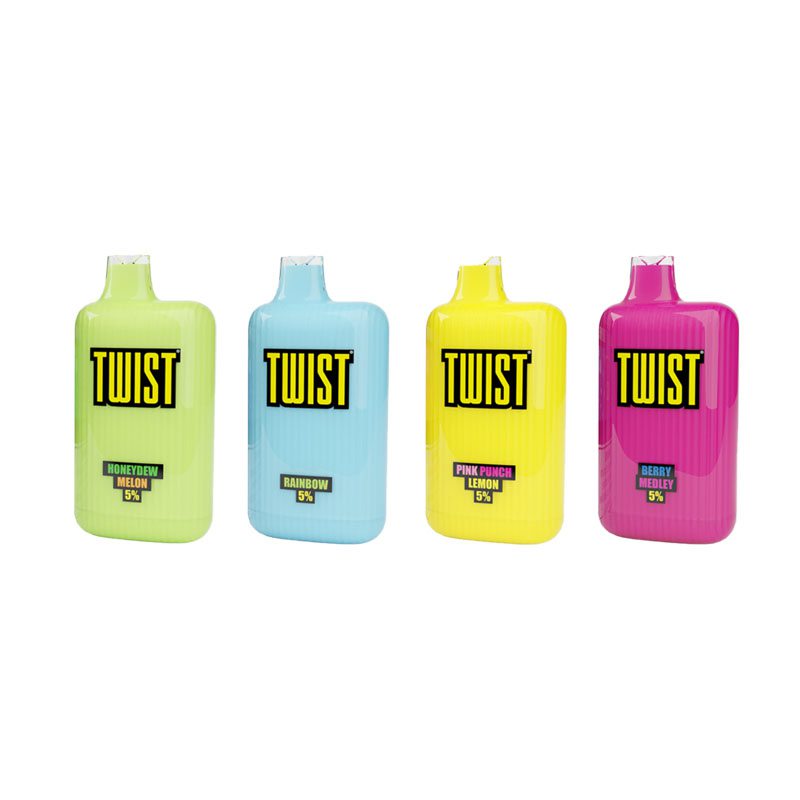 Customers who bought this product also bought:
Flum Pebble Disposable Vape 6000 Puffs offers 6000 puffs with 14mL vape liquid. Its protection system ensures your safety during vaping.
Hyde Edge RAVE Recharge Disposable Vape Pen satisfies your vaping with large amounts of 4000 Puffs, designed with adjustable airflow and LED light features.
Lost Mary MO5000 Disposable Vape 5000 Puffs provides 13.5mL e-juice, a 500mAh rechargeable battery, and a 1.2ohm mesh coil.
Product added to wishlist
Product added to compare.

By entering Vape4Ever, you affirm that you are of legal smoking age 21+ and you agree to be Age Verified.