Honeystick Elf Vaporizer For Oil/Concentrate Instructions
Overview
HoneyStick Elf Vaporizer is ideal for someone who vapes CBD oil or medicinal concentrates bought from their local dispensary selling medical cannabis. It is compatible with majority of the cartridges that are 510-threaded. True to its name, the design of this vaporizer makes it the most compact one in the market. It comes with a powerful auto-draw battery with 3.7V. Moreover, this vaporizer does not have a button and it delivers quick hits of high-quality vapor whenever the user inhales it. This vaporizer also comes with a magnetic connection that allows for an easy snap-on attachment. Plus, its liquid level window makes sure that the user's e-juice never finishes. The user can enjoy satisfying and stealthy hits whenever and wherever they want. The Elf Auto Draw Kit is a classy and fashionable conceal cartridge kit with no button, which is specially designed so it can work with majority of the wider tanks that are in the market with a diameter of up to 10.5mm. This vaporizer makes use of its convenient adapter system with a magnetic ring, which creates an effortless and instant connection between the battery and the 510 oil attachment. Once the user attaches their choice of cartridge, the next step is to simply inhale and let the Elf Conceal Battery do the remaining job. Inside the device is a bright light indicator that shows the battery and it is visible though the vaporizer's oil cartridge window. Once the device fires, it will shine brightly so the user knows that it's working, plus the user will also know when they should recharge it next. From the inside, the device is constructed from heavy-duty aluminum and consists of a high-quality lithium-ion battery, which comes with a powerful and impressive 350mAh capacity.
Features
Super compact
Button-free and draw-activated design
Consists of a 510-threaded connection with a magnetic adapter ring
A window that displays levels of the remaining liquid
Simple and easy top refill design
LED power light indicator, which turns green when it's sufficiently charged and red when the charge is low
Comes with a powerful battery that has a 3.7V voltage output
Constructed with durable and high-quality heavy-duty aluminum
Due to its ceramic core element, the user experiences a lot of vapor with amazing flavor
Specifications
Voltage Output: 3.7V
Battery Capacity: 350mAhh
Battery Type: Lithium-ion
Tank Capacity: 0.5mL
Compatible to: Thick Oil
Surface material: Aluminum
Thread Adapter: 510 Thread Magnetic
Size: L: 2.25"(57mm) W: 1.28"(32.5mm) H: 0.65"(16.5mm)
Weight: 1.9 Ounces
Package includes
1x HoneyStick Elf Battery
1x Refillable Ceramic Core Glass Oil Cartridge 0.5mL
1 x Magnetic Adapter
1x USB Charger
What's more on HoneyStick Elf Vaporizer Kit ?
This vaporizer is among the lightweight and smallest oil vapes that are currently in the market. With the HoneyStick Elf, no person is going to notice that you have a vaporizer inside your pocket. When a user holds this device, it's easily hidden inside their hand. Plus, its small mouthpiece helps when it comes to keeping a low profile.
This vaporizer is portable and its body is constructed from aluminum. Plus, it has a lightweight design and its sturdy, making it resistant to any wear and tear. Its high-quality and premium build materials helps in protecting the tank from damaging or breaking in case if it falls onto the floor a couple of times. There are a lot of options when it comes to choosing the color, including the color pink for ladies. It consists of a 510-threaded magnetic connector, which makes it compatible with majority of the standard oil cartridges that are pre-filled. Plus, there is also an indicator for the battery, which allows the user to see the battery's current level.
Despite its small size, the Elf produces a decent quality vapor. This device comes with a ceramic heater coil and a ceramic mouthpiece, both of which help in producing flavorful and pure vapors whenever the user inhales. Due to the low draw resistance and the on-demand heat, the user can take quicker draws whenever they are on the go.
Regardless of its size, the capacity of the HoneyStick Elf's battery is massive. The battery is a strong auto-draw 3.7V battery and it is able to fire majority of the ceramic cartridges. When the indicator of the battery is red that means that the device needs charging. This device has USB charging, making it extremely convenient to charge. However, it is advised not to charge it using your computer.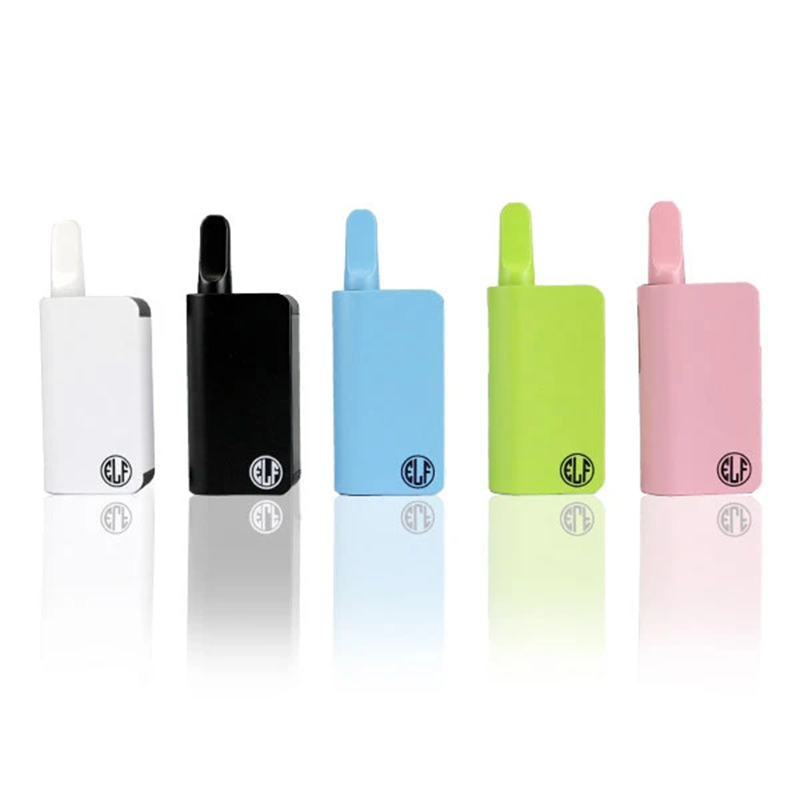 Customers who bought this product also bought:
Product added to wishlist
Product added to compare.

By entering Vape4Ever, you affirm that you are of legal smoking age 21+ and you agree to be Age Verified.