Lucid Charge Disposable Vape 7000 Puffs
Lucid Charge Disposable Vape 7000 Puffs features 12mL e-liquid and a Type-C rechargeable battery and provides 7000 hits.
Lucid Charge Disposable Vape 7000 Puffs Instructions
Overview
Lucid Charge Disposable Vape is an excellent choice for those looking for a disposable vape with a high puff count. It has about 7000 puff counts and a 12mL e-liquid capacity. It is also Type-C rechargeable so that you can use it multiple times. The mesh coil gives you great flavor and vapor production.
Features of Lucid Charge Disposable Vape 7000 Puffs
Approximately 7000 puffs, giving you plenty of vaping enjoyment.
12mL e-liquid capacity to enjoy your favorite e-liquids for a long time.
5% nicotine, so you can get an excellent, smooth nicotine hit with every puff.
Type-C port, so you can quickly recharge it when necessary.
Mesh coil to enjoy smooth, flavor-packed hits of your favorite e-liquids.
Specifications
Puff Counts: Around 7000
Charging Port: Type-C Charger
E-Liquid Capacity: 12mL
Nic Salt Level: 5% (50mg)
Flavors: Peach Mango Strawberry, Peach Orange Cranberry, Grapple Ice, Aloe Pineapple Ice, Dragonfruit Lychee Ice, Kiwi Berry Ice, Cool Mint, Sour Strawberry Punch, Sour Blueberry Punch, Sweet Tobacco
Package Includes
1 x Lucid Charge Disposable Vape 7000 Puffs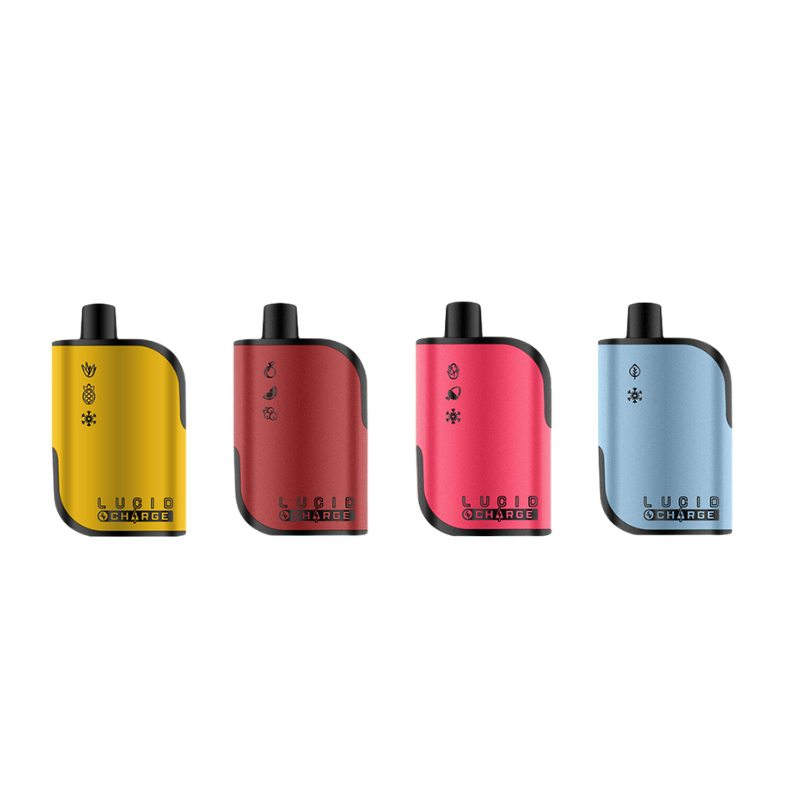 Customers who bought this product also bought:
AIR Disposable Vape Pen is thin and portable with 11mL to offer around 6000 puffs smooth and pure vapor. You can recharge it via the USB-C port.
Yocan Lux PLUS 510 Thread Battery offers variable voltage adjustment from 1.8V to 4.2V. A 650mAh battery can last for a long time.
Lost Vape Orion Bar Disposable Vape 7500 Puffs comes with a cool image on the body. 18mL vape juice guarantees long and pleasant vaping.
Product added to wishlist
Product added to compare.

By entering Vape4Ever, you affirm that you are of legal smoking age 21+ and you agree to be Age Verified.