Eleaf iCare Flask Vape Kit: CBD Oil Vaporizer 510 thread 520mAh
There are not enough products in stock
Eleaf iCare Flask Vape Kit: CBD Oil Vaporizer 510 thread 520mAh is the product of brand Eleaf, it's one of the best vapor products with the option of Black Kit:1pcs, etc.
Eleaf iCare Flask Vape Kit: CBD Oil Vaporizer 510 thread 520mAh Instructions
Eleaf iCare Flask Instructions
OVERVIEW
The Eleaf iCare Flask is a vape starter kit which has a palm sized, joining a recessed 510 association. It contains Flask Mod and the Flask Atomizer. The palm-sized mod features a carafe framed body, which makes it easy to put in bags or stow away close by. Near the base is a little LED light that demonstrates the battery level. To use the iCare Flask as it has no buttons, you have to do is to draw in. As for the atomizer, it can secure to 1ml of e-liquid and has a top fill plan. You can check the liquid level at whatever point as there is a "U" framed cut-out at the edge of the mod. The twist head housed in the atomizer has a restriction of 1ohm, genuinely proper for nic-salts with high nicotine fixation or the CBD oil. You don't need to displace the circle as the tank is superfluous. So simply discard the tank when the circle has lost flavor or giving a devoured taste. Anyway, iCare Flask is a decent choice for the individuals who lean toward MTL.
This Portable Vape Kit goes with an easy to-fill atomizer and 520mAh verifiable battery, notwithstanding a special structure for various protections and battery, conveying mind blowing solace to your vaping. Eleaf iCare Flask tank is outfitted with a fundamental filling structure. iCare Flask is constrained by 520mAh certain battery, which can serve you for a long time. The battery is charged by methods for the Micro USB port on the base of the mod. Also, the alluring relationship between the tank and the battery covers the atomizer inside.
By virtue of the battery structure, you can without a lot of a stretch understand the tank's e-juice status. Also, the Eleaf iCare Flask battery is expected to release your hands without setting off a button. Various protections will, in like manner outfit you with a secured vaping condition.
Eleaf iCare Flask Features
Thin and light structure, simple to carry and utilize
520mAh Battery keep going quite a while of vaping
Magnetic association, helpful and compelling investigation
Easily checked oil level whenever
Button-free for simple working
Top filling structure, simple to fill
35ohm artistic curl, guarantee the perfect oil
Eleaf iCare Flask Specifications
Size:12mm*42mm*71mm
Atomizer Diameter: 10mm
Weight: 69.0g
Battery Capacity: 520mAh
Color: Black, Silver
Eleaf iCare Flask Kit The Package Includes
1 x iCare Flask battery
1 x iCare Flask Atomizer
1 x Magnetic Connector
2 x User Manuals
More Details About Eleaf iCare Flask CBD Vape Kit
Built-in 520mAh Battery
The iCare Flask is little in size yet and can keep going quite a while of vaping, accompanies an inside 520mAh battery.
520mAh Built-in Battery
Despite having a smaller size, this flask features strong 520mAH battery which makes the vaping time last longer.
Magnetic Connection
It also include a magnetic connector which helps to hide your atomizer discreetly.
Stealth Body
The iCare Flask ,which is palm size has light and a dainty design. You can carry it with you in pocket or sack and stow away in your grasp effectively.
Easily Visible E-fluid Level
Check if the liquid level is normal through the glass.
Easy To Fill
Simply unscrew the top, and gradually infuse oil into the tank.
7 Multiple Protections
Over-charge insurance
Over-release insurance
Over-current insurance
Over 15 seconds insurance
Short circuit insurance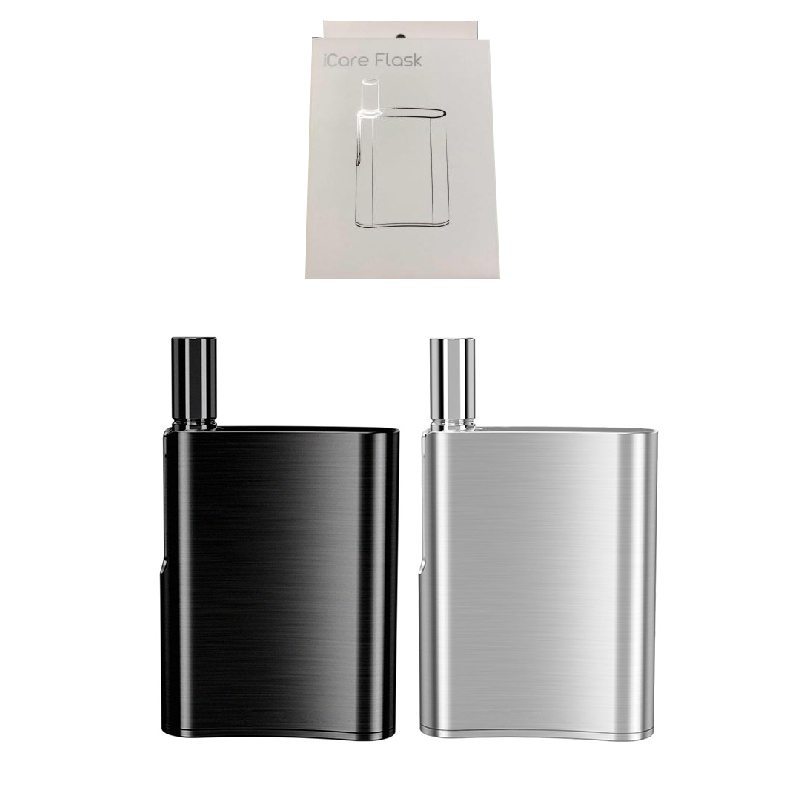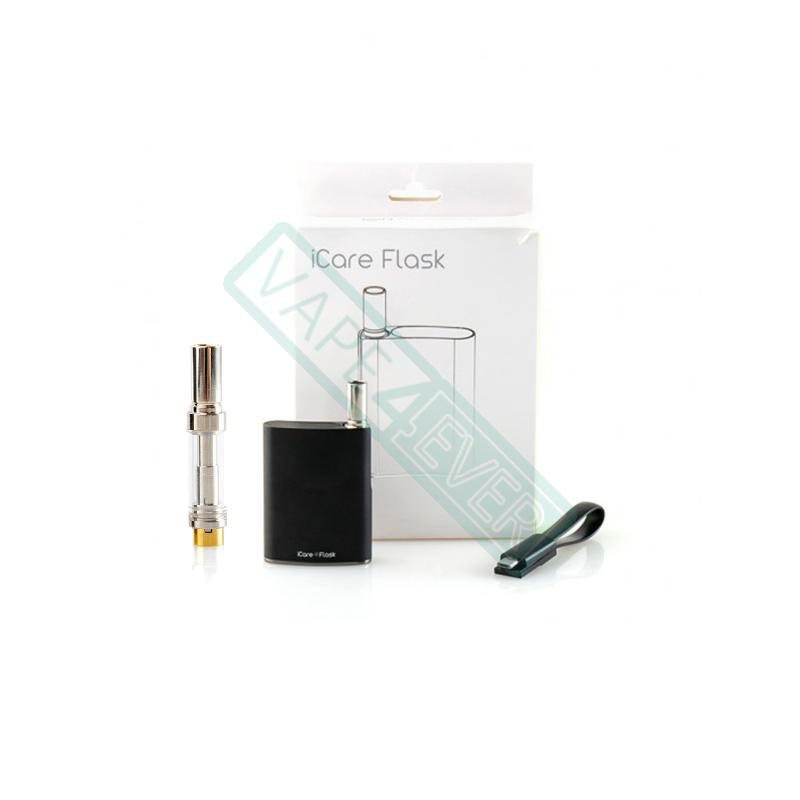 Customers who bought this product also bought:
Product added to wishlist
Product added to compare.

By entering Vape4Ever, you affirm that you are of legal smoking age 21+ and you agree to be Age Verified.