Cvault Storage Container
There are not enough products in stock
Cvault Storage Container is the product of brand Cvault, it's one of the best vapor products with the option of Extra Small:1pcs, etc.
Cvault Storage Container Instructions
Overview
CVault is an outstanding container for storing your aromatic blends and selected products in a highly innovative way. The CVault Storage container is made of durable 304 food-grade stainless steel. The air-tight seal keeps your products protected from too much moisture, light, and air, thus preserving their freshness and taste. This product comes with Boveda humidity packs which maintain an optimal humidity in the chamber of 62% via a two-way patented humidity control. The shell life of your products will be prolonged because if there is too much moisture in the aromatic blends, the CVault and Boveda will eliminate the surplus, and vice versa - if the blends are dry, they will add the necessary moisture.
The best thing about the CVault Storage Container is that your products are protected without the usage of chemicals. The Boveda is completely natural - it is made of salt and clean water. Moreover, it is very easy to clean the CVault. You can put it in the dishwasher, or simply wash it with hot and soapy water. There are several different sizes available: extra small, small, medium, large, 2 Liter, 4 Liter, 8 Liter, and 17 Liter.
Features
Durable and lightweight 304 food-grade stainless steel
The freshness is locked inside the container via outstanding multiple latch design engineered in a specific way to offer an airtight seal
Lid: there is a ¼ inch wide silicone ring right under the lid which provides airtight seal. You can also write on the lid with a non-permanent marker in order to label the contents. There is also a pack holder for placing the Boveda
CVault Storage Container is easily accessible due to the wide mouth design
It controls the freshness of the content in three different manners: it seals the air, does not let light in, and maintains the humidity
Specifications
Diameter: 3.25" (8cm) | Depth: 1" (2.5cm)
Capacity: 4-8 Grams
Diameter: 3.25" (8cm) | Depth: 1.75" (4.4cm)
Capacity: 7-12 Grams
Diameter: 4" (10cm) | Depth: 2.25" (5.6cm)
Capacity: 14 - 24 Grams
Diameter: 4.75" (12cm) | Depth: 2.5" (6.5cm)
Capacity: 28 - 50 Grams
Diameter: 7" (20cm) | Depth: 4" (10cm)
Capacity: 3 - 4 Ounces
Diameter: 9" (23cm) | Depth: 5.5" (14cm)
Capacity: 0.5 lb
Diameter: 10" (26cm) | Depth: 7" (18cm)
Capacity: 1lb
Package includes
1 x Cvault Storage Container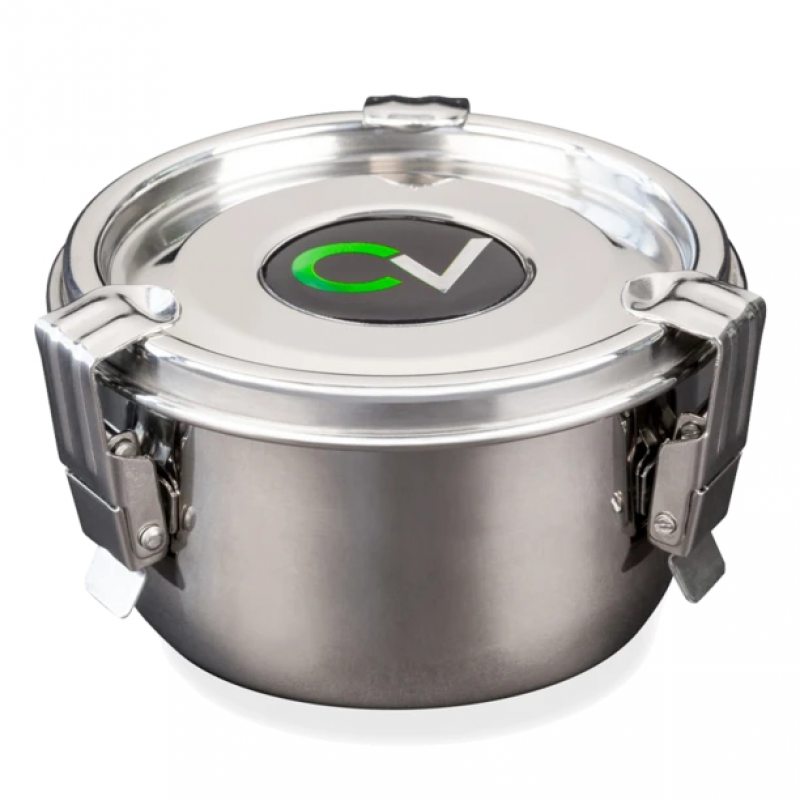 Product added to wishlist
Product added to compare.

By entering Vape4Ever, you affirm that you are of legal smoking age 21+ and you agree to be Age Verified.