AIMO Mount Kit
There are not enough products in stock
AIMO Mount Kit is the product of brand AIMO, it's one of the best vapor products with the option of Spot White Kit:1pcs, etc.
AIMO Mount Kit Instructions
AIMO Mount Kit Instructions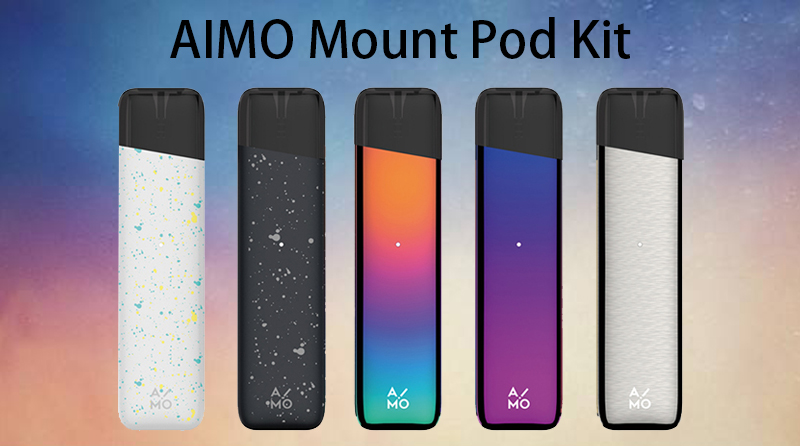 Overview
AIMO Mount Kit is a state-of-the-art vaping pod system with a powerful 400mAh battery that can be recharged. The device features consistent voltage-based output. The exclusive AIMO Mount pod is designed to generate nicely flavored vape cloud. The strong zinc-alloy body of the amazing AIMO Mount Pod System is truly clean in appearance owing to its freedom from any screens or buttons. This allows the device battery to last longer. This also prevents any unwanted firings of the device. The 3.5V output 400mAh battery uses continuous voltage output for prolonged operation. This is an ideal output for 1.2ohm ceramic coil for vaporizing nicotine salt or any desired freebase e-juice stored in the refillable 2.0mL juice tank. The tanks can be filled from the side by displacing the stopper. The device can be easily charged through any Micro USB connection.
AIMO Mount Kit Features
Pure and richer taste ensured by unique ceramic coil
Easy refilling through side slot
Multiple colored LED for power level indication
Compact and modern design adds to your style statement
Easy and convenient charging through micro USB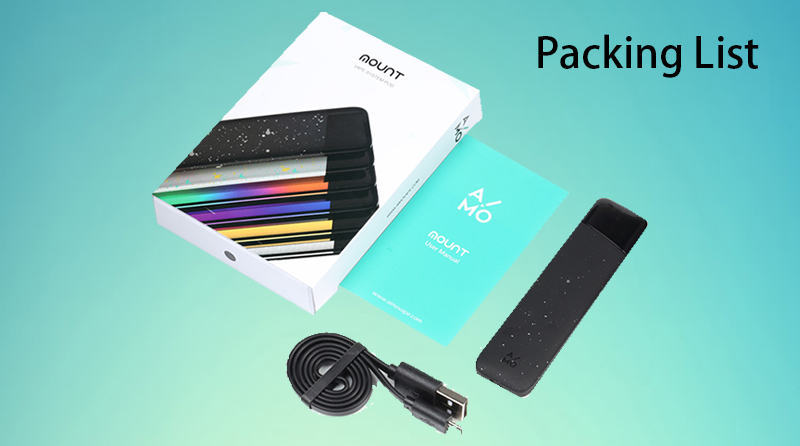 AIMO Mount Kit Package Includes
1 x Mount Battery
1 x Mount Cartridge
1 x Micro USB Cable
1 x User Manual
1 x Warranty Card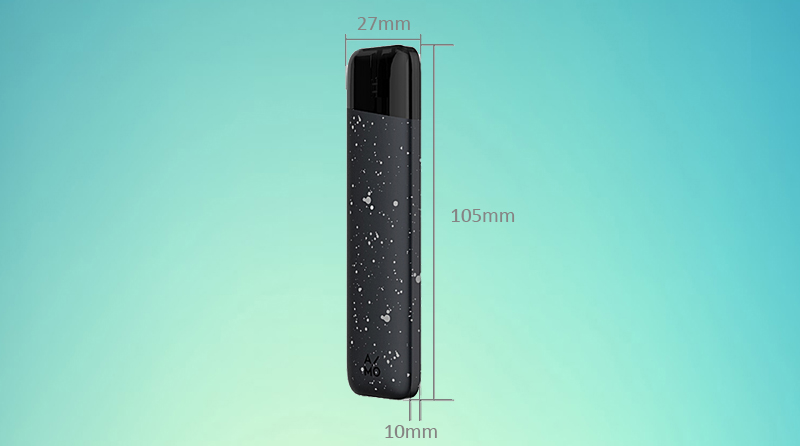 AIMO Mount Kit Specifications
27 x 105 x 10mm compact size
1.8ml ample capacity
400mAh powerful battery
1.2ohm resistance ceramic coil
Metal material finish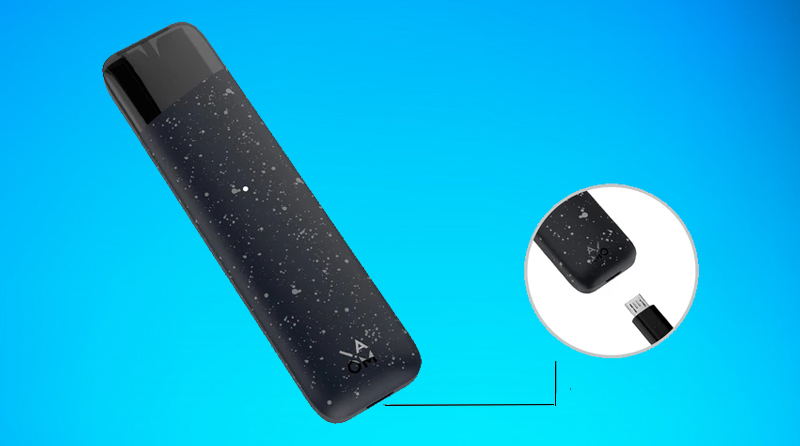 What's More on AIMO Mount Pod Kit
Better Flavor Generation Due To Ceramic Coil
AIMO Pod Kit employs embedded 1.2ohm ceramic coil and 1.8ml capacity refillable tank for top notch flavor production.
Side Located Refilling Slot
You can avoid leakages of device owing to its side filling design feature.
Design Supported By Magnet Connections
Battery and pod are connected through powerful magnets for ease in use.
Battery health is indicated by a LED light as follows:
White LED flash: 0%-30% life.
Blue LED flash: 30%-60% life.
Green LED flash: 60%-100% life.
Powerful And Efficient 400mAh Battery
The AIMO Mount Pod Kit is powered by an internal lithium polymer battery that has been designed for longevity in use and durability of life.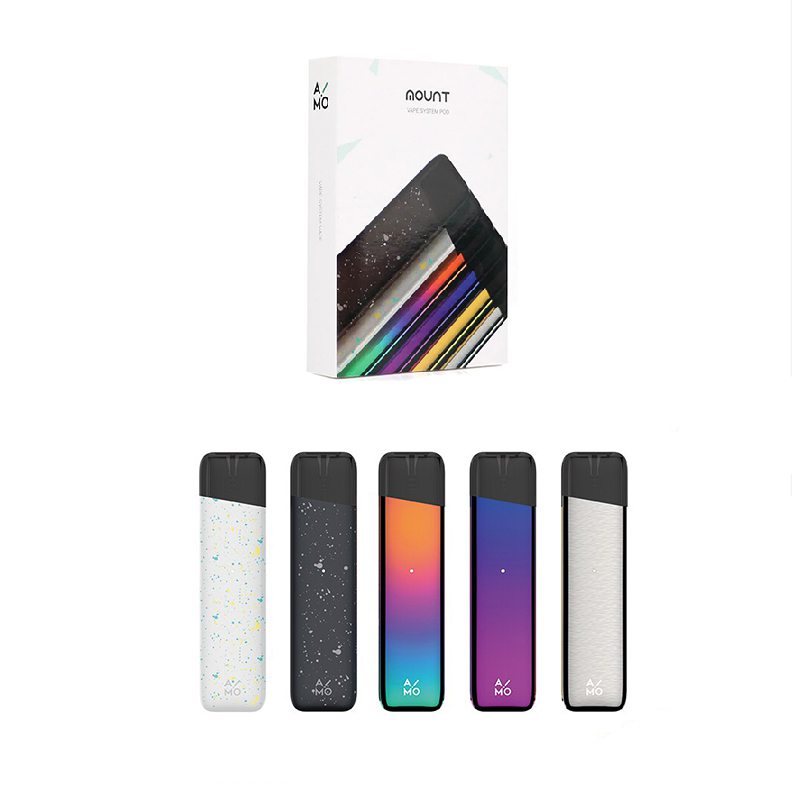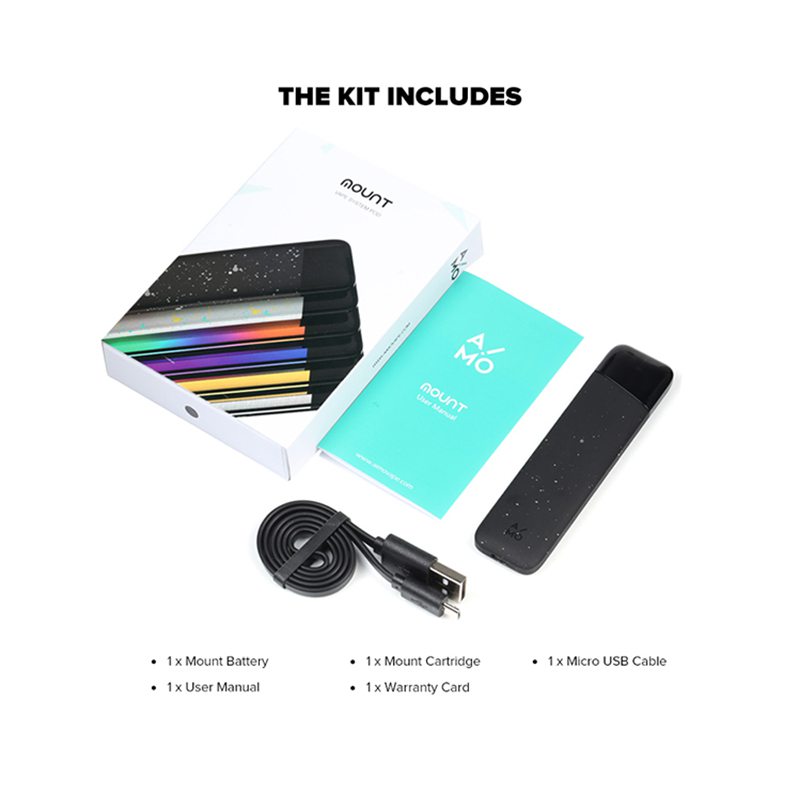 Customers who bought this product also bought:
AIMO Mount Cartridge is the product of brand AIMO, it's one of the best vapor products with the option of 1.2ohm Pod Cartridge:3pcs, etc.
VAPE4EVER
V4-10145-CBD01B
This 510 thread vape pen battery 350mAh comes with multiple protections for safety and variable voltages indicated by LEDs, featuring 15s/60s fast preheat time.
Product added to wishlist
Product added to compare.

By entering Vape4Ever, you affirm that you are of legal smoking age 21+ and you agree to be Age Verified.