Storz & Bickel Volcano 3 Piece Herb Grinder
There are not enough products in stock
Storz & Bickel Volcano 3 Piece Herb Grinder is the product of brand Storz & Bickel, it's one of the best vapor products with the option of 1pcs, etc.
Storz & Bickel Volcano 3 Piece Herb Grinder Instructions
Overview
The grinder that is a part of Plenty Vaporizer and Volcano Vaporizer is actually the Storz & Bickel Volcano Herb 3 Piece Grinder. This is an excellent vaporizing choice because it has an elementary design of only three pieces and it also has a stash case incorporated. The teeth of this grinder are extremely sharp and you can rest assured that all of your favorite herbs will be perfectly grinded. Moreover, there is a storage area incorporated below the clear cover. The Storz & Bickel Grinder is just like all other products from the company - supreme and with a great design.
There are a few companies on the vaping market that follow the successful example and approach of Storz & Bickel. They implemented the idea of balloon-bag for vapor delivery into their cutting-edge series of vaporizers, Volcano, and this idea is seen as the clearest and most secure method for vaping. The first Volcano became available on the market in 2000, and since then the company remains at the top when it comes to forced air vaporizers that use convection heating in order to produce supreme vapor.
A company can create a state-of-the-art product, but its performance will definitely depend on the ultimate consumer. It is very important whether you take care of the product and whether you use it properly or not. First, you need to grind the herbs impeccably in order for the Volcano vaporizer to operate well in herbal mode and to create vapor with the highest quality possible. This procedure is extremely important for increasing the effectiveness of the complete process of vaporizing because the unit would not have to put a lot of effort to create the necessary temperature for heating the herbs.
In different circumstances, i.e. if the herbs are not grinded properly, the flavor might be uneven. That is due to the fact that some of the herbal ingredients will get the most favorable heating, and others might solely receive inadequate or disproportionate heating. You are required to own the greatest equipment if you want the Storz & Bickel vaporizer to operate effectively.
Storz & Bickel's Volcano Grinder is not just an ordinary mill for your herbs. Its teeth are extremely sharp which means your herbs will be grinded in the most effective manner. An important fact is that this grinder which is created in Germany can operate flawlessly for 3-4 years prior being replaced.
You should not save money on accessories as the Volcano Grinder. The vaporizers of Storz & Bickel are unlike any others and are worth the investment. You should always use accessory kits and factory parts. Even though this specific product is one of the cheapest they offer, it can have a very positive effects and positively alter your vaping experience.
Features
An Acrylic Grinder with 3 pieces
Incorporated Stash Case
Knurled Grip
OEM Storz & Bickel Product
The Diameter is 53mm
Package Includes
1 x 53mm Storz & Bickel Volcano Herb Grinder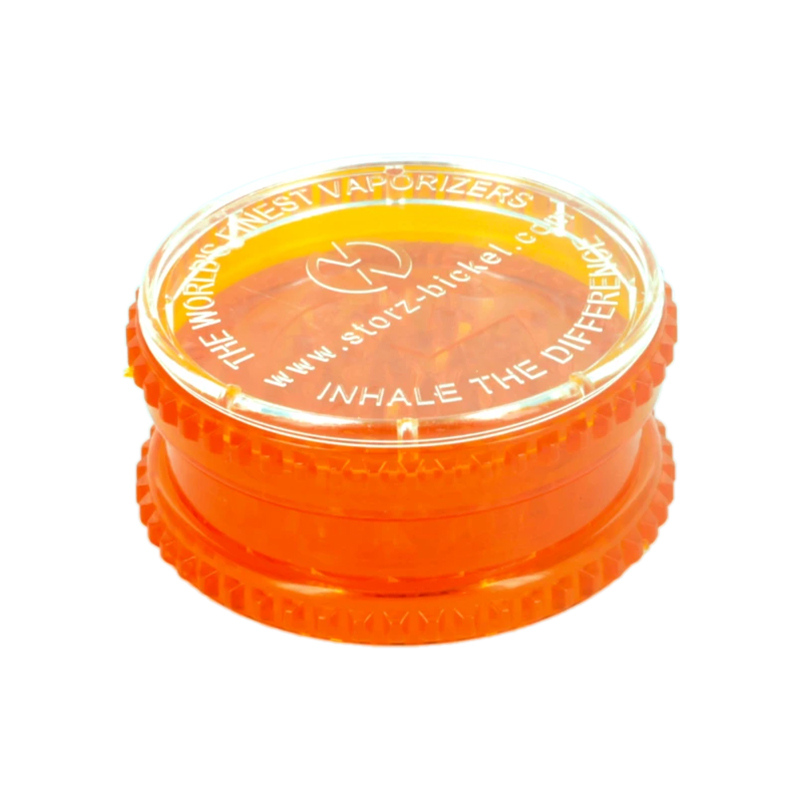 Customers who bought this product also bought:
Yocan Hive 2.0 AIO Vaporizer Starter Kit 650mAh Battery E-juice&Concentrate Vape Kit is the product of brand Yocan, it's one of the best vapor products with the option of Black, etc.
Yocan Evolve Plus Wax Vaporizer 1100mAh is travel-friendly with a silicone jar storing wax and brings pure vape by the QDC heated in 15s. USB charge supported.
SMOK Novo Replacement Pod 1.2ohm/1.5ohm/Ceramic/Mesh 3pcs/Pack is the product of brand SMOK, it's one of the best vapor products with the option of Novo 1.2ohm Pod - 3pcs, etc.
Product added to wishlist
Product added to compare.

By entering Vape4Ever, you affirm that you are of legal smoking age 21+ and you agree to be Age Verified.