Joyetech Exceed Grip Kit 1000mAh Pod System
There are not enough products in stock
Joyetech Exceed Grip Kit 1000mAh Pod System is the product of brand Joyetech, it's one of the best vapor products with the option of Black Kit:1pcs, etc.
Joyetech Exceed Grip Kit 1000mAh Pod System Instructions
Joyetech Exceed Grip E315 Starter Kit Instructions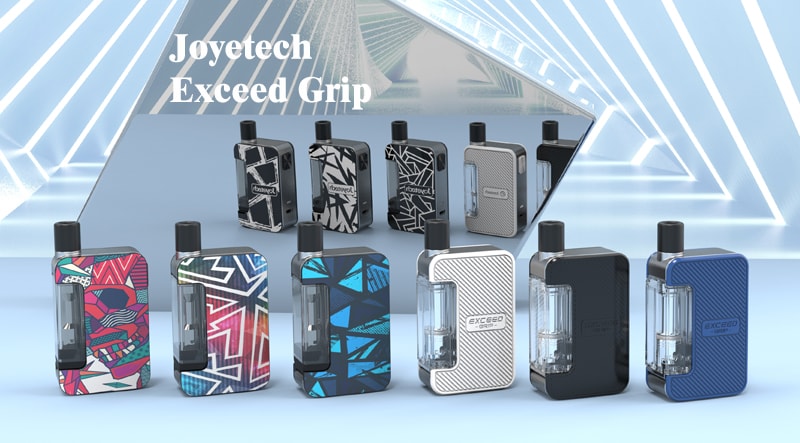 Overview
Joyetech Exceed Grip E315 Starter Kit looks unique in its own way, with a range of classic designs, each specially design around the user's preferences. The starter kit uses a 3.5ml cartridge and the capacity of the battery is 1000mAh, allowing the device to be used for days without charge. In addition to this, Joyetech Exceed Grip makes use of a visible cartridge, which allows users to visibly see how much oil is left until they need to refill. Furthermore, the aio starter kit has two various grip cartridges. These are a 4.5ml cartridge, with a 0.4ohm EX-M coil as well as a 3.5ml cartridge, which uses a 0.8ohm mesh coil. This makes the kit perfect for new users, being both easy to use and convenient.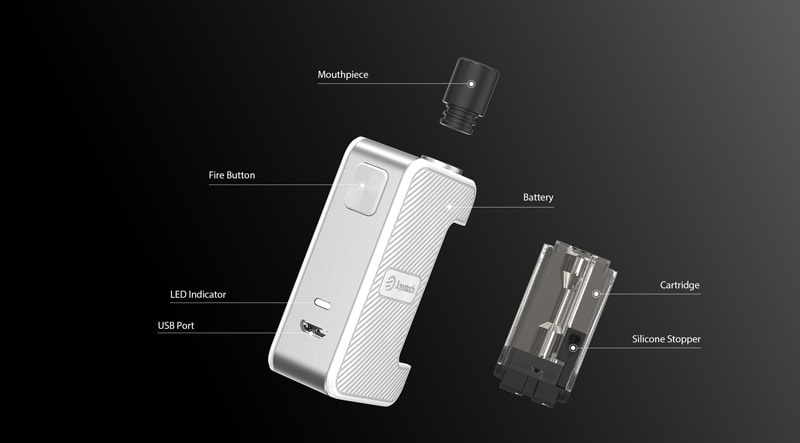 Joyetech Exceed Grip E315 Starter Kit Features
Box shape, designed for comfort
Two IML Panels
Large battery
Makes use of dry burn technology
Two cartridges for your preferences
Unique Coil system
Various Airflow options
Joyetech Exceed Grip E315 Starter Kit Specifications
Size of the device: 74.0 x 40.0 x 21.0mm
Weight of the device: 74.0g
Standard Cartridge size: 4.5ml
Pod Cartridge size: 3.5 ml
Coil head: EX-M 0.4ohm Mesh Head for the Standard Cartridge
0.8ohm integrate MESH coil for the POD Cartridge
Battery size: 1000mAh
Output Mode: Various voltage output does
Colors: Black, Blue, White, Mystery Blue, Rainbow Tattoo, Skull Stone
Charging option: 5V/1A Micro USB
Material: Zinc Alloy and PC material
Joyetech Exceed Grip E315 Starter Kit Package Includes
1 X

EXCEED Grip Battery

1 X

Standard Cartridge (4.5ml)
(EX-M coil pre-installed)
1 X

Pod Cartridge (3.5ml)

1 X

EX-M 0.4ohm Mesh Coil

1 X

USB Cable

1 X

User Manual

1 X

Warranty Card
What's more on Joyetech Exceed Grip E315 Starter Kit
Dual IML Panels (colored)
Each of our panels makes use of In-Mould labeling(IML), by doing this, they not only have a beautiful look, but have a greater resistance to being damaged through dirt and scratches.
Small Device
The Exceed Grip is specially designed to be as small and compact as possible. This allows it to be easily carried, all from the comfort of your pocket.
Large battery and capacity
The standard cartridge has a total of 4.5ml of e-liquid capacity 4.5ml e-liquid capacity and the pod cartridge has a total capacity of 3.5ml. Alongside this, the overall battery size if 1000mAh, allowing for longer lasting use.
Dry Burn Protection Technology
Dry burn protection, also known as DBP uses innovative auto temperature-controlled advancements. This helps to reduce and avoid any dry burn problems, as well as ensure on a good taste
Important:
When the DBP is active, your indicator light will flash twice before any dry-burn smokes, this cuts off all output straight away. You must then look how much juice if left and fill it if necessary.
The DBP technology is only useable for the EX-M coil head as well as the mesh pod cartridge.
Can be used with nicotine salts
The device can be used with nicotine salts, allowing you to enjoy your own personal favorite flavors.
Innovative Side-Way Cartridge
You can now place your cartridge from the side, allowing for a greater convenience.
New Coil system
The standard cartridge makes use of an innovative coil head (0.4ohm). The pod cartridge makes use of a 0.8ohm coil as well as other options such as a ceramic coil. Each and every one of the coil systems use a mesh cotton as a wicking material. This is designed using plant fibers which allows the device to absorb e-liquid at a faster rate, enriching the flavor for a pure and fulfilling taste.
Varied cartridges and airflow
The standard cartridge is best suited with DL whereas the pod cartridge is best fit with MTL, allowing for two various airflow options.
Extra protection for safe vaping
Safety for our products is a top priority. We make use of multiple protections, these include battery protection to avoid any over-heating or over-charging, as well as reducing the risk of any currents that are too strong, making the device safer than ever and more reliable.
FAQ for Joyetech Exceed Grip E315 Starter Kit Problems
How to fill the cartridge?
You are able to charge your standard cartridge as well as your pod cartridge. This can be done by simply opening your stopper, then pouring your chosen e-liquid into the cartridge. In addition to this, your pod cartridge (2ml) makes use of an advanced system, that allows for simple and easy filling.
How to charge your Joyetech Exceed Grip E315 Starter Kit?
Your device can be charged through your computer or an adapter with the use of a USB cable (with an output of DC:5V). Whilst this is happening, the light will shine red and will go out once it has finished. It also uses different color lights to indicate the overall battery level.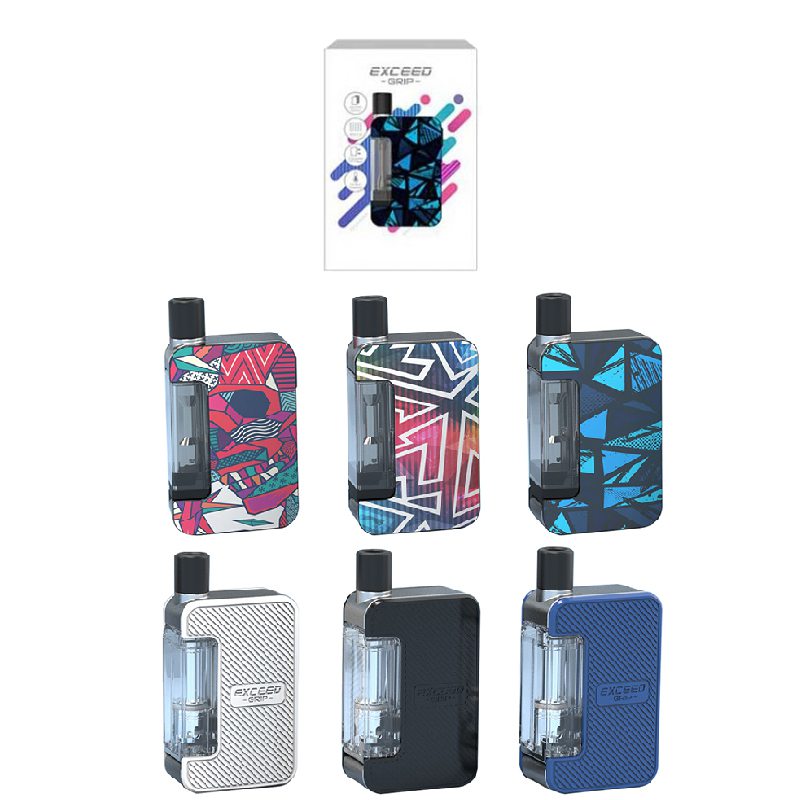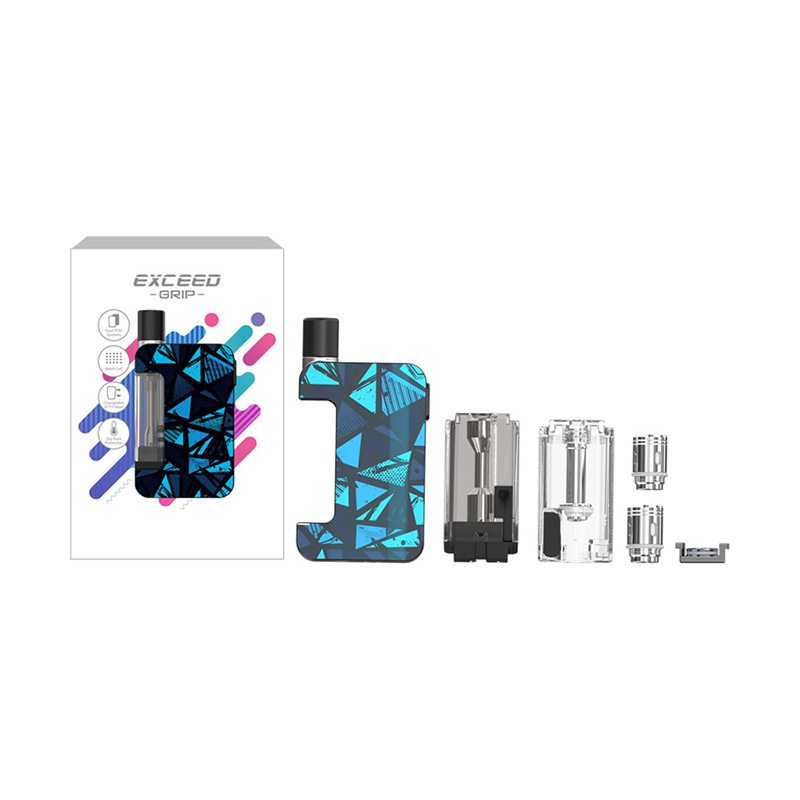 Product added to wishlist
Product added to compare.

By entering Vape4Ever, you affirm that you are of legal smoking age 21+ and you agree to be Age Verified.