Icy Mango - Pachamama Salts
Icy Mango - Pachamama Salts is the product of brand Pachamama E-Liquids, it's one of the best vapor products with the option of 25mg:30ml, etc.
Notice: This product is currently only supported for shipment to the United States.
Icy Mango - Pachamama Salts Review
Icy Mango - Pachamama Salts Vape Juice Instructions
Overview
Icy Mango - Pachamama Salts Vape Juice takes a nicotine salts detailing and matches it with a delicious aiding of mango nectar removed from the best mangoes picked at the apex of readiness that genuinely draws out the fragrant substances. This specific Pachamama e-juice makes the ideal thing for your vapor survival pack. Regardless of what you're feeling or which heading your day takes, this mango and mint vape juice has the devices and the way to loan you support. You don't have to keep the mix on speed dial or sparkle an image in the sky to stand out enough to be noticed, in light of the fact that you know precisely where this menthol e-liquid will be.
Specifications
VG/PG Ratio: 50 / 50
Nicotine Level: 25mg / 50mg
Nicotine Type: Nic Salts
Bottle Sizes: 30ml
Bottle Type: Plastic Dripper
Brand: Pachamama E-Liquids
Package Includes
1 x 30ml Pachamama Salts Vape Juice - Icy Mango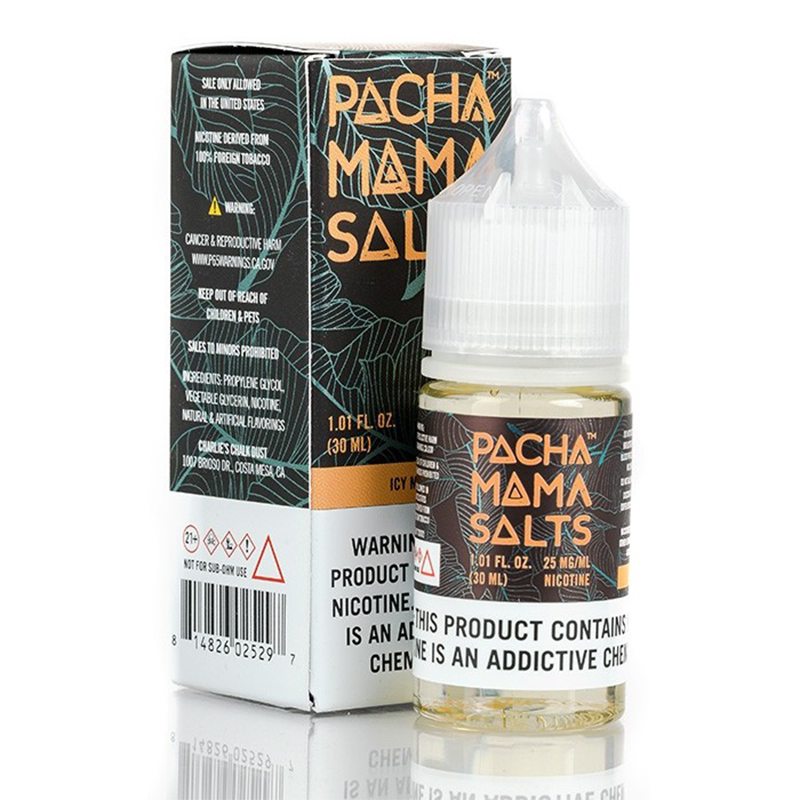 Cheap Vape Products For Sale and Buy
Product added to wishlist
Product added to compare.