Vaporesso Polar Kit with Cascade Baby SE Tank
Vaporesso Polar Kit with Cascade Baby SE Tank is the product of brand Vaporesso, it's one of the best vapor products with the option of Red Kit:1pcs, etc.
Vaporesso Polar Kit with Cascade Baby SE Tank Review
Vaporesso Polar kit Instructions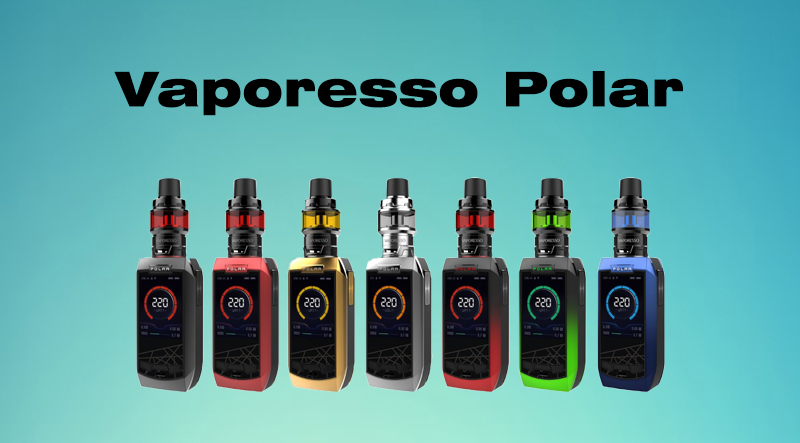 Overview
The Vaporesso Polar kit is one of the most impressive mods you will find owing to the upgraded features. An Omni Board 4.0 Chipset, a 2-inch OLED display screen, and a new cascade Baby SE tank form part of the kit. The output range of the device is 5 to 220W while the range of resistance is 0.03ohm to 5ohm. It is also provided with multiple firing modes. The unit offers various user modes and also offers you the opportunity of controlling temperature and other functions. A super player mod is provided by the Omni Board 4.0 chip which has a broad range of resistance, the kind you would expect in tanks of industries. It features an insta-fire mode in which the activation speed comes down to 0.001 seconds. Thus, you get a rapid taste without having to wait. A pair of 18650 batteries power the unit that you can access through a magnetic door. The 2-inch TFT color screen displays essential data about the unit such as temperature, voltage, and wattage and battery life. The maximum charge ability is 2.5A. Thus, you can be assured that the device would not have to be charged frequently. Cascade Baby SE tank is provided with the kit which has a capacity of 6ml along with triple-slotted control of airflow. It makes use of GT coil system.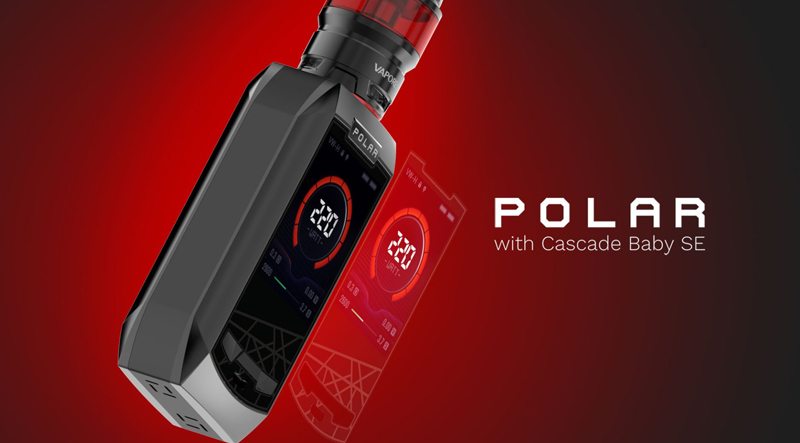 Vaporesso Polar kit Features
Vaporesso Polar 220W Starter Kit
Modes include Smart VW / VT/ CCT / CCW / VV / CCV
BYPASS mode
Two memory modes with TCR Adjustment
Broad tank resistance with Super Player mod
0.001s Insta-fire ensured with OMNI board 4.0 chipset
Provided with 2.0 inches TFT full-color display
Operation is via side fire button
Includes LED light indicator
The battery cover is magnetized and bottom-loaded
Vaporesso Cascade Baby SE Sub-Ohm Tank
Constructed with high-quality stainless steel
Reinforcement of Pyrex glass
Features design of isolation structure with separate chambers for vape juice and coil.
Vaporesso GT Coil System
Triple airflow control that is triangular
Provided with Delrin wide-bore drip tip
Convenient filling at the top with slide top-fill design
Vaporesso Polar kit Specifications
Vaporesso Polar Starter Kit
Dimensions: 114 x 45 x 28mm (Tank included)
Powered by a pair of 18650 batteries (not included)
Range of wattage output: 5W to 220W
Range of resistance: 0.3 to 5.0 ohm
Vaporesso Cascade Baby SE Sub-Ohm Tank
Diameter of 24.5mm
Maximum juice capacity of 6.5ml
Provided with 0.15ohm GT 8 coil which is rated for 50 to 110W
Includes 0.18ohm GT mesh coil rated for 50 to 90W
510 Connection
Vaporesso Polar kit Package Includes
1 X Polar 220W Box Mod
1 X Cascade Baby SE Sub-Ohm Tank
1 X 0.15ohm GT8 Coil
1 X 0.18 GT Mesh Coil
1 X Replacement Glass Tube
1 X USB Charging Cable
1 X User Guide
1 X Warranty Card
What's more on Vaporesso Polar Starter Kit?
Insta-fire mode that offers instant vaping
The unit provides a stable and rapid firing rate shortened to 0.001s. The quick heating system makes sure that you get rich flavor with dense cloud from the first puff that you take.
Charging within a short spam
Charging does not take long.
4 to 5 hours are required at 1A charging
1.5 hours are needed at 2.5A charging
Multiple protections in place with a safe chipset
Protection against short circuit
Protection against burn
Protection against no load
Protection against overtime
Protection against low resistance
Protection against overcharge
Protection against low power
Protection against overcharge
Protection of ESD circuit
Protection of pass-through
Maximum interaction is ensured with the GT meshed coil. The heating area is also enlarged, which makes sure that you get impressive heating performance required to produce dense clouds with smooth flavors within a short span.
Note: here are the variety of coils.
GT1: resistance of 0.2ohm, wattage of 50W to 70W
GT2: resistance of 0.4ohm, wattage of 40W to 80W
GT4: resistance of 0.15ohm, wattage of 30W to 70W
GT6: resistance of 0.2ohm, wattage of 40W to 100W
GT8: resistance of 0.15ohm, wattage of 50W to 110W
GT CCELL2: resistance of 0.3ohm, wattage of 35W to 40W
FAQ for Vaporesso Polar Starter Kit Problems
How to switch on/off the Vaporesso Polar?
You need to press the fire button five times consecutively in 2 seconds for turning on the device. The device is powered off in the same way by pressing the button five times.
How to fill e-liquid into the Cascade Baby SE Sub Ohm Tank?
The top lid counter has to be lifted and twisted counter-clockwise to the full extent. You can then put in your desired e-juice via the opening. Slide back the lid once you are done and allow the safety locking mechanism to do its job of securing the lid.
How to change the atomizer?
The base has to be removed so that the GT meshed coil can be unscrewed. You can then add the new coil and place the base back. Various GT coils are available that can be used as a replacement.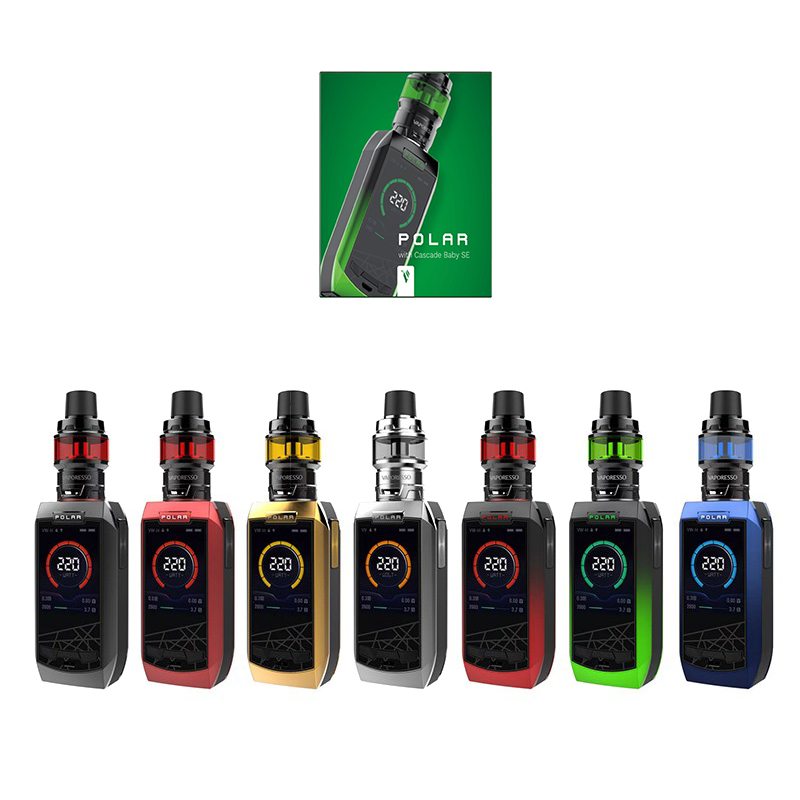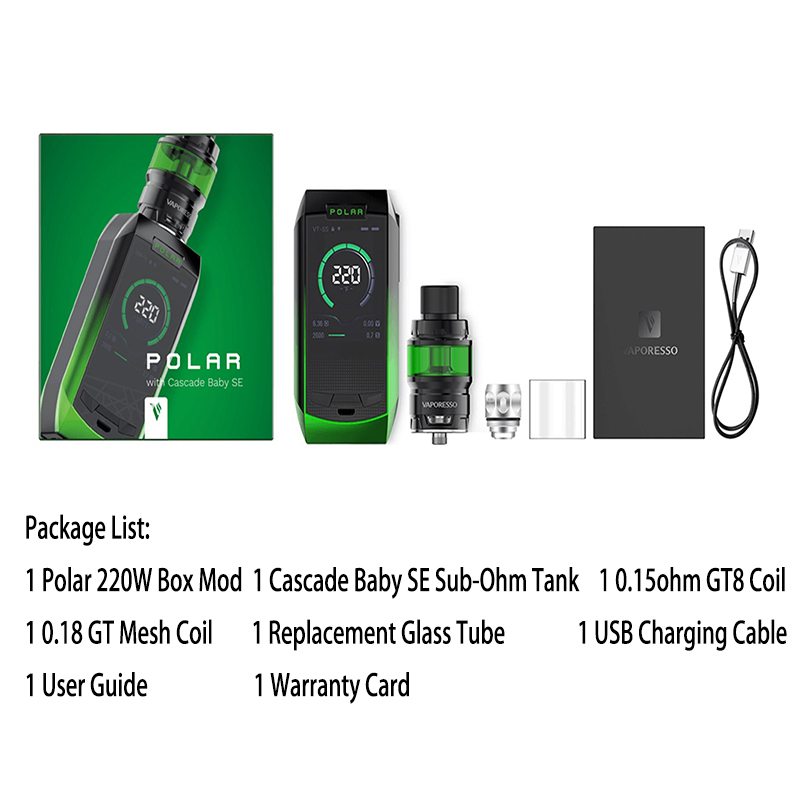 Cheap Vape Products For Sale and Buy
Product added to wishlist
Product added to compare.