A Beginner's Guide: The Best Vape Temperature for E-liquids, Wax, and Dry Herbs
The idea of controlling the vape temperature of a vaping device can sound a bit complicated for a beginner; however, it is way too easy than you think!
It is not a rocket-science; once you get the ins and outs of a vaporizer and the best temperature of vaping to heat your e-juices or concentrates, you are good to go.
The motive of this article is to help you set and control the vape temperature of any vaporizer. So, if it is of interest, keep on reading!
What Do You Mean by Temperature Control?
It is a built-in feature in specific vaporizer models that enables vapers to pick various temperatures to heat the coil, chamber, and attachment. These vaporizers also offer adjustments, limitations, and power cut-off options to heat the coil at an accurate temperature.
Reasons for Controlling Temperatures on Vape Pens
There are various reasons where a vaper wants to control the vape pen's temperature:
To try out concentrate or e-juice different flavors by heating at different temperatures.
To experiment with the newer substance.
To obtain a normal or intense vapor amount.
Or whatever your reason might be, a vape temperature control option on a vape pen gives a more enjoyable experience than a conventional vaporizer.
How Does the Temperature Control Feature on a Vape Pen Works?
The functioning varies from a vape pen to a vape pen. Some devices offer three variable voltages: low, medium, or high. Users can select from these three options to enjoy the delectable rips.
In contrast, other vaporizers are crafted with a touch screen, buttons, or a dial. However, the most basic vape pens don't even offer the temperature control feature at all.
Since you know the basics now, let's proceed towards the main question, "what is an ideal temperature for vaping?"
What is the Best Temperature to Vape?
The vaping temperatures of various vape pens will significantly differ depending on what you plan to aerosolize, i.e., e-juice, dry herbs, or concentrates.
In addition, low temperatures provide smoother hits with a delicate, mild taste. In contrast, higher temperatures provide harsher hits with massive flavor-dense vapors.
Believe it or not, the best fitting solution to find the ideal vape temperature is to experiment with it. It will be a hit or miss; therefore, taking your vape pen for a trial run is the best option.
Not to mention, if your vaporizer has no or limited built-in temperature control settings, it will fail to provide the optimum experience you are looking for.
However, to make things easier, we have mentioned the best vaping temperatures of various products. So, check that out!
Best Temperature to Vape Oil
420°F is the best vape temp for oil vaping most of the time. Vaping oils usually require a voltage between 3.2 to 4.8V. But, be mindful that you can not heat vape oil at a high temperature; otherwise, you'll burn it. Plus, you can not heat at a lower temperature because you will not get enough vapors.
Best Temperature to Vape E-juice
The best temperature to vape e-juice depends solely on an individual's preference. However, e-juice has a lower heating temperature than wax and other concentrates.
But this thumb rule also applies to e-juice. What's that? If you desire massive vape clouds and harsh flavors, you will have to keep the temperature higher. Contrastingly, keep the temperature lower for smoother taste and hits.
Moreover, the temperature is typically set to 400 to 500°F when vaping e-liquid. But, again, you can adjust the temperature according to your likes.
Best Temperature to Vape Weed
Dry herbs require the least amount of temperature than the other substances available. Why? Because the minimal temperature helps in bringing out the weed or dry herbs' undertones or subtle flavors.
However, you can also heat dry herbs at a higher temperature, but it will emit several chemical compounds or cannabinoids. Generally, the best temperature to vape weed is 325 to 450°F, but you can adjust according to your preference.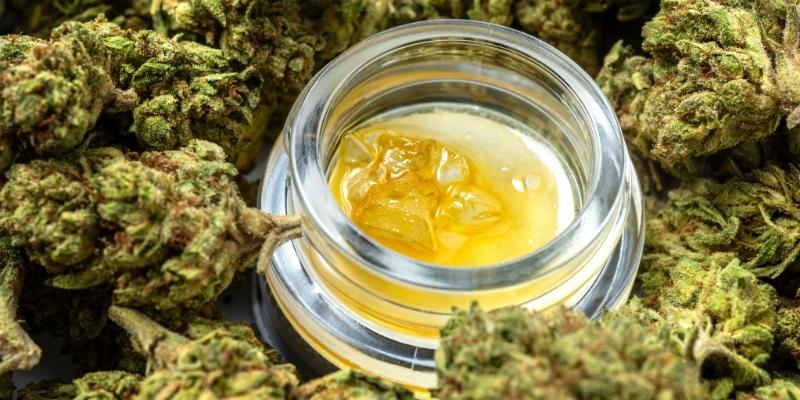 Best Vaping Temperature for Wax or Other Concentrates
Wax and other different concentrates require a much higher temperature. However, their thumb rule is the same as vape oil or e-juice, i.e., high temperature will create large clouds but harsher hits, while the lower temperature will deliver flavorsome but thinner clouds.
Moreover, the lowest temperature for vaping wax is 325F, while the highest is 900F. The temperature adjustability depends on the amount of vapor and flavor you need to enjoy your vaping session.
Not to mention, when experimenting with temperature variances, ensure that the wax pen has adjustability options; otherwise, how will you test it out?
Benefits of Vape Pens With Temperature Control Feature
A temperature control feature offers the following benefits:
The stable temperature always delivers consistent vapes.
It offers a safer vaping experience by never straining the vape battery.
Controlling temperature increases vape coils' lifespan.
It never fails to deliver an exceptional flavor.
You get to try various substances at their ideal temperatures.
It provides a remarkable experience to the users without switching out the vape products.
Some Tips for Temperature Controlling Vape Pens
No matter which temperature controlling vaporizer you are using, here are the valuable tips or advice to help you use and maintain the device.
Begin by Setting Your Device at the Lowest Temperature
This pointer is undoubtedly true for those vaporizers that offer an extremely high temperature. Heating straight at a higher temperature can burn your vape products instantly. Both the products for vaping and your device can get ruined. Therefore, start slow.
Obtain Luscious and Smoother Puffs Via Lower Temperatures
If you are continuously experiencing burnt, harsh, or unpleasant flavor, it is time to opt for the lower temperature settings. However, get yourself a new one if your old vaporizer does not have a temperature controlling option.
Massive Clouds Are the Result of Higher Temperature
The immense enjoyment for the vaping connoisseur is to make large vape clouds, which they can only achieve via higher temperature settings. To get those massive vapors, you only have to adjust the vape pen's voltage at "high."
However, do not forget that the higher the temperature, the harsher the hits will be. Furthermore, most vaporizer's heating coils retain heat; thus, you do not have to fire it up repeatedly to take hits.
In addition, if you are noticing that the vapor taste is becoming immensely harsh, allow your heating coils to become cool before going for another puff.
Difference Between Vaporizers: Temperature Control VS. Variable Voltage Pens
These terms are used interchangeably, and they pinpoint the same meaning - the potential to change your device's temperature to vape a particular product.
What's more, a variable voltage vape battery can heat a product at a specific temperature, and that power is adjustable.
Moreover, you will find other terms besides the word "temperature." - these are watts or volts. These words denote the same thing, i.e., variable heat settings of a vaporizer. Thus, whatever the term might be, you know it means changing the vape pen's heat settings.
You have reached the end of our beginner's guide. We hope you find it informational. Now get yourself a vape temperature control vaporizer for the best vaping experience!