Royalty 2 - Vapetasia Salts
Royalty 2 - Vapetasia Salts is the product of brand Vapetasia, it's one of the best vapor products with the option of 24mg:30ml, etc.
Notice: This product is currently only supported for free shipping to the United States.
Royalty 2 - Vapetasia Salts Review
Royalty 2 - Vapetasia Salts Instructions
Overview
Royalty 2 - Vapetasia Salts is a mind boggling nicotine salt mix, getting parts of a velvety custard, nutty almonds, and smooth rich vanilla to make a one of a kind tobacco enhance that will titillate the taste buds.
When you take a puff, you will initially see both the vanilla and custard work impeccably as one to give your tongue a smooth and euphoric experience pursued by a breathe out of a full bodied hazelnut. Vapetasia Royalty 2 Salt Nic E-juice will make any one fall for its sweet and satisfying flavors.
Royalty 2 by Vapetasia Salts will be bundled in 30ml Gorilla Bottles and accessible in the nicotine levels of 25mg and 50mg. Salt nicotine was intended to be utilized with pod systems in this way. Please utilize them with sub-ohm device because of the abnormal states on nicotine.
Specifications
VG/PG Ratio: 50/50
Nicotine Level: 24mg / 48mg
Bottle Sizes: 30ml
Bottle Type: Plastic Dripper
Brand: Vapetasia
Package Includes (Options)
1 x 30ml Vapetasia Royalty II Salt Nic Vape Juic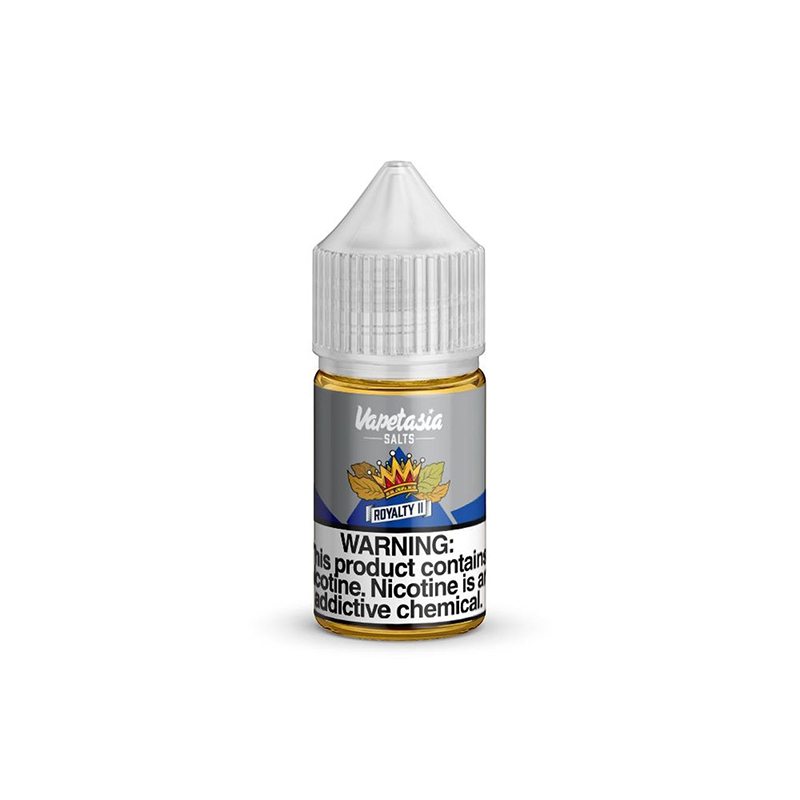 Cheap Vape Products For Sale and Buy
Product added to wishlist
Product added to compare.