Royalty 2 - Vapetasia E-Liquid
Royalty 2 - Vapetasia E-Liquid is the product of brand Vapetasia, it's one of the best vapor products with the option of 0mg:60ml, etc.
Notice: This product is currently only supported for free shipping to the United States.
Royalty 2 - Vapetasia E-Liquid Review
Royalty 2 - Vapetasia E-Liquid Instructions
Overview
Royalty 2 - Vapetasia E-Liquid is a smooth vape juice with a vanilla custard flavor entwined with squashed walnuts. Presenting to you a wanton blend of flavors that will keep you to the edge of the seat with each puff.
Royalty II by Vapetasia has the flavor profile of a velvety vanilla custard that has been mixed together with nuts. This profile has been executed consummately by the mixologist at Vapetasia which the puffs back up. The puff in is to a greater degree a vanilla sensation which truly prepares sense of taste for the tasty puff. After breathing out is the point at which the custard and nuts meet up to supplement the vanilla breathe in. All together this mix is one to carry tears of happiness to the eyes. No joke and with a too smooth throat hit it can't beat that! The throat hit has no kind of consuming or scorching sensation sitting tight for you toward the part of the arrangement cloud breathe out stage.
Royalty II vape juice is going to make the majority of your fantasies work out as expected after only one puff. Vapetasia's wonderful walnut flavor is ensured to convey extreme fulfillment throughout the day.
Specifications
VG/PG Ratio: 70/30
Nicotine Level: 0mg / 3mg / 6mg
Bottle Sizes: 60ml / 100ml
Bottle Type: Plastic Dripper
Brand: Vapetasia
Package Includes (Options)
1 x 60ml / 100ml Vapetasia Royalty II Vape Juice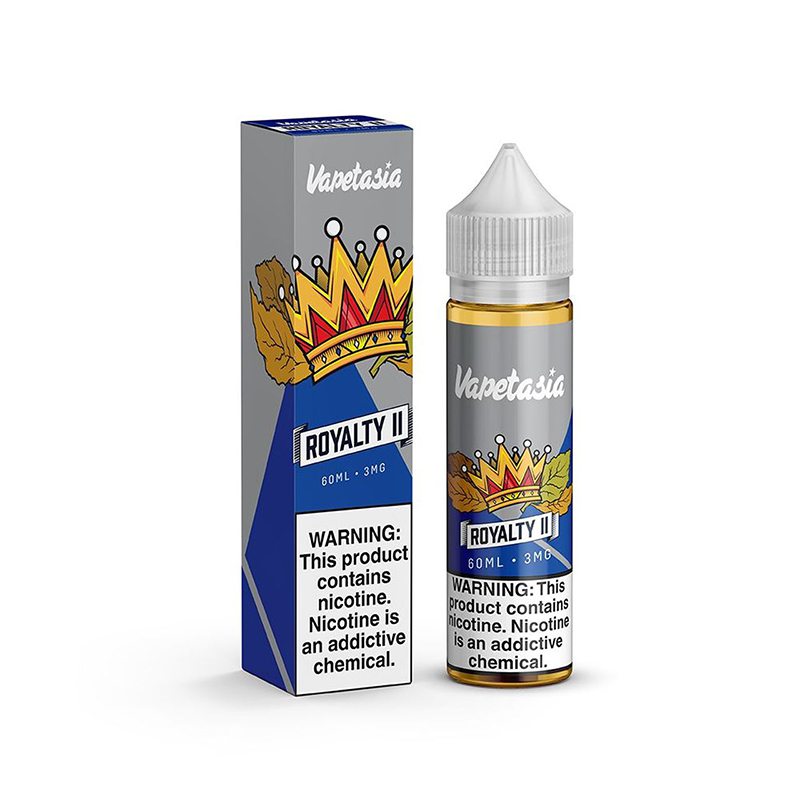 Cheap Vape Products For Sale and Buy
Product added to wishlist
Product added to compare.