Rainbow Road - Vapetasia E-Liquid
Rainbow Road - Vapetasia E-Liquid is the product of brand Vapetasia, it's one of the best vapor products with the option of 0mg:60ml, etc.
Notice: This product is currently only supported for free shipping to the United States.
Rainbow Road - Vapetasia E-Liquid Review
Rainbow Road - Vapetasia E-Liquid Instructions
Overview
Rainbow Road - Vapetasia E-Liquid is one of the most current inclusions to the Vapetasia e-liquid family. Impeccably reproducing a morning meal most loved in vape juice, this flavor blends with the cereal of your liking with naturally picked blended berries and sprinkles them into a bowl of rich milk.
The flavor of fruity, crunchy oat coasting in a bowl of milk still spellbinds the sweet tooth not at all like whatever else. Presently, you can vape that tasty flavor without devouring heaps of sugar. Vapetasia Rainbow Road e-juice conveys a shocking reproduction of that taste blend fulfilling more than all else.
As you breathe in Vapetasia Rainbow Road E-liquid, the flavor of naturally picked strawberries hit your taste buds, covering them in the sweetness they pine for. At that point, a citrus taste comes in sending shivers over your taste buds like no other. As you breathe out, the rich custard base ties the whole thing together.
Vapetasia presents to all of flavors you adore and ache for. These vape juices are so healthy and enhance pressed that you'll have the option to vape them throughout the day with not a single flavor-visual deficiency to be seen. Vapetasia makes the majority of their vape juices with the most astounding quality fixings to give their clients the most ideal vaping experience
Specifications
VG/PG Ratio: 70/30
Nicotine Level: 0mg / 3mg / 6mg
Bottle Sizes: 60ml / 100ml
Bottle Type: Plastic Dripper
Brand: Vapetasia
Package Includes (Options)
1 x 60ml / 100ml Vapetasia Rainbow Road Vape Juice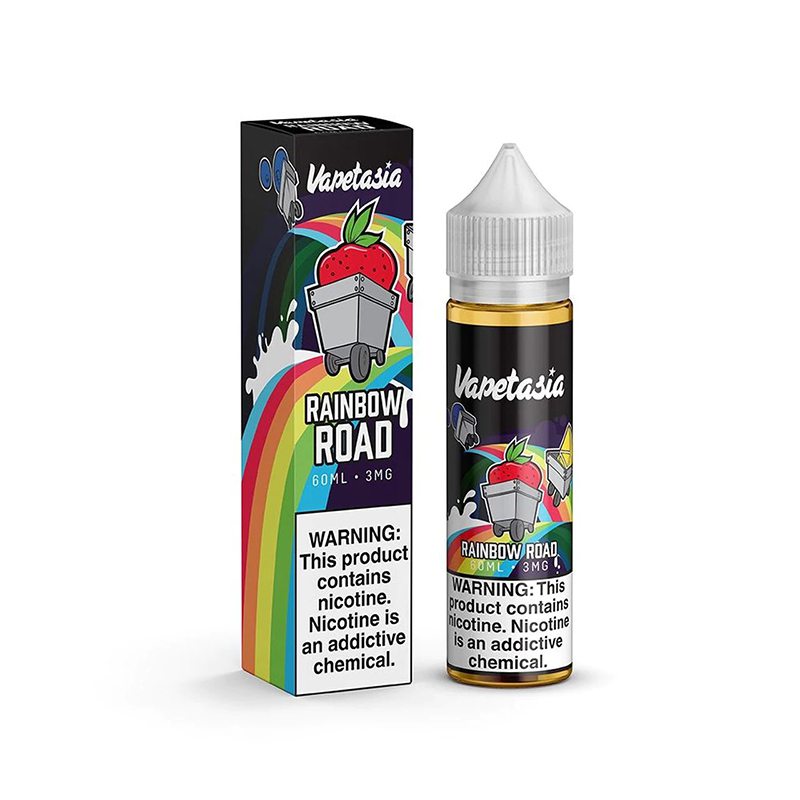 Cheap Vape Products For Sale and Buy
Customers who bought this product also bought:
Product added to wishlist
Product added to compare.