Pineapple Express - Vapetasia E-Liquid
Pineapple Express - Vapetasia E-Liquid is the product of brand Vapetasia, it's one of the best vapor products with the option of 0mg:60ml, etc.
Notice: This product is currently only supported for free shipping to the United States.
Pineapple Express - Vapetasia E-Liquid Review
Pineapple Express - Vapetasia E-Liquid Instructions
Overview
Pineapple Express - Vapetasia E-Liquid fulfills all the requirements for an excellent tropical drink and is basically a creamy and sweet pineapple combo which also comes with a little taste of tart as well.
Each of these sweet and tasty pineapples is from the Hawaiian Islands. They are sliced and drenched with heavy cream for the delicious taste. The creamy finish leaves your taste buds in awe of the delicious flavor and that rush of pineapple goodness you just took in.
You never would have tasted anything like Vapetasia Pineapple Express E-juice before and never would too. This pineapple experience is unique, and your taste buds will know it once they get a hand on it. Your taste buds are left desiring for more because of the creamy base and pineapple taste fusion. If you are a fruit lover and love something exotic too then this exquisite flavor of tangy pineapples is for you to puff in.
Specifications
VG/PG Ratio: 70/30
Nicotine Level: 0mg / 3mg / 6mg
Bottle Sizes: 60ml / 100ml
Bottle Type: Plastic Dripper
Brand: Vapetasia
Package Includes (Options)
1 x 60ml / 100ml Vapetasia Pineapple Express Vape Juice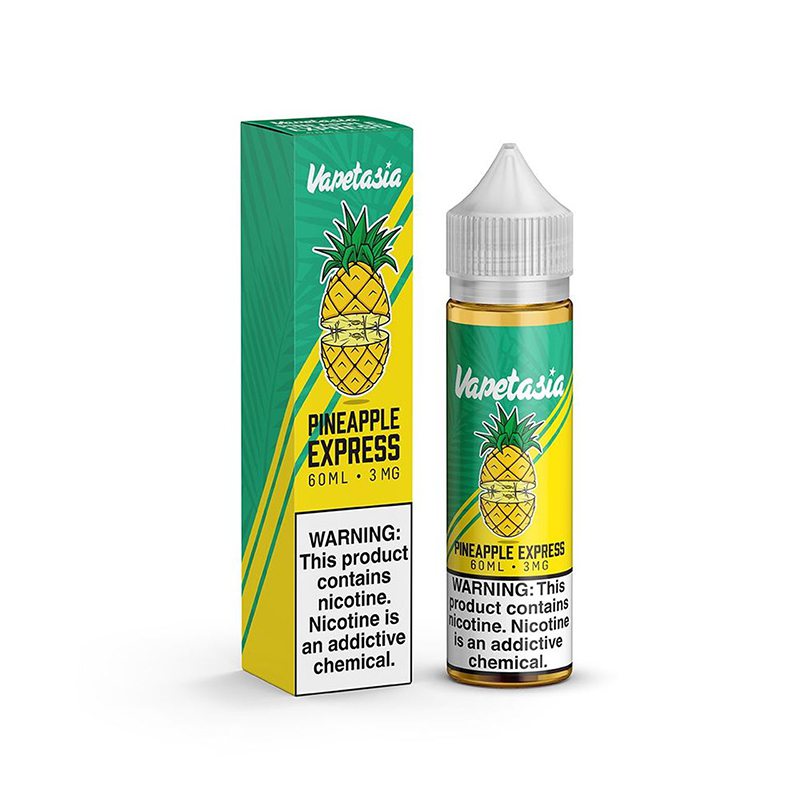 Cheap Vape Products For Sale and Buy
Customers who bought this product also bought:
Product added to wishlist
Product added to compare.