Naked 100 E-Liquid 60ml Collection
Naked 100 E-Liquid 60ml Collection is the product of brand Naked 100, it's one of the best vapor products with the option of Lava Flow 0mg:1pcs, etc.
Notice: This product is currently only supported for free shipping to the United States.
Naked 100 E-Liquid 60ml Collection Review
Naked 100 E-Liquid 60ml Collection Instructions
Overview
Naked 100 e-liquids consist of a rich mixture of the best ingredients in order to achieve the ultimate blends. Whether it's sweet, tart, or tobacco, there is a flavor for every taste. Naked 100 is there to tantalize your senses with their remarkable e-liquids collection. It is their quality, which makes them different from the rest. They use cutting-edge processes, technology, and flavoring; every drop of their e-liquid oozes with only the highest quality of ingredients.
Naked 100 E-liquid is one of the most influential e-juice manufacturers of today when it comes to this industry. With great quality ingredients, they offer delicious fruit-based flavor profiles so a user can experience a sensational vape each time. Plus, they have several other great collections, like Tobacco, Menthol, Cream, and Ice. The original line-up of the Naked 100 consists of artfully combined fruit flavors that launched this brand and still continues to be loved by its users. Their line-up of their unique mix of fruity flavors offers a rich combination of taste that delivers flavorful vapes all day long.
Flavors of Naked 100 E-liquid
Naked 100 E-Liquid Amazing Mango 60ml
Naked 100 E-Liquid Hawaiian POG 60ml
Naked 100 E-Liquid Lava Flow 60ml
Naked 100 E-Liquid Green Blast 60ml
Naked 100 E-Liquid Peachy Peach 60ml
Naked 100 E-Liquid Really Berry 60ml
Naked 100 E-Liquid All Melon 60ml
Naked 100 E-Liquid Maui Sun 60ml
Specifications
VG/PG Ratio: 70/30
Nicotine Level: 0mg / 3mg / 6mg / 12mg
Nicotine Type: Regular Nicotine
Bottle Sizes: 60ml
Bottle Type: Plastic Dripper
Brand: Naked 100
Package includes
1 x Naked 100 E-Liquid 60ml
What's More On The Naked 100 E-Liquid Collection?
This brand has been in the game pretty much since the beginning; it is a force to be reckoned with when it comes to producing high-quality e-liquids. All of the other brands have followed in the footsteps of this trendsetting brand. All of the flavors that they offer are so rich and clean; hence they are known for achieving the ADV status within the vaping community. Every serious vaper has at least one of their enticing flavors in rotation throughout their day.
Naked 100 has everything that you need when it comes to the flavor, whether it's smooth tobacco, sticky candies, menthol blends, glorious rich creams, and of course, their blend of refreshing fruits. This brand is always coming up with new extremely unique flavor combinations that taste like magic to your taste buds. They aren't afraid to take risks and have created a number of one-of-a-kind creations that no other brand could quite replicate.
Their testing process is extremely thorough, when it comes to the flavor, so that it is able to hit the spot 100%. Hence, the user can always count on achieving maximum sensory pleasure when they vape their flavors. Their fruity flavors leave you wanting more and keeps your palate in an excited state at all times.
When a user vapes Naked 100 E-liquids, they can instantly taste the superiority of the ingredients that this brand uses. It is because of their devotion to premium quality ingredients that makes them the best of the best and every vaper experiences a pleasant and satisfying journey with their e-liquids. They know what their customers are looking for and they always end up giving them more than what they asked for.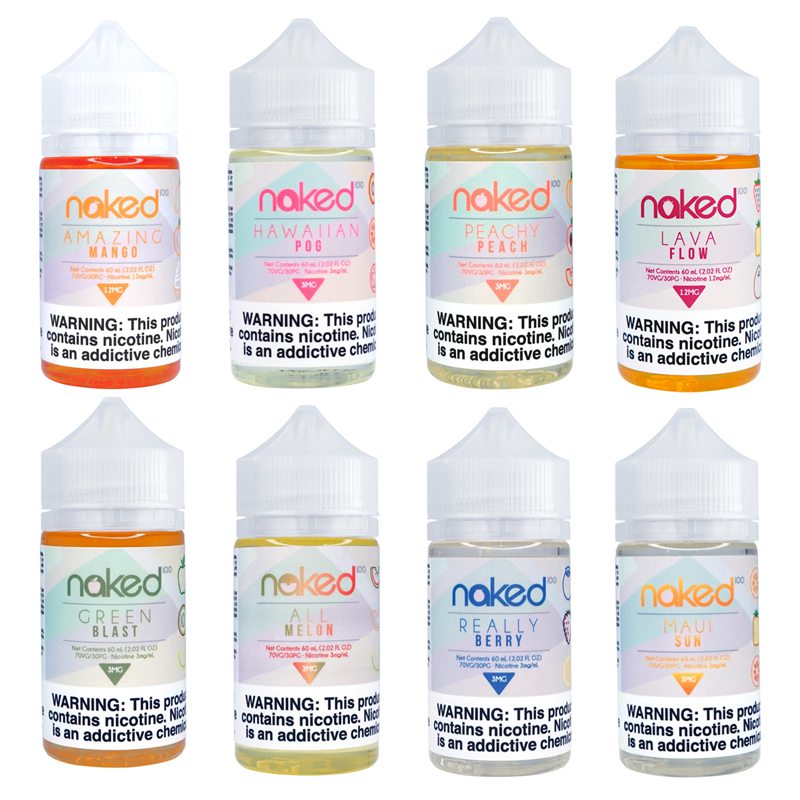 Cheap Vape Products For Sale and Buy
Customers who bought this product also bought:
Product added to wishlist
Product added to compare.