Killer Kustard - Vapetasia E-Liquid
Killer Kustard - Vapetasia E-Liquid is the product of brand Vapetasia, it's one of the best vapor products with the option of 0mg:60ml, etc.
Notice: This product is currently only supported for free shipping to the United States.
Killer Kustard - Vapetasia E-Liquid Review
Killer Kustard - Vapetasia E-Liquid Instructions
Overview
Killer Kustard - Vapetasia E-Liquid is another e-juice product which is basically for all the custard lovers as it is a combination of different citrus flavors and fruits. If you're looking for the best creamy custard you can find, then look no further than the Killer Kustard eJuice as it is without doubt the best there is. It has a sweet vanilla custard like taste and is there for you to enjoy.
Killer Kustard has an authentic vanilla taste and has an award to its name because of the luxurious flavor of the vape. It has startled everyone who has tasted it because of its creamy, luscious and rich taste and if you love custard and its creamy rich taste, then Killer Kustard is for you.
Specifications
VG/PG Ratio: 70/30
Nicotine Level: 0mg / 3mg / 6mg
Bottle Sizes: 60ml / 100ml
Bottle Type: Plastic Dripper
Brand: Vapetasia
Package Includes (Options)
1 x 60ml / 100ml Vapetasia Killer Kustard Vape Juice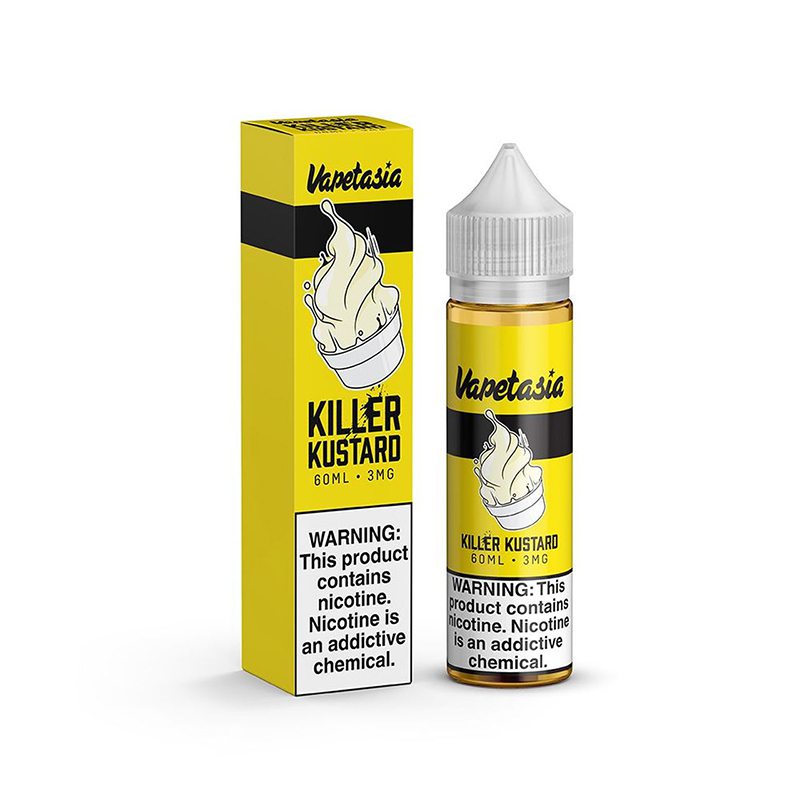 Cheap Vape Products For Sale and Buy
Customers who bought this product also bought:
VAPE PEN 22 has the simplicity design, a diameter of 22mm and 1650mAh battery capacity.
VooPoo has innovated a new vaping. Their UForce sub-ohm tanks can quickly generate huge clouds. As well as maintaining a complete and original taste. A pack of 5 packs.
SMOK Vape Pen 22 Coil is compatible with vape pen tank and Vape Pen 22 Kit. 0.3ohm NiCr dual coil brings you smooth taste; while 0.25ohm dual coil bring you massive cloud of vapor. 5pcs each pack.
Product added to wishlist
Product added to compare.