Avida CBD Vape Pens
There are not enough products in stock
Avida CBD Vape Pens is the product of brand Avida CBD, it's one of the best vapor products with the option of Manga Mango 1ml:100mg:1pcs, etc.
Avida CBD Vape Pens Review
Avida CBD Vape Pens Instructions
Overview
The usage of an Avida CBD Vape Pen is straightforward. You inhale it from the mouthpiece attached to the pen that creates vapor from the tank and the battery setup. Press the button while you are inhaling and try starting with small puffs. It is recommended that you wait for at least 10 to 15 minutes between puffs to see how CBD affects you. But then later, you can try and take larger puffs more frequently.
Vape pens are already pre-filled, and they have the element of heat in them along with an internal battery. This makes the vaping experience even better because it makes them ready to puff as soon as they are out of the package. The battery life is also pretty long-lasting, with enough mAh needed for the potency length of the CBD cartridge, which requires no charging.
In the case of CBD vape pens, the liquid turns into gas form, and this gaseous form is of CBD. Many people address these disposable vape pens as breath-activated all-in-one setups. For people who have just started their vaporizing journey, the most convenient thing for them to do is use disposable vape pens. They are portable and disposable, but they also maintain the consistency and quality that consumers want from natural hemp CBD products.
Vape pens rapidly deliver the CBD inside the bloodstream as soon as it is inhaled into the lungs. These vape pens consist of cartridges that are extremely rich in CBD. They also have a 1mL carrier oil which maximizes the efficiency made from PG (Propylene Glycol) and not MCT Oil. All of these oils and liquids do not have any smell and thus are most commonly used in vapes and as food additive too.
The best part about CBD vape pens is that they do not contain any nicotine. It is natural and is obtained from the dry herb, which is harvested from the hemp plant under the United States Bill Farm.
There are many favors in which Avida CBD Vape Pens are available. Some of them are as follows:
Mint
Blue Razz
Chilled Kiwi Strawberry
Berry Grape
Manga Mango
Not only do these vape pens come in these amazing flavors to make your experience worthwhile, but they are also very user-friendly. There is no need for a USB charger or worry about refillable cartridge. Every vape pen comes in enough battery life that you will not feel the need to charge it. The same is the case with its cartridges. You do not have to be concerned with carrying these extra things around with you.
What is more, is that the quality of the product is verified by independent lab testing. It verifies the cannabinoid content in the oil cartridge. It also confirms the vape pens do not have any metal or pesticide contents. So what are you waiting for? Please place an order and leave us a review below!
Features
Third-party tab tested for purity, consistency and safety
Made in USA
Non-GMO
THC-free
Delicious taste
Disposable that does not worry about messy refills
Specifications
Pre-filled Juice Capacity: 1ml
CBD Strength: 100mg CBD Per Pen
Battery: 280mAh That is Pre-Charged
Flavors: Available in 5 Flavors
Package Includes
1 x Avida CBD Vape Pen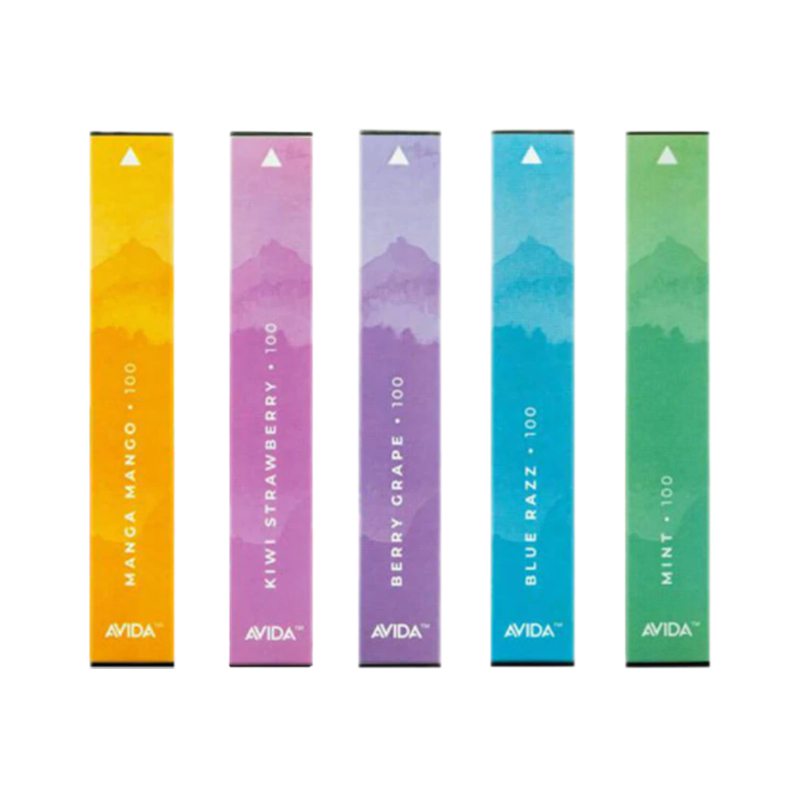 Cheap Vape Products For Sale and Buy
Customers who bought this product also bought:
VAPE4EVER
V4-10146-CE401K
eGO-T Vape Pen: 100% brand new and high quality. No tar and other cancer causing substances. No second-hand smoke, environmental protection. No cigarette smell stink up your clothes, house, or car. Huge vapor.
Pineapple Express - Vapetasia E-Liquid is the product of brand Vapetasia, it's one of the best vapor products with the option of 0mg:60ml, etc.
Vision Spinner 2 Battery is the product of brand Vision, it's one of the best vapor products with the option of Black Battery:1pcs, etc.
Product added to wishlist
Product added to compare.