People now are using various dabbing devices to consume wax concentrates. With the constant innovation in the dabbing industry, the e-nail emerges and brings a lot of convenience for cannabis enthusiasts.
What Is An E-Nail?
E-Nail is the abbreviation of "electronic nails." It often comes within the option of electric dab rig. The e-nail offers a streamlined process and is created to replace or swap the dabbing torches. It features a coil that heats the banger instead of cranking down. In addition, the dab nail has two fundamental components named a coil, and the second one is the controller box which helps to link the banger directly. Set the preferred temperature via the controller box.
Furthermore, the coil will perform the heating according to your desired temperature. Dabbers adore the E-Nail that has become the favorite fast choice. Besides, assist them in vaporizing the concentrates at an easy-going temperature that was missing in dabbing touches.
Best E-Nail Temp
Do some people ask what is the best temperature to set an E-Nail? Big answer, the temperature will fluctuate and wholly hinge on concentrate materials, effects, of course, your demand and partiality. The temperature range for terpenes, for instance, limonene is (348 to 388°F). Interested in getting more from concentrates, go for 155°C (311°F), that's called perfect temperature. What to look for when purchasing an E-Nail? Best dab nails come with an auto-cleaning style, different heating settings, compatibility, durability, and portability. These are crucial features that help you cherry-pick the perfect long-runner dab nail.
E-Nail vs Torch
E-Nail is expensive, but worth is more than the cost, like investing once in life and adoring the juicy taste of concentrate for a lifetime. The learning curve may be hard to comprehend as a novice but pretty easy to dab later on. The portable device won't require the reliance and expense of butane. If the dab nail is not charged fully in case power source will be a hassle. Traditional dab nails were leaden to carry, but refined and light units are accessible now. Easy to keep an eye on temperature and dab at that point where you can relish and feel the bitter-free taste of terpenes. Intrepid dabbing with preserved flavors that dab torch doesn't offer. Electronic nails are shock-resistant, reducing the chances of cracks and chipping of dab nails.
Whereas torch within your means straightforward and excluding the learning curve. You can heat a nail by flipping the switch, then use a great deal of butane. Use and carry the dabbing torch with yourself since it doesn't need power. There is no mode to control or alter temperature, one of the most significant drawbacks. Plus, all the precious concentrate will be used up and leave the bitter flavor on taste buds. A torch might be dangerous and risky to dab at (2500°F). In case an appropriate handling technique will assist you in getting secure dabbing. Timely refilling of dab torch with butane is mandatory for the everlasting session.
How Do E-Nails Work in a Dab Rig?
You'll need the dab rig that must be well-suited to E-Nail for the ceaseless session. Consider the size or dimension of the stem attachment of the electronic nail for the rig or bong. Indeed, many choices are available in the weed accessory store. You can easily get the selection of perfect E-Nail. Before connecting the nail with the rig, make sure you have added the water inside it. Be cautious and don't overfill the rig to avoid the splashing of water that makes it too hard to take a hit. E-nails are even well-suited to many other traditional dabbers. Either you have glass or titanium dabbers. Just place the wax or resin on the electronic nail with a dabber. Let it attain your chosen temperature then you can give the shot to dabbing within seconds.
How to Use an E-Nail?
You can use the E-Nail without seizing the blowtorch, making it peaceful and safer to dab. Always take heed once the dab nail hits the temperature of 500°F. It's the indication that now you can persistently dab. Hot dab nail constantly delivers pronounced and quick effects. Moreover, it will be settled into very soon. In contrast, dabbing at moderate temperature brings tapered and lighter euphoric effects. You can narrow down the array of ideal temperatures after each passing dabbing session.
What Are the Advantages of Using an E-Nail
Don't you think? Hectic dabbing days are gone because of E-Nails that make smoking digital and convenient. There are endless benefits of using dab nails rather than the old-style torch method. Let's explore the e-nail advantages one by one.
Convenient design
"Fine-tune" session
Cost-saving being durable
Compatible to work with any rig
Learning curve
Adjustable power-source
Get the safe and reliable dabbing experience
Handling of electronic nails are a piece of cake
Protect the nail or banger from thermal shock
Feel the delicate terpenes just at low temperature
Control temperature and dab the way you want
Preserve your concentrate flavor with E-Nail
Free from inconsistent dabbing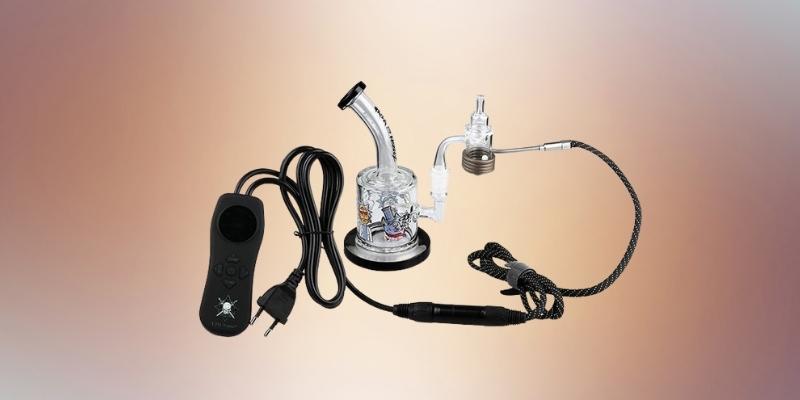 How to Clean and Maintain an E-Nail?
Minimal upkeep is needed, and clean the E-Nail after every session. Most of the resin or wax will reduce to ashes owing to high temperature. You can check inside the electronic nail after winding up the dabbing session. Suppose you find any debris or leftover of the concentrates. Gently take away the remaining by scrapping through the tool. Remember, never soak the dab nail's electronic (internal) portion. You can ensure cleaning via rubbing alcohol.
Standard Domeless Nails vs E-Nails
Domeless nails demand external heat via some blowtorch, while the dab nails style delivers the open & smoother airflow and perfect hits. E-Nails also offers an approachable domeless variety that requires the manual setting of dab temperature. More, double ensure either you're getting the flawless hit or not.
Novice dabbers shouldn't jump to the higher temperature unless they get the picture of supreme dab temperature for themselves. So, be vigilant and go with lower voltage settings to bypass the harshness of bitter taste and inconvenience. How much heat will be enough to commence the dabbing with E-Nails? Count on the quality and size of dab nails. Examples include quartz nails with a thicker design and slowly turning the red hot. That's why it holds and traps the heat for an extensive duration concerning other materials of E-Nails. To boot, within 30 seconds after getting the red hot color come back toward a contented dabbing temperature. Notably, thinner quality nails can catch the desired temperature quickly but, in the same manner, will cool quicker.
LTQ Vapor IE-Nail
LTQ Vapor IE-Nail style blows the hassle of dabbing an exquisite built-in exteriors design that suits your mindset. Compatible enough to experience the diverse vaping session via dab wax, dry herb, and concentrates. All in all, LTQ IE-Nail meets and encompasses the gripping pro features and falls in the category of best and chummy electronic nails or dab nails. Let's lift the veil of LTQ Vapor features to guess what's more:
Appease cravings
Preserve flavor
Quick heating (15s)
Ongoing dab session
Money-saving features
Precise temperature setting
Leading-edge sensors technology
Ideal for concentrates, dab wax, and dry herb
It contains two nails to offer (multiple vaping experiences)
Summary
Briefly, E-Nails deserve popularity due to safer operating riveting quality. They are replacing the archaic non-electronic dab nails, which deliver unreliable and inconvenient dabbing results with no choice of temperature fine-tuning. In short, dabbing wax with e-nails or electric dab rig is a trend in the community and you just need to enjoy the jubilant dabbing.