SAUC CBD E-liquid
There are not enough products in stock
SAUC CBD E-liquid is the product of brand SAUC CBD, it's one of the best vapor products with the option of Sour Diesel:30ml 150mg, etc.
Notice: This product is currently only supported for free shipping to the United States.
SAUC CBD E-liquid Review
SAUC CBD E-liquid Instructions
Overview:
SAUC CBD E-liquid provides you with the opportunity to enjoy all the benefits of cannabidiol and terpenes without having to worry about any psychoactive effects. SAUC wanted to make sure that their products are devoid of any THC content. However, at the same time, they did not want to compromise on the flavor, aroma and benefits that specific strains offered. Therefore, terpenes became crucial for them. It is the terpenes which are responsible for giving SAUC tis unique touch among the other options available. Devoid of any artificial flavoring, the brand makes use of naturally sourced terpenes to give e-juices their aroma and flavor suitable to the hemp strains. The products are categorized as Indica, Sativa and Hybrid. Thus, you can be sure of what you get and there would not be any surprises.
Apart from CBD isolate and organic terpenes, the vape juices also contain USP Kosher Vegetable Glycerin along with propylene Glycol. All the products are made in the US and are subjected to lab testing to make sure that quality is not compromised. ProVerde Labs and CW Analytical test the ingredients and products to make sure that they do not contain any contaminants or THC. Various flavors are available including Sour Skittles, Gelato, Cheese, AK-47, Jack Herer and Harlequin among others.
Features:
Pure CBD isolates are present in all the bottles
Sour Diesel is one of them
The profiles of the organic terpenes depend on the specific strain of cannabis
You do not have to worry about any psychoactive effects.
Flavors of the SAUC CBD Vape Oils
SAUC CBD E-Liquid - Granddaddy Purple is a blend of complex terpene profile that is specific to the Indica strain. It is natural product and is a cross between Big Bud and Purple Urkle, ensuring that you get the perfect combination of mixed berry and sweet grape.
SAUC CBD E-Liquid - GSC Girl Scout Cookies is the blend of hybrid strain. It is a descendent of stable Hybrid along with OG Kush and offers you a sweet and earthy flavor.
SAUC CBD E-Liquid - Sour Diesel which you can also find under the name of Dour is as Sativa dominate strain and has a unique lemon diesel aroma. The lime kissed spice leaves a lasting impression on your mouth for a long time.
Package Includes:
1 x SAUC CBD Vape Juice 30ml 150mg/ 300mg/ 600mg
SAUC CBD E-liquid Instructions:
Ingredients: USP Kosher Vegetable Glycerin, Bio-based Propylene Glycol, Organic Terpenes, Organic Cannabidiol Isolate (99%+)
Meant for Vaping at low temperatures.
Ensure that the product is stored away from light and heat. Extreme temperatures can lead to the product being damaged and vape juice ineffective
If the safety seal is broken, refrain from using the product and keep it away from children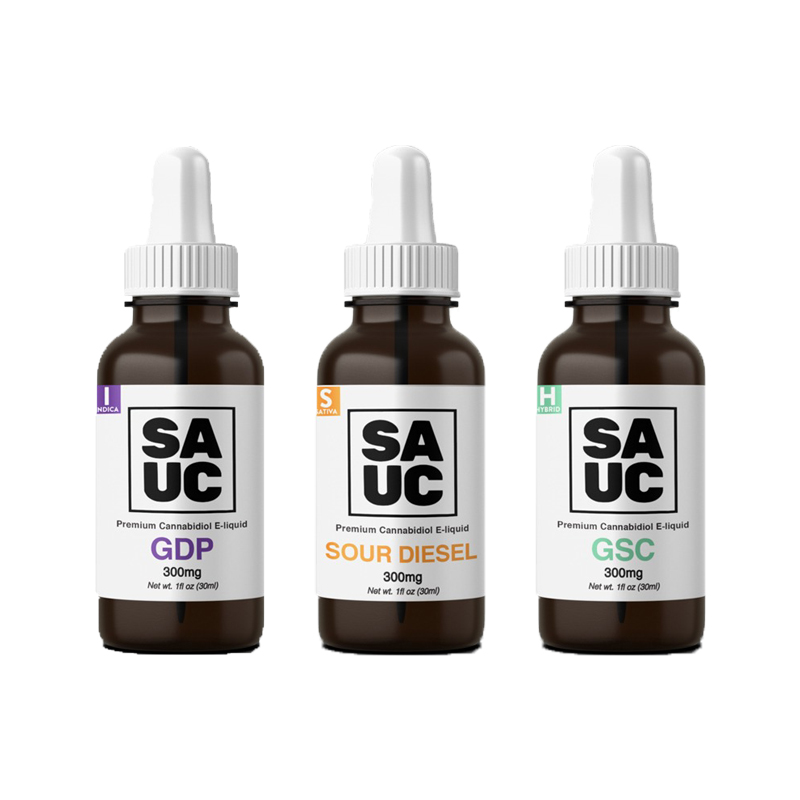 Cheap Vape Products For Sale and Buy
Product added to wishlist
Product added to compare.