Naked 100 Tob E-Liquid 60ml Collection
Naked 100 Tob E-Liquid 60ml Collection is the product of brand Naked 100, it's one of the best vapor products with the option of American Patriots 0mg:1pcs, etc.
Notice: This product is currently only supported for free shipping to the United States.
Naked 100 Tob E-Liquid 60ml Collection Review
Naked 100 Tobacco E-Liquid 60ml Collection Instructions
Overview
Naked 100 E-liquid is a tobacco-based E liquid that hosts a wide range of classic flavors in an aromatic format. The company created a specialty E liquid that is designed to match the finest notes of tobacco that can be found in a variety of dried concentrate. The balance composition as well as the added nicotine features can make sure that a person who regularly smokes tobacco will be able to enjoy a product that is very similar and balanced just like some of the finest tobacco products.
The composition here is definitely one that is made for a wide range of flavour profiles. The hits that are delivered feel like the finest tobacco and there are various flavors in the 100 e liquid collection that can suit the needs of even the most discernible user.
Some of the main flavors which are available include the:
Naked 100 E-liquid American Patriot 60ml
This is a flavour that's built off of traditional tobacco from American cigarettes. It's extremely rich and quite full-bodied on any hit of flavour. The firm and well-rounded notes offer flavors from legendary tobacco brands and the American patriots line is the perfect option if you are the type of smoker that loves Marlboro and other major brands from the USA.
Naked 100 E-liquid C-b-n Blend 60ml
the C-b-n blend is a medium bodied and flavorful approach to the liquid that comes in a composition which is extremely balanced. Based off of Caribbean blends of tobacco, this is an extremely complex and smooth flavour profile that can lead to a better aroma as well as an extremely smooth flavour profile. The composition here is a wonderful blend which delivers an excellent standout for use all day with its extremely smooth tobacco hits.
Naked 100 E-liquid Euro 60ml
The euro blend is built to be extremely light. The flavors here have been created to show some of the finer notes and tobacco and it is an extremely smooth vape experience that can show some of the lighter and smoother notes from tobacco flavouring.
With so many types of tobacco either liquid from Naked, there are products which can help you enjoy nearly any type of tobacco that you might be seeking as part of the experience with your vape. Whether you would like to go for the full-bodied option or you'd like something that's a little bit smoother, Naked 100 can offer you a wide range of great vape blends.
Specifications
VG/PG Ratio: 70/30
Nicotine Level: 0mg / 3mg / 6mg / 12mg
Nicotine Type: Regular Nicotine
Bottle Sizes: 60ml
Bottle Type: Plastic Dripper
Brand: Naked 100
Package includes
1 x Naked 100 Tobacco E-Liquid 60ml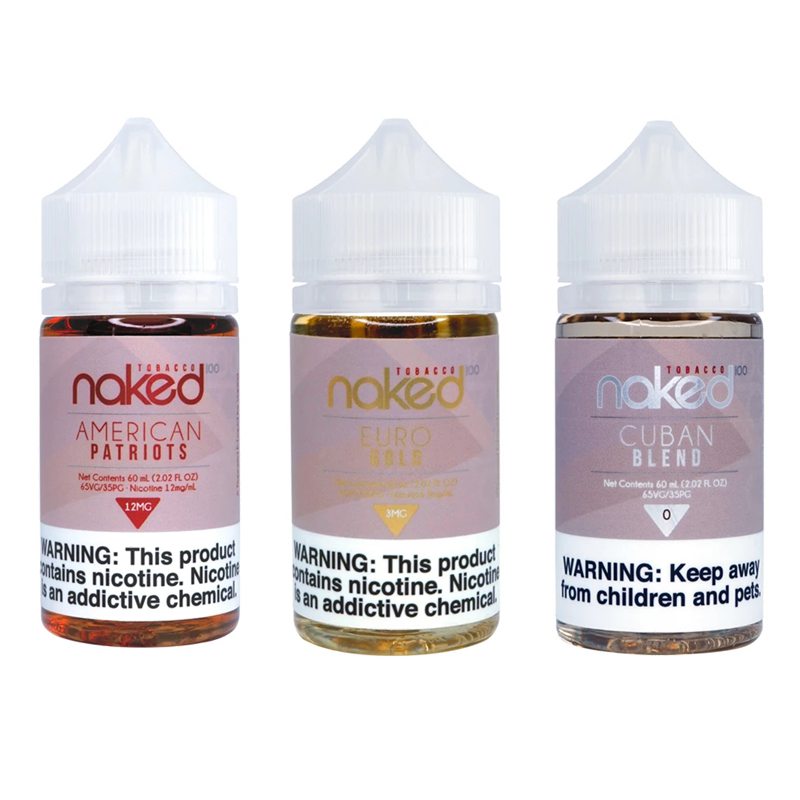 Cheap Vape Products For Sale and Buy
Product added to wishlist
Product added to compare.